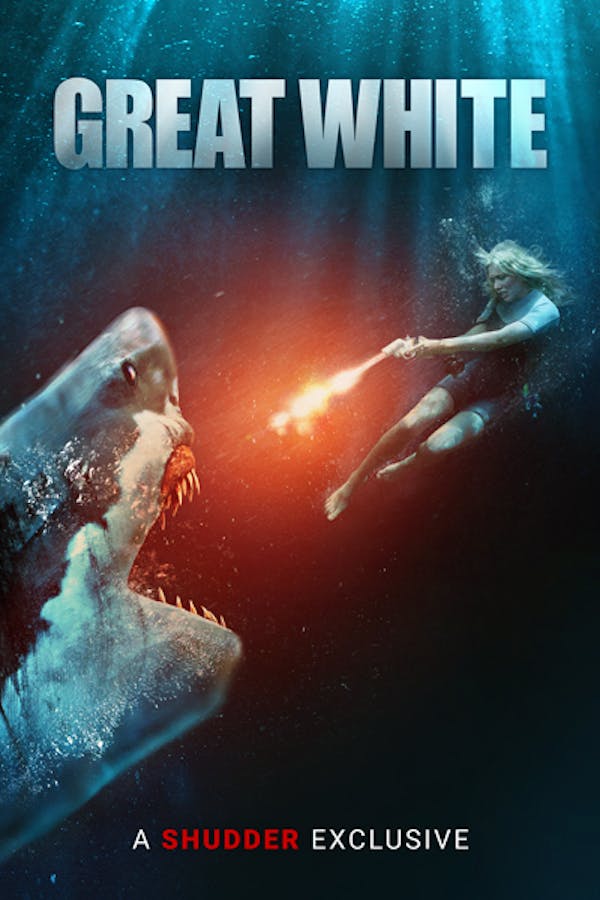 Great White
Directed by Martin Wilson
In coastal northern Australia, a seaplane pilot CHARLIE, along with his girlfriend KAZ, own a struggling air charter company. They receive a last-minute booking from a wealthy businessman JOJI and his wife MICHELLE – a day trip to Hell's Reef accompanied by cook BENNY. What should be a fun-filled trip to remember soon takes a sinister turn when they discover an overturned yacht. Charlie lands the seaplane in the hope of finding survivors but instead, our party fall victim to a shark attack leaving them stranded on a life raft in the middle of the ocean. What follows is a desperate fight to make it to land before they are taken by the man-eating sharks lurking just beneath the surface. A SHUDDER EXCLUSIVE
A tourist trip turns into a nightmare when five seaplane passengers are stranded miles from shore. Forced into a life raft, they are menaced by a terror just beneath the surface
Cast: Katrina Bowden, Aaron Jakubenko, Kimie Tsukakoshi, Tim Kano, Te Kohe Tuhaka
Member Reviews
Why does the Shark look so damn fake. Whats up with these recent shark movies and the shark looks like its from the 90s computer animated its not even funny.
The romantic stuff just dragged on and on and I hoped that the shark would just end them all. The action sequences were pretty good but overall the plot was predictable, but what do you expect with a bunch of morons stranded in the ocean?
First off sharks DO NOT roar!! At least this one was better than the reef stalked.
excellent movie the shark look real