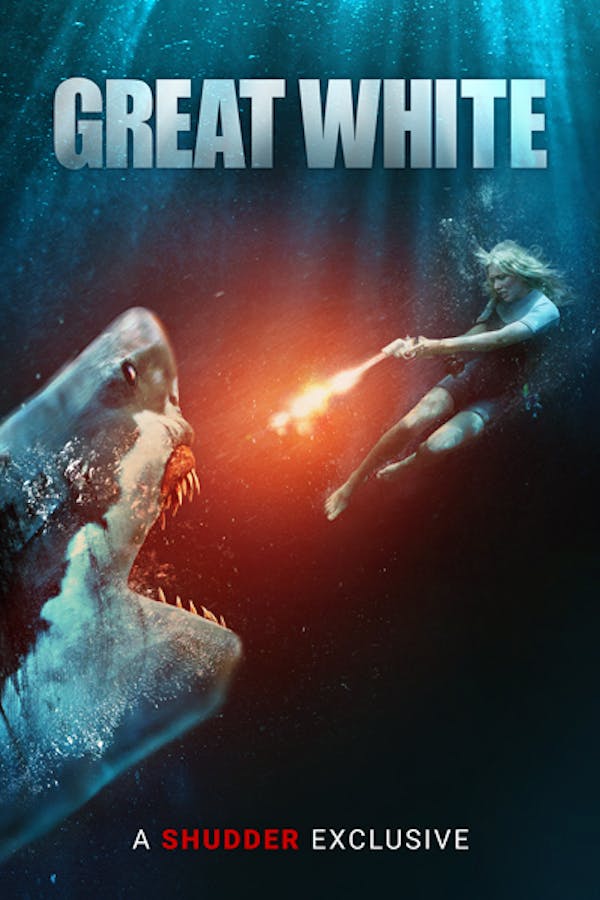 Great White
Directed by Martin Wilson
In coastal northern Australia, a seaplane pilot CHARLIE, along with his girlfriend KAZ, own a struggling air charter company. They receive a last-minute booking from a wealthy businessman JOJI and his wife MICHELLE – a day trip to Hell's Reef accompanied by cook BENNY. What should be a fun-filled trip to remember soon takes a sinister turn when they discover an overturned yacht. Charlie lands the seaplane in the hope of finding survivors but instead, our party fall victim to a shark attack leaving them stranded on a life raft in the middle of the ocean. What follows is a desperate fight to make it to land before they are taken by the man-eating sharks lurking just beneath the surface. A SHUDDER EXCLUSIVE
A tourist trip turns into a nightmare when five seaplane passengers are stranded miles from shore. Forced into a life raft, they are menaced by a terror just beneath the surface
Cast: Katrina Bowden, Aaron Jakubenko, Kimie Tsukakoshi, Tim Kano, Te Kohe Tuhaka
Member Reviews
Great shark movie! It was surprisingly beliveable and respectful to sharks and their nature. The only thing that got far-fetched was how long the actors could hold their breath and the sounds the sharks made,...(sharks don't and can't make noise.) Passed that, loved it.
Four skulls? What's happening. Didn't think you could make a bad she
This is like if the hallmark channel made a shark movie. The characters are shallow and not nearly around long enough to care about. Pretty boring overall, the action doesnt start until more than halfway through. Not the worst shark movie ever tho, so theres that.
I thought it was good, but I think it would of been better if everyone survived since horror movies pick people off why not try something new
Made me laugh hysterically