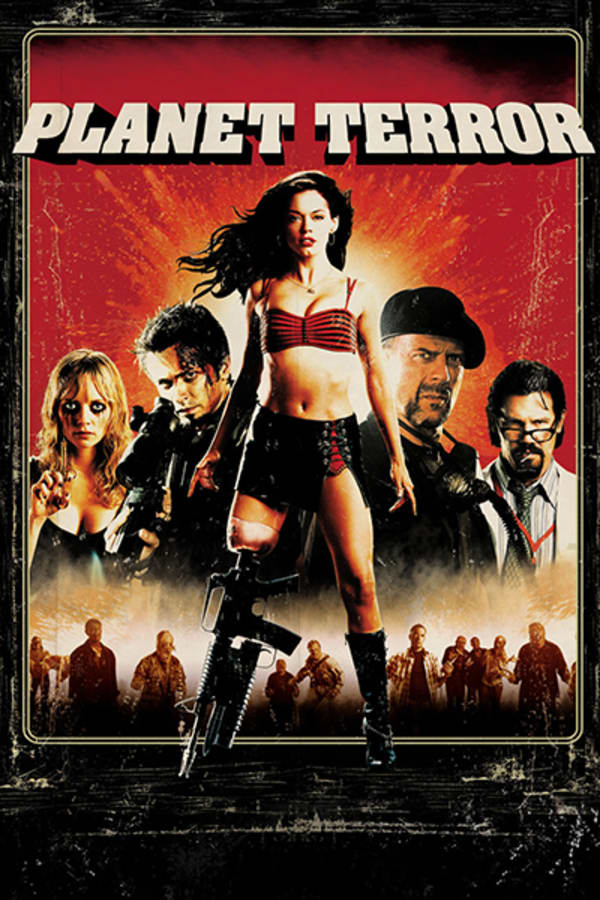 Grindhouse: Planet Terror
Directed by Robert Rodriguez
When an experimental bio-weapon is accidentally unleashed near a small Texan town, a deadly virus breaks out, infecting its victims with a zombie-like plague. It's up to a rag tag team of survivors including a go-go dancer with a machine gun leg and her mysterious ex boyfriend to find the source of the outbreak and escape the carnage whilst battling the undead. Originally released theatrically as part of Tarantino and Rodriguez's double feature, GRINDHOUSE, PLANET TERROR is an over the top, roller coaster ride that lovingly pays homage to grindhouse cinema of the 70s and 80s. Contains violence and gore.
Bio-zombies plague a small Texan town in Robert Rodriguez's gory GRINDHOUSE homage.
Cast: Freddy Rodriquez, Rose McGowan, Marley Shelton, Josh Brolin, Michael Biehn, Naveen Andrews, Michael Parks, Jerili Romeo, Tom Savini, Rebel Rodriguez, Carlos Gallardo
Member Reviews
A great fresh gorey take on the zombie genre, with mutated people and loads of action!
fun the whole way through
Full of gore and funny at the same time. It's a great hommage to the B-horror movies
Fun movie throwback to grindhouse films. Jeff Fahey steals the show.