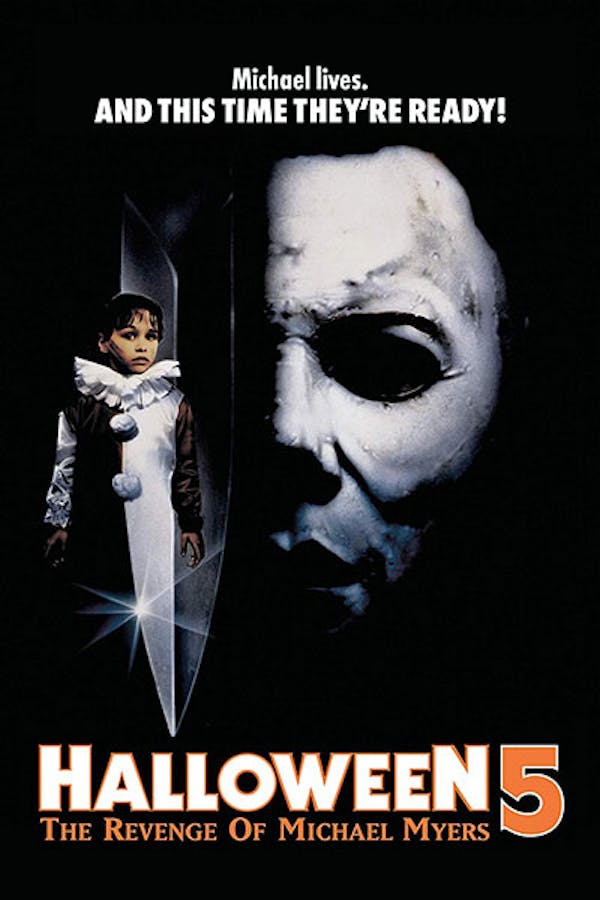 Halloween 5: The Revenge of Michael Myers
Directed by Dominique Othenin-Girard
Following her mysterious behavior at the conclusion of HALLOWEEN 4: THE RETURN OF MICHAEL MYERS, young Jamie (Danielle Harris) is committed to the psychiatric care of Dr. Loomis (Donald Pleasence). Meanwhile, Michael Myers is presumed dead following a shoot-out with the Haddonfield Police and a fatal fall down a mineshaft entrance. But all is not as it seems. A well-meaning derelict nurses Michael back to health, and one year later he is back to kill again! Jamie finds herself the object of Michael's murderous rage, and along with her new friends and Dr. Loomis, she tries to prevent Michael from continuing his bloody rampage.
One year following the events of HALLOWEEN 4, Michael Myers returns to Haddonfield with a vengeance.
Cast: Donald Pleasence, Don Shanks, Danielle Harris
Member Reviews
I didn't realize how poorly people thought of this movie until I read other reviews here on Shudder. I was born in 1982 and grew up watching all the slasher classics, like Friday the 13th, Nightmare on Elm Street & of course Halloween. Almost all of them have a horrible part 3, but for some reason tend to favor parts 4 or 5. Or both. And this movie's no different. I get so much nostalgia watching this movie! i love it. Who cares about the mask looking horrible? It's kinda supposed to in my opinion, considering the curcumstances. Or atleast i thought.
Wow, what a shit show. Was Mikey just like asleep for an entire year? Why exactly was the audience supposed to care about Tina? Why is the MIB dropped randomly for like 45 minutes? Why does Mikey's mask look EVEN DUMBER than in Halloween 4? I was born in 93, I have zero nostalgia for this thing. It sucks. It's boring, nonsensical, not scary and unbelievably stupid. I guess if you have nostalgia for it you might have fun, but I thought it was laughably bad. Your mileage may vary
The cops in this film remind me of officer Doofy.
A classic slasher flick no matter what anyone say's. The music & everything is so 80's,i grew up on old movies like this.
Not nearly as bad as some people make it out to be. Not the best in the series but I enjoyed it