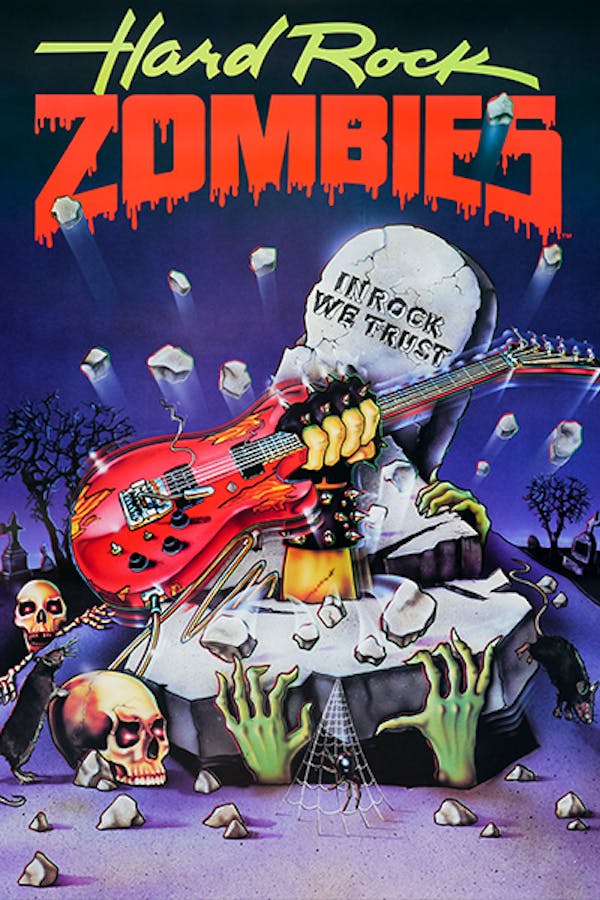 Hard Rock Zombies
Directed by Krishna Shah
A heavy metal band has been invited to appear in a conservative small town. What they don't know is that their hosts are in fact a family of horrific and murderous mutants, whose patriarch is none other than Hitler! After being swiftly murdered, Cassie, the only non-violent member of this depraved clan, wills the band back to life. Soon the stuffy townspeople are faced with an unwelcome reckoning as the zombified musicians thrash and maim their way through the community, in the name of grisly revenge...and love!
A freshly-out-of-the-grave band of Hard Rock Zombies is thirsting to take their sweet revenge, as they give the performance of a lifetime.
Cast: E.J. Curse, Sam Mann
Member Reviews
I want to give 5 stars to the awesome soundtrack. The music great.
Good God, this is a perfect movie with all the qualities of a true Cannon Film. Lots of pointless filler, terrible acting, horrendous dialogue, gratuitous nudity and pure illogical non-sense. It seems like an exercise in cheap-o schlock Cinema, which gives it a certain b-movie charm.
Movies like this are why I have a subscription to shudder.
Truly Forgotten 80s Trashapiece.Thank u Vinegar Syndrome & Shudder for resurrecting it. Paul Sabu your OST Rocks!!!!! Stay Cool & Ciao.
I genuinely enjoy bad horror movies. My favorite is The Dolls. This? This was hard to get through. In fact, I couldn't even finish it. Look somewhere else.