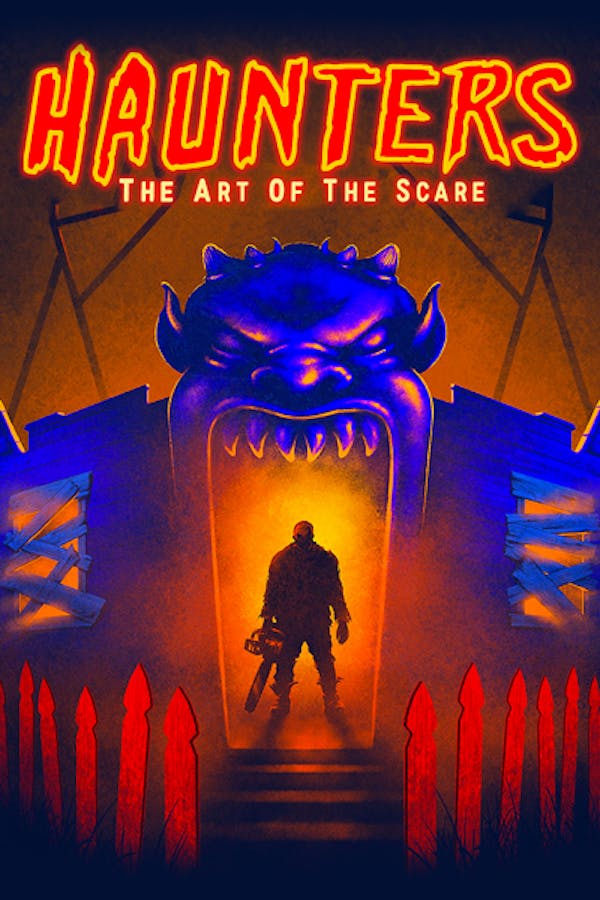 Haunters: The Art of the Scare
Directed by Jon Schnitzer
A mind-blowing documentary about how haunted houses for Halloween have spawned a controversial subculture of full-contact terror simulations. Go inside the most notorious extreme haunt in the world and ask yourself - how far is too far?
A mind-blowing documentary about how haunted houses for Halloween have spawned a controversial subculture of full-contact terror simulations.
Cast: Jason Blum, John Murdy, Jen Soska, Sylvia Soska, Russ McKamey
Member Reviews
Interesting documentary, but did not appreciate all the focus on McKamey Manor. I understand it is titillating, but this dude Russ seems to get off on torturing people. Obviously people sign up for it their haunt just crosses the line for me. Overall I just wish that they focused more on the other haunted houses.
Kinda bad, Spent way too much time on Russ and McKamey Manor. Not enough time on the horror icon Shar!
i luv watching these kinds of documentaries but I don't think i would have tha balls ta go thru Russ's haunt. i luv Halloween but not this much. I'm tha kinda person that screams at tha tv wen im watching a horror flick. great job on tha designs and props. but mostly u gotta be brave ta go thru one of tha extreme haunts. im still in tha beginning state. but great job. keep it up and as always enjoy life as best u can. smooches.
Awesome Look into the modern world of haunted houses, scare walks, interactive horror experiences, even the world of living through a kidnapping or random attack. The one thing that made me really want to write a review is because I'm joining these people against Russ. This guy needs to be in prison! The other places people go to, they let people enjoy that "thrill" of being tied up thrown in a van with kidnappers and brought to some ransom warehouse where the threat and fear of your death feels very real. The difference between those and what Russ does is when people are pushed to their limit and need that to stop, they get to say a word and it stops. Then after you can laugh, the actors can reassure you you're safe, stuff like that. It's an awesome way to approach your fears, maybe even a healthy way. Russ takes you and does all that, but when he hurts you he has already crossed a line, but no safe word to release you? This has to be illegal! The people try to get away and he dives on them and drags them back while they scream for someone to help, fearing for their lives. He even goes on later to laugh at people warning the world of his horrible "work" by calling them "loons" and his wife said they were lying. This documentary has put such a hard light on his cruelty showing people begging to be let go and his psychotic torment giving promise of release then laughing when he tells them they "belong to him" and literally at that point has them in restraint without consent. Not giving a copy of the contract is just another messed up part. He makes them sign it without the chance to read it. Watch the people waiting for him to pick them up. He is on a radio threatening them, making them sign those papers they have not read. He says to "do what he says if they want any chance of surviving this" It is clearly forcing them to sign a legal document under threat of their lives, followed immediately by detaining them and covering their eyes and leading them to a truck to be taken away. Then his helpers walk away with signed legal documents. If that is legal then we should fix that s**t real fast! Sorry for the long review, but the documentary was really good and shows some amazing people, but spotlights this horrible person that should be in prison. I wish I could tell that guy that the only loon out there in this situation, is him. F*** you Russ!
Good! But Russ definitely gets to much of a hard on for that stuff