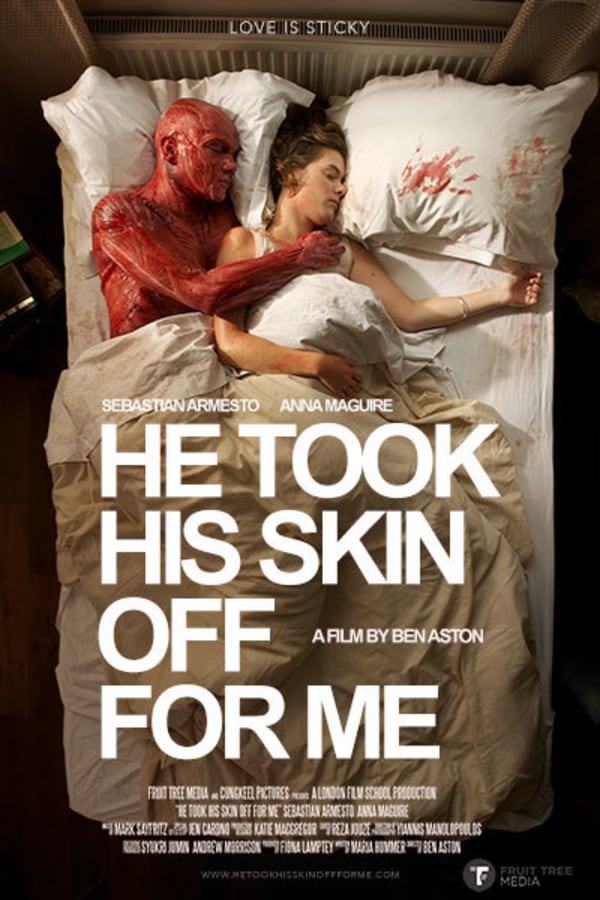 He Took His Skin Off For Me
Directed by Ben Aston
In this twisted modern-day fairy tale, a man removes his own skin for the woman he loves, believing it's what she wants him to do. And she does… at first. But his action soon proves to have dire consequences. Small things, things like stains. Things they can handle. But before long it becomes clear their relationship will never be the same again…
The story of a man who takes his skin off for his girlfriend, and why it probably wasn't the best idea...
Cast: Sebastian Armesto, Anna Maguire
Member Reviews
I really loved this short, the skin suit and all the little traces of his routine through the blood all over the home is well thought-out and interesting. The story is really sad and really speaks to the give-and-take aspect of making sacrifices in a relationship, and how the effects of those can put a strain on them. Beautiful music and acting, I really loved hearing it all from the woman's perspective, the guy's body language and physical acting conveys everything the audience needs to know. The woman's matter-of-factness in this odd, romantic situation is spot-on, very reminiscent of Guillermo del Toro's work.
personally, i felt that the movie was a look into relationships, and feeling close with someone, letting them see the whole real you. "taking your skin off for someone" or making sacrifices. but as the movie progressed you can see and somewhat feel him distance himself, i don't know how long that love that shedding of ones self for someone you love can last. its really sad actually. but VERY well done if you like horror or the dark and odd this is a perfect way to spend 11 minutes.
Definitely a very interesting concept. I loved the Hellraiser vibes. It was oddly romantic yet still fairly unnerving. The acting was very good and little words were needed to portray emotion in this short.
I loved how simultaneously romantic and disturbing this film is. I can't believe it's a student film because it's incredibly filmed and the SFX are spot on. The story is really great too.
Loved it! Definitely has Hellraiser vibes.