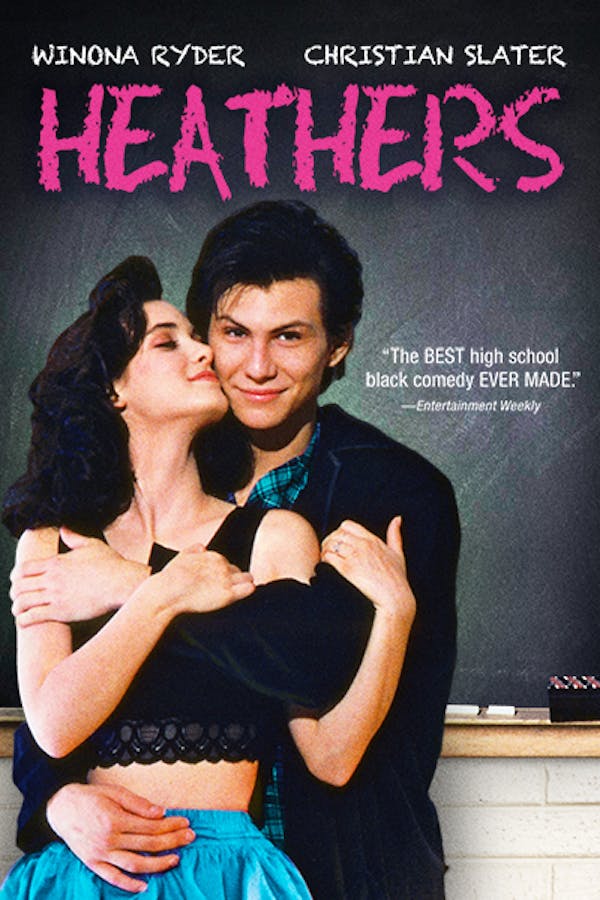 Heathers
Directed by Michael Lehmann
Westerburg High School's elite clique of popular girls is "The Heathers," comprised of the powerful Heather Chandler, the green-with-envy Heather Duke, and the cowardly Heather McNamara. Rounding out the foursome is Veronica Sawyer, who is so fed up with the Heathers and the entire peer pressure cooker that she starts running with J.D., a mysterious - and possibly psychotic - motorcycle-riding newcomer. But what begins as their noble effort to rid Westerburg of its bad apples ends up taking a real toll. And their teen rebellion produces a serious and mounting body count. Starring Winona Ryder, Christian Slater and Shannen Doherty.
Winona Ryder, Christian Slater and Shannen Doherty star in this cruelly hilarious dark comedy, which became one of the biggest cult classics of the `80s.
Cast: Winona Ryder, Christian Slater, Shannen Doherty
Member Reviews
one of the best movies of the 80's
You could not make this film now a days! It is amazing to watch and see how things have changed. A time capsule of a film and wonderfully made!
who knew getting a boyfriend meant killing 3 people. personally really enjoyed the movie other than some of the ideas being outdated (homophobia, etc.). I always loved the outfits and personally love Veronica's sarcastic personality. Not much if a horor in my opinion and more of just a violent-drama-humor idk what genere it fits intoDefinitly reccomend.
this is such a classic. Christian Slater is hot as fuck . Wynona is hot as fuck. Fuck me gently with a chainsaw Heather. such great lines and I love the edgy dark humor.