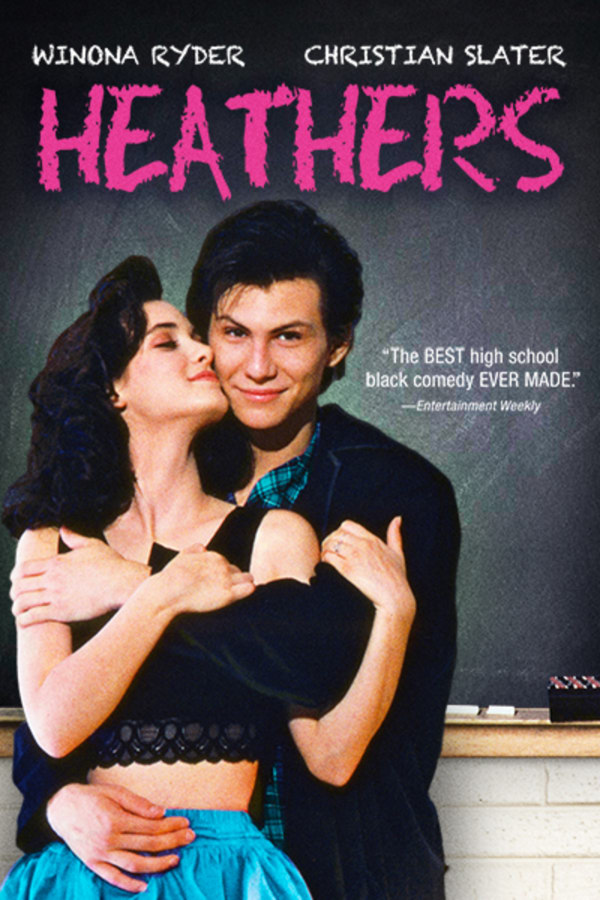 Heathers
Directed by Michael Lehmann
Westerburg High School's elite clique of popular girls is "The Heathers," comprised of the powerful Heather Chandler, the green-with-envy Heather Duke, and the cowardly Heather McNamara. Rounding out the foursome is Veronica Sawyer, who is so fed up with the Heathers and the entire peer pressure cooker that she starts running with J.D., a mysterious - and possibly psychotic - motorcycle-riding newcomer. But what begins as their noble effort to rid Westerburg of its bad apples ends up taking a real toll. And their teen rebellion produces a serious and mounting body count. Starring Winona Ryder, Christian Slater and Shannen Doherty.
Winona Ryder, Christian Slater and Shannen Doherty star in this cruelly hilarious dark comedy, which became one of the biggest cult classics of the `80s.
Cast: Winona Ryder, Christian Slater, Shannen Doherty
Member Reviews
Caught this movie on TBS about 25 years ago, it's been on my favorite's list ever since. I still find time to watch this every so often and when I find out someone hasn't seen it I treat them like they hadn't seen "The Godfather".
My undying love for Winona Ryder and 80s pop culture aside, this movie is dark comedy gold. Teen angst is brutal.
This was a pretty weird and twisted movie. I don't think it has aged politically correctly, but if you put that aside, it was oddly entertaining nonetheless. I did still feel a bit disturbed at how flippantly (albeit humorously) it handled serious and upsetting topics.
maybe the best dark humour movie ever made.
While I wouldn't consider it a horror movie, this movie is spectacular and definitely worth a watch. It's especially good for it's script and the enjoyable language they give this terrible girl clique. It's quoteable, hilarious, and also Rider busted her ass for this film. She's the true queen 💕