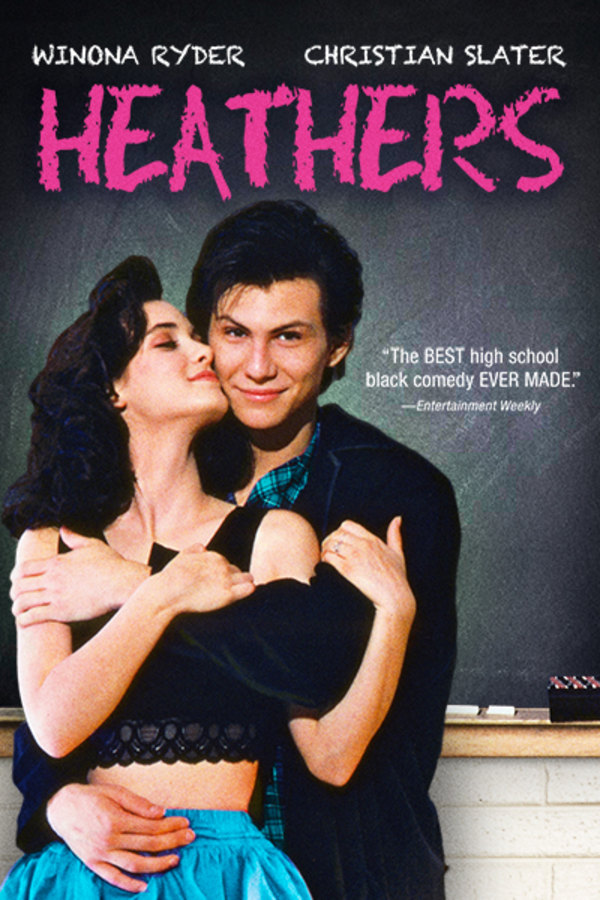 Heathers
Directed by Michael Lehmann
Westerburg High School's elite clique of popular girls is "The Heathers," comprised of the powerful Heather Chandler, the green-with-envy Heather Duke, and the cowardly Heather McNamara. Rounding out the foursome is Veronica Sawyer, who is so fed up with the Heathers and the entire peer pressure cooker that she starts running with J.D., a mysterious - and possibly psychotic - motorcycle-riding newcomer. But what begins as their noble effort to rid Westerburg of its bad apples ends up taking a real toll. And their teen rebellion produces a serious and mounting body count. Starring Winona Ryder, Christian Slater and Shannen Doherty.
Winona Ryder, Christian Slater and Shannen Doherty star in this cruelly hilarious dark comedy, which became one of the biggest cult classics of the `80s.
Cast: Winona Ryder, Christian Slater, Shannen Doherty
Member Reviews
"Fuck me gently with a chainsaw" is now a liberal part of my vocabulary now.
This is one of those films, like The Craft and Clueless, that I rewatch once a month and truly love. "Heathers" has the most memorable quotes that always fly over the heads of the twenty-somethings I work and converse with; c'mon "What's your damage" applies to all aspects of life. Knowing that Shannen was taking her role seriously adds a dash of "Showgirls" awesomeness. Whenever someone mentions loving "Mean Girls" guide them to "Heathers" and "Clueless" for the holy trinity.
Worthy of every great review. An absolute cult classic that deserves a place on everyone's cult favorites.
Wow! I loved this. I had a feeling I would like it, but it really exceeded my expectations. In many ways, this movie is the culmination of the '80s in film. This is to the '80s as American Psycho is to the '90s. Also, I think I'm in love with Winona Ryder now.