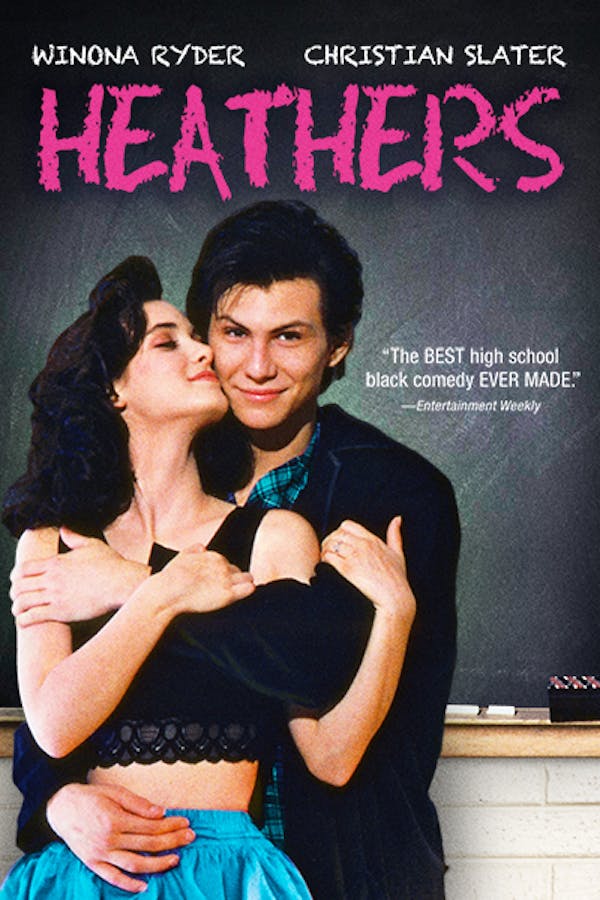 Heathers
Directed by Michael Lehmann
Westerburg High School's elite clique of popular girls is "The Heathers," comprised of the powerful Heather Chandler, the green-with-envy Heather Duke, and the cowardly Heather McNamara. Rounding out the foursome is Veronica Sawyer, who is so fed up with the Heathers and the entire peer pressure cooker that she starts running with J.D., a mysterious - and possibly psychotic - motorcycle-riding newcomer. But what begins as their noble effort to rid Westerburg of its bad apples ends up taking a real toll. And their teen rebellion produces a serious and mounting body count. Starring Winona Ryder, Christian Slater and Shannen Doherty.
Winona Ryder, Christian Slater and Shannen Doherty star in this cruelly hilarious dark comedy, which became one of the biggest cult classics of the `80s.
Cast: Winona Ryder, Christian Slater, Shannen Doherty
Member Reviews
i dont understand how ppl can say what they say about this movie in the comments!? THIS movie is called a "Cult Classic" & its dark humor its a fantastic movie & gives ppl a inside look at the diff. ROLES ppl played in highschool & gottta remember this came out in the very early "90s" & things were very different back then
Wtf??? This movie is in the wrong genre it should be moved to worst stupid high school movies that lower your I.Q consistently while watching this fucking ass movie ... I had to turn it off and watch Buffy ... because that's more entertaining
Oops forgot to move the skulls lol
Great movie. Don't know how to explain it. Not horror. Not comedy. But funny and hiding in your covers lol
I love my 80s cult classics and the actors that pair together in other things such as Beetlejuice and Charmed.