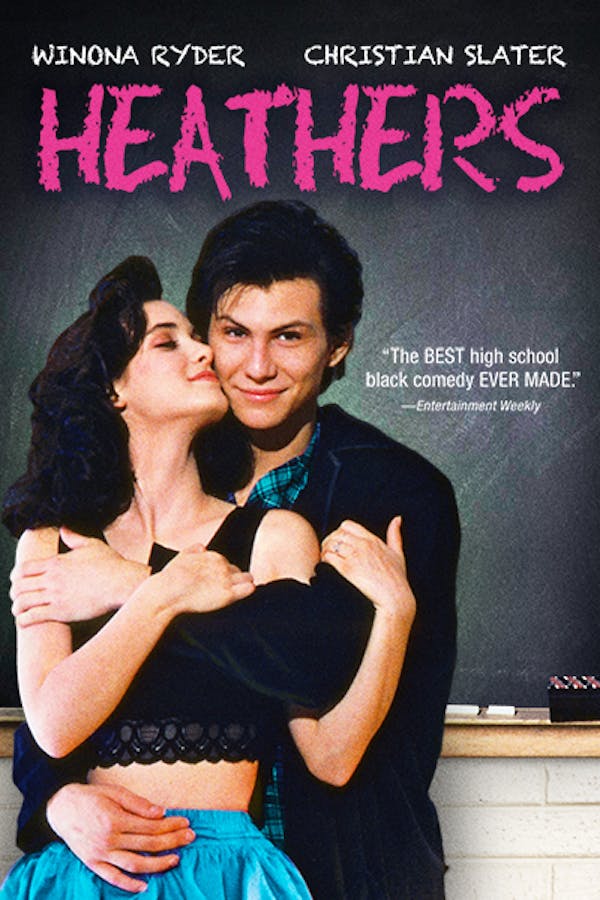 Heathers
Directed by Michael Lehmann
Westerburg High School's elite clique of popular girls is "The Heathers," comprised of the powerful Heather Chandler, the green-with-envy Heather Duke, and the cowardly Heather McNamara. Rounding out the foursome is Veronica Sawyer, who is so fed up with the Heathers and the entire peer pressure cooker that she starts running with J.D., a mysterious - and possibly psychotic - motorcycle-riding newcomer. But what begins as their noble effort to rid Westerburg of its bad apples ends up taking a real toll. And their teen rebellion produces a serious and mounting body count. Starring Winona Ryder, Christian Slater and Shannen Doherty.
Winona Ryder, Christian Slater and Shannen Doherty star in this cruelly hilarious dark comedy, which became one of the biggest cult classics of the `80s.
Cast: Winona Ryder, Christian Slater, Shannen Doherty
Member Reviews
It's heathers, essential watch
This is a classic that deserves some respect. Rated for a horror, because it isn't particularly scary, got it the four, but it is a very good movie.
I haven't even watched the full movie. I don't dare to. It's a very niche fear for me, because I sympathise with JD. I see the struggle of him wanting to care, but as if in an untreated mental trance, he just goes along with his ideas, because he's silently screaming for help and no one listens. He just moved from another city, his father makes the family move all the time, and being a construction workers son in the 80s was practically a death sentence for a concept of what emotions are. And the only one he thought understood him, and could help save him, made him believe the only way out was death. The fear of oneself. THAT, is tragic. It deserves the 5 rating.
I know people are saying it's not a horror, but honestly, with how off putting, creepy, and homicidal the story gets, I would say it makes the cut for a horror comedy. Honestly this movie can be downright surreal. At any rate, it's just a good movie in general, so I'm glad I can watch it on Shudder, no complaints here.