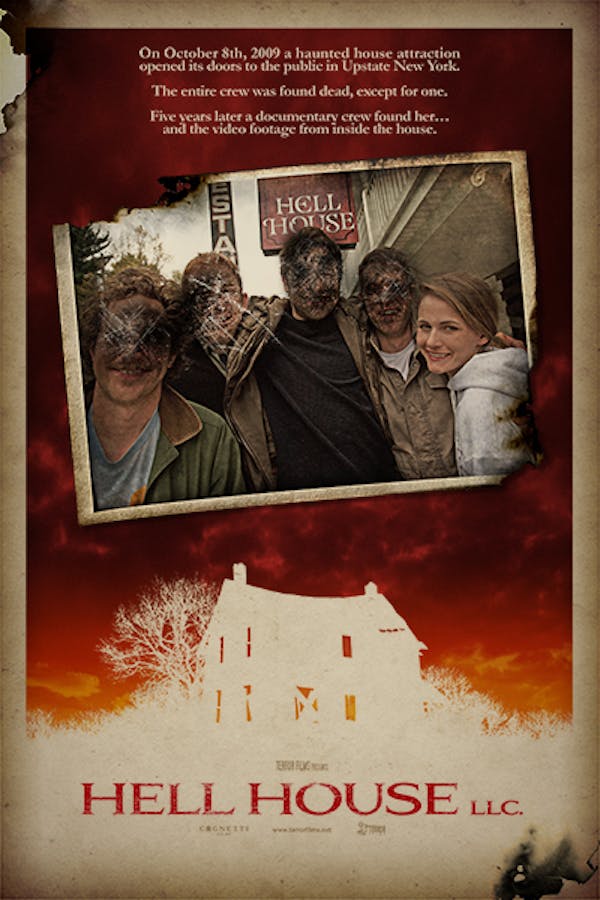 Hell House LLC
Directed by Stephen Cognetti
In this found-footage gem, a documentary crew visit the site of a haunted house attraction whose opening night ended with 15 unexplained deaths. Eventually the crew come across a surviving employee who has footage that shines a scary light on what really went down that night. As we watch those ill-fated thrillseekers shuffling through the horror house, the knowledge of what's about to happen makes for a squirm-and-scream-inducing good time. Dread Central called it "a perfect fright flick for the Halloween season" which features "one of the creepiest clowns to appear in a horror movie in a long time." Sorry Pennywise!
A documentary crew investigate a haunted house attraction whose opening night ended in horror.
Cast: Kristin Michelle Taylor, Theodore Bouloukos, Jeb Kreager, Miranda Robbins, Gore Abrams
Member Reviews
Great movie. But why would you remove it but leave the 2nd and 3rd? So stupid.
So freaking creepy I love it! My heart was racing the whole time. Suspense, jump scares, classic haunted house vibes. Brilliant
Scary clowns all aver the place.. really good scare
As soon as I hear "found footage" or "based on true events", my eyes roll. But this was actually quite a good one for the genre - the "we don't have answers" thing leaves a sour taste for me in any movie, and in this one they KEPT SAYING IT! It's like they just can't be bothered to write a full story and rely on being carried by everything else (with this one: they rely on the scares). Would have got a 4 if it felt a bit more finished. MIGHT give the sequels a go if I'm really bored.
extremely BORING stopped 25mins in due to dragging out footage and nothing scary happening. Not worth watching