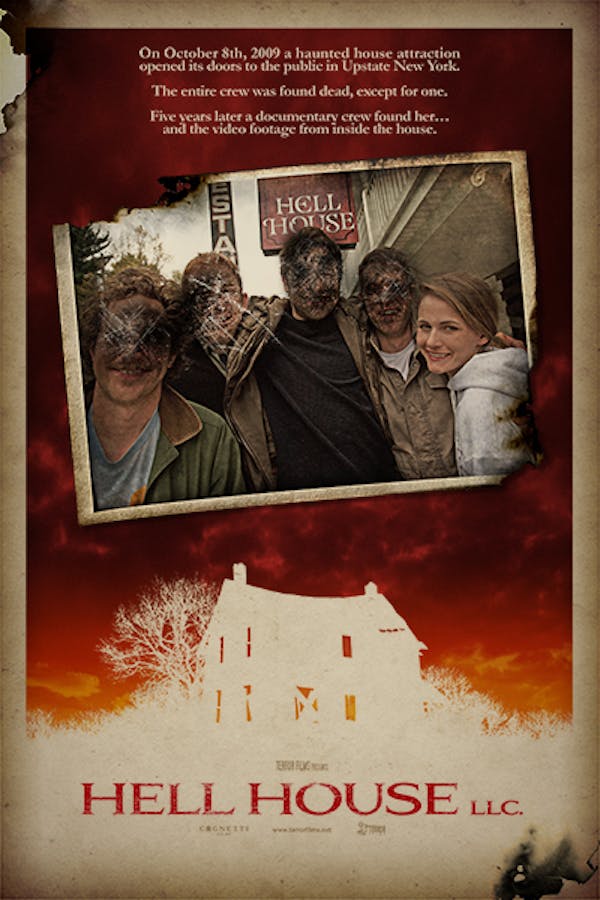 Hell House LLC
Directed by Stephen Cognetti
In this found-footage gem, a documentary crew visit the site of a haunted house attraction whose opening night ended with 15 unexplained deaths. Eventually the crew come across a surviving employee who has footage that shines a scary light on what really went down that night. As we watch those ill-fated thrillseekers shuffling through the horror house, the knowledge of what's about to happen makes for a squirm-and-scream-inducing good time. Dread Central called it "a perfect fright flick for the Halloween season" which features "one of the creepiest clowns to appear in a horror movie in a long time." Sorry Pennywise!
A documentary crew investigate a haunted house attraction whose opening night ended in horror.
Cast: Kristin Michelle Taylor, Theodore Bouloukos, Jeb Kreager, Miranda Robbins, Gore Abrams
Member Reviews
Really well done horror movie. Super creepy and scares where you least expect it. The acting was also top notch and not lame like similar movies. Just a piece of advice. Hiding under the covers never protects you!!!
This one surprised me and creeped me out perfectly which has become harder to acheive these days. The next two were ok but could have been done much better. The series plot/lore had so much potential but sadly the movies were lacking in a few places. I'd suggest you only watch this one for the fear factor and ignore the others.
This is the movie I watch with friends at Halloween, knowing the jump scares and the freaky scenes will scare the c*&p out of them. Its such a fun movie and scary. One of the best-found footage horror movies I've seen. The ending was a twist for me- even after seeing the lead up. I will always recommend Hell House LLC. People are complaining about the characters but IDK, I know a lot of people from the city very similar to this lot. Are they all likeable? No, not at all. But it is realistic? Yes.
This was hands down the best horror movie I have watched since the Gonjiam Asylum Horror movie 10/10 recommend!!!!!!
Fun found footage movie which has a welcomed haunted house vibe. The movie uses known horror tropes, but does so refreshingly and uniquely. Great movie!