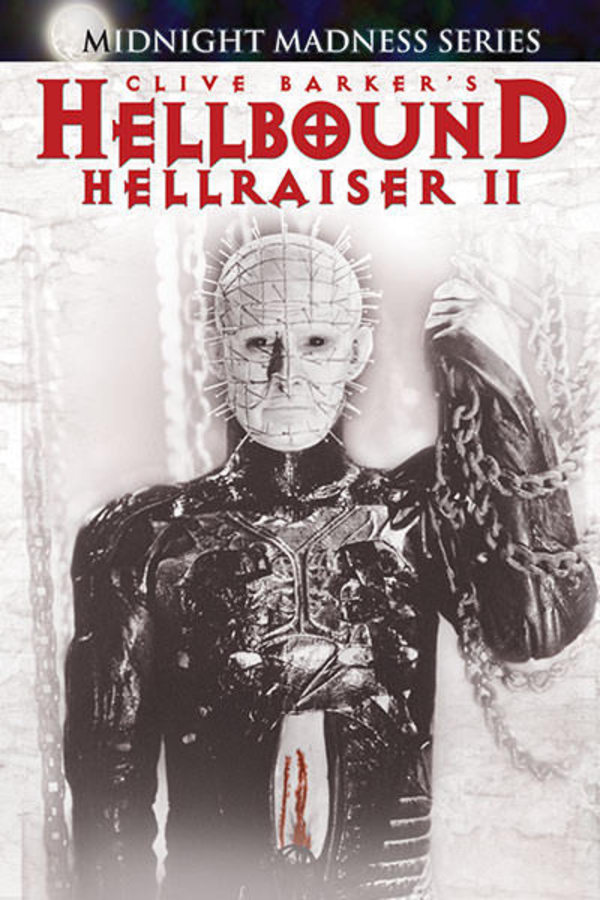 Hellbound: Hellraiser II
Directed by Tony Randel
In the sequel to HELLRAISER, an occult-obsessed doctor calls forth the Cenobites. After the events of the first film, Kirsty is brought to a psych ward where no one believes her story. No one, of course, except Dr. Channard, who resurrects Julia so she can take him to the Cenobites. But when the gates open, Kirsty's also drawn into the labyrinthine hellscape where horrors wait around every turn. Widely regarded as the best of the sequels, HELLBOUND's visually-stunning horror-fantasy hybrid cemented horror fans' love of the series"" and the sadistic Pinhead. Contains violence and gore.
In the sequel to HELLRAISER, an occult-obsessed doctor calls forth the Cenobites.
Cast: Doug Bradley, Ashley Laurence, Clare Higgins
Member Reviews
Not nearly as good as I remembered it from when I was a kid. While some of the dream-logic when they get to Hell is fun (as well as a lot of the amazing practical effects) most of the movie is just meandering around without a clear direction. The first act is not very well paced, especially with two extended flashbacks to the first film. While the movie's humanization of the cenobites is an interesting idea, it just doesn't really mean anything as far as the narrative is concerned, and feels a bit wasted here. The movie also strays away from the fascinating look at sadomasochism and sex which made the first movie so great; instead we kinda get into cosmic horror here, which while a good direction for the series to take, it just doesn't go far enough. Rewatching this and the first one back to back, it's so weird to see this as a followup to a movie which had such a great identity to itself. Hellbound lacks substantial character growth (Julia remains the only one who I really think is interesting at all), and it's expansion on the mythology is a bit of a double edged sword. Wish I liked this one better.
It's a good sequel but unlike most sequels it does not top nor match the first installment. This franchise clearly got out of hand after part 4. Many would say sooner. The story didn't really need to go on. There is an origin's script out there somewhere that has some concept images that look promising. Not by Clive Barker though. I hope Clive can do the Hellraiser film he's been talking about and put the Hell Priest to rest for good.
My favorite in the series, even though it humanizes the Cenobites which kind of lessens how scary they were in the first place (they're a little more mysterious in the first Hellraiser)
I remember the hell sequences really getting to me. It's a step down, but with some interesting stuff still.
Interesting sequel that successfully expands the mythology of the first film.