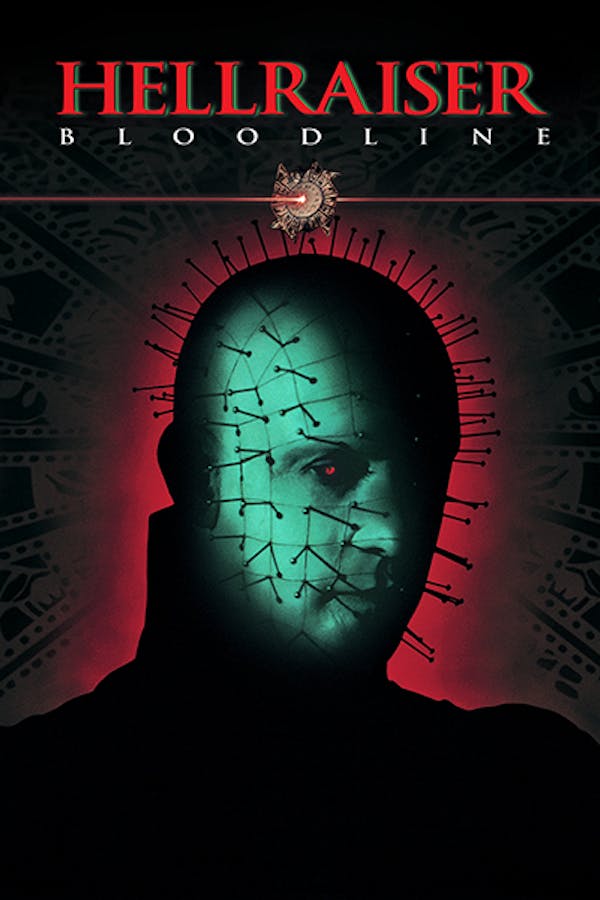 Hellraiser IV: Bloodline
Directed by Alan Smithee
Determined to close the gates of hell once and for all, a 22nd-century scientist, whose ancestor freed the demonic Pinhead centuries before, tries to reverse the Lament Configuration! This blood-curdling epic spans three eras and 400 years, from the 18th-century Parisian origins of the Lament Configuration box (which proves to be a doorway to Hell) to modern times, and finally to the year 2127 and a gigantic spaceship where the forces of good must again triumph over evil!
The past, the present and the future will meet at the crossroads of hell!
Cast: Bruce Ramsay, Valentina Vargas, Doug Bradley
Member Reviews
that was a pretty terrible movie, i did enjoy it
This whole franchise stinks but it's hilarious fun
Solid entry in the series, not as good as 1 or 2, about as good as 3, covers a lot of time from the past to the future ending up with a cool little finale in space. Pinhead gets a lot of screen time and gets to say a whole lotta scary cool lines and there are some good gory special effects. Recommended if you like the. series.
I didnt mind it actually. I had very low expectations, but It was quite well done and stayed true to the universe Clive Barker created.
This is another example of 'take x and put it into space', the only film to have made it work was Jason X and mostly because that was a cynical anti-Friday the 13th film. I have never understood why this film series is so beloved, beyond the gore there isn't much to be had here. The stories are always the same; piece of wood tries to act, pinhead uses hooks to flay someone, box gets solved. Maybe the source material is better written than this franchise or maybe it's a product of the times but there is nothing inherently frightening about this film franchise, Freddy was scary because he could get you in your dreams, we all dream, Michael was scary because he's a silent brute who won't stop at anything to get you, Pinhead isn't scary, he uses flying hooks to scalp people and is beaten by a toy. Beyond being Godlike what traits does he possess? he'll kill you if you do this very specific thing that most people do on purpose and is not likely to be done on accident? now that's scary, nothing more terrifying than a pale dude who promotes order while dressed like a gimp. Perhaps the true horror is in how monotonous and pompous these movies are, I've seen most of them and couldn't tell you one from another, 'here's pinhead saying some vague heaven vs hell bullshit and waxing philosophical like he's some arrogant philosophy major, oh look he's going to torture the person who wants to be tortured, oh look he got beaten by a lump of wood, well lets make 13 movies out of that, same script just change the names once in a while'. This whole franchise has nothing to offer except some cool effects once in a while and it really gives off 'I like to smell my own farts' energy, yes cool you own a thesaurus, now be scary, just once.