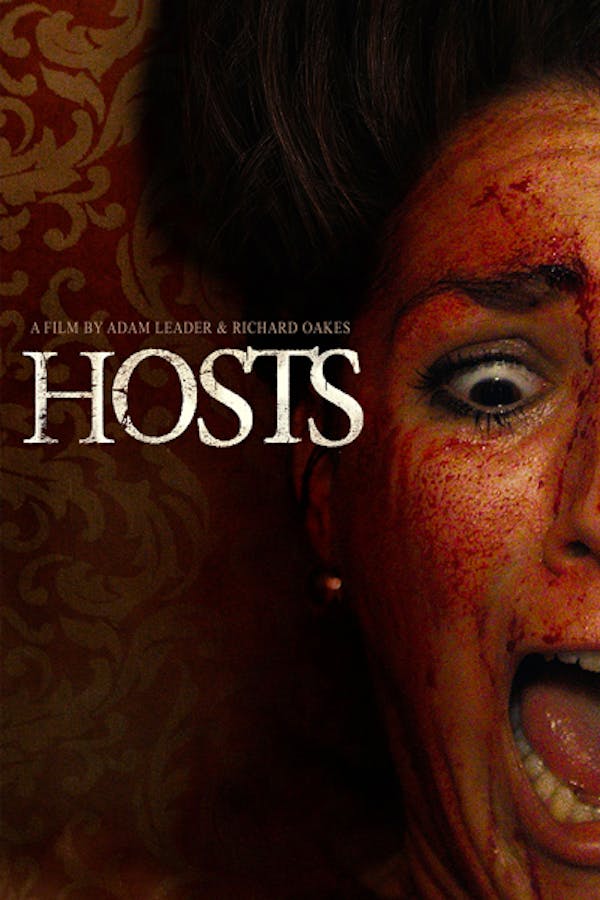 Hosts
Directed by Adam Leader, Richard Oakes
When a family invites their neighbors over to celebrate Christmas Eve, they do not realize that their friends had just become hosts to a malicious entity hellbent on taking over the world. The family find themselves fighting for their lives in a night of unimaginable terror.
Christmas dinner is ruined when a family unknowingly invites a demonic entity into their home.
Cast: Neal Ward, Nadia Lamin, Frank Jakeman
Member Reviews
I understand that movie characters do not act like real people but some of the the behaviors/choices were so unbelievable it made you disappointed in the characters. Who just sits there less than 3 feet away staring in shock..... Well I guess all of them. Decent start and bloody scenes, lackluster sorry
Not sure what purpose this film was supposed to serve since it plays out like a mash-up of THE STRANGERS meets HELLRAISER: REVELATIONS while never capturing the suspense of the first or the bloodiness of the second. It's overlong and filled with lengthy expositions that (a) don't really tell us anything interesting or important, and (b) slow the whole thing down to a snail's pace. One can see the germ of an idea hidden behind the schmaltzy affirmations of familial love, but it's never explored (much less explained). Overall a yawn-fest.
Wasn't very impressed with this film.
If you enjoy senseless violence without the encumbrance of story, this is for you. One of the rare times I stopped a movie midway through thinking, "okay, I get what's happening here, I know how this ends, and I really am not here for it." But the cinematography and acting is good.
This movie has highs and lows for me. There's something missing to tie it all together. With this kind of brutal home invasion story, the filmmaker needs to decide whether the family is responsible in some way for what is happening. For example, in You're Next there is an element of greed and entitlement to the family inheritence, whereas in something like The Strangers or Funny Games, the whole point of the story is that the family has done nothing and the killers just want to do it anyway ("because you were home.") This movie kinda tries to have it both ways, and I don't think it works. The initial two possessed humans don't seem to do anything to invite in a demonic presence. They're just a young couple trying to make their own way and the demons can possess them without being invited, or without the humans committing any sin or anything like that. And all the family did was invite these two humans over for Christmas dinner. So the demons can do whatever they like, and they explain that they have a vendetta against God for casting them out, so they're retaliating by destroying his favoured creations and the innocent humans are caught in the crossfire. Fine, it's bland but whatever. But then there's this other theme about the family, and fathers and sons specifically, where spoiler alert it turns out the father of the family is also secretly the father of the young man who is possessed. They keep trying to tie this together by cutting to a painting of the binding of Isaac by Abraham, but it's just not really the same thing at all, and neither of the two elements of that situation have anything to do with each other. The fact that the father has a child he abandoned doesn't matter to what the demons are doing. It's just a thing that happened. The violence, the possessions, the family dynamics, they're all just separate things that are happening and there's not much in one thing that enhances the others. The only exception is the first act of violence against the family. That was very well done. But after that it just peters out.