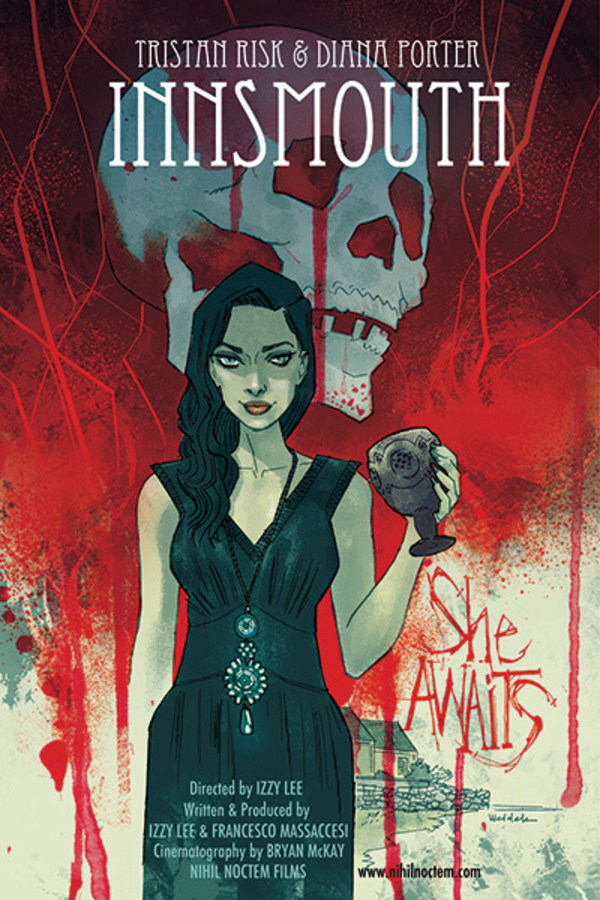 Innsmouth
Directed by Izzy Lee
Detective Diana Olmstead arrives on the scene of a body with a mysterious egg sac on its back and a deep bite that her medical examiner can't figure out. The only clue to the vicious crime is a photo of the victim and a beautiful woman with the word "Innsmouth" written on it. So Diana sets out for the New England seaside village to solve the mystery. But when she gets there, she's quickly subdued by the woman from the photo, who may be a very old sorceress. Director Izzy Lee's scary spin on H.P. Lovecraft earned raves from Fangoria, Rue Morgue and Dread Central. Contains strong language, sexual scenes, violence and gore.
A female detective arrives on the scene of a body with a mysterious egg sac on its back
Cast: Phil Healy, Porcelain Dalya, Sophia Cacciola, Vera Schränkung, Tristan Risk
Member Reviews
The acting was pretty terrible... I personally think that the best acting was by the medical examiner. It was a really fun and creepy plot and story but that doesn't cut it all the time. I wouldn't watch it again.
I was ready to write a review based entirely on the amateur acting ("This is new?" Are you asking me or telling me? "Who am I." Is that supposed to be a question?) and overall lameness of the entire plot... but to be completely honest I'm going to have to give these folks some credit - I'm probably remember this short movie until the day I die. Because it's not every day you see an eyeball emerge from a woman's vagina.
This was a great short. I wish it was feature length but they covered alot of basics to the original story. The strongest part of this has to be the otherworldly music backing the scenes. Again, though, as a lover of HP Lovecraft I was disappointed there wasn't more to see. Worth the watch especially if youre familiar with the Cthulhu Mythos.
The worst professional acting I've seen. Terrible plot. There's really nothing good about this. The only speck of positivity I can find in this is that you get to see a beautiful woman's body... and that's not what I'm on Shutter to see. I wish Shutter had higher standards for the films and shorts they put on here. As a paying customer, I don't like being given trash.