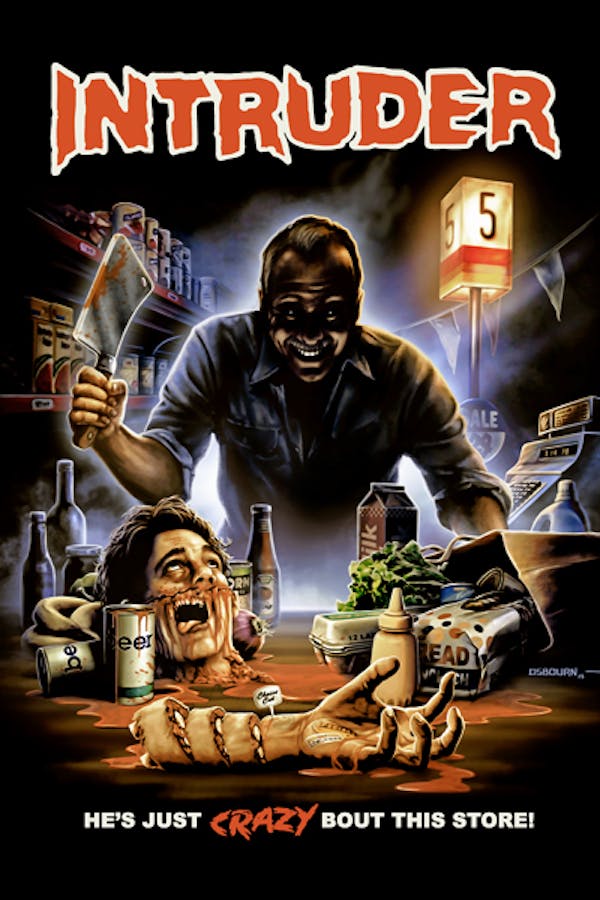 Intruder
Directed by Scott Spiegel
The overnight crew of a supermarket find themselves pursued by a mysterious maniac in this fun late-80s slasher from regular Sam Raimi mainstay Scott Spiegel, who co-wrote EVIL DEAD 2 and appeared in many of Raimi's films. Spiegel wisely enlisted Raimi himself and Bruce Campbell to play supporting characters. The sickening story - about a group of kids who get slayed while staying late to prepare for a going out of business sale, comes from Lawrence Bender, who would later become famous for producing nearly all of Quentin Tarantino's fantastic films.
Overnight workers at a grocery find themselves pursued by a deadly maniac.
Cast: Elizabeth Cox, Renée Estevez, Dan Hicks
Member Reviews
First time I seen this film I really liked it. But, and I dont like complaining about Shudder because, except the Horror Channel, its the best UK as for horror, in the future maybe we could have it uncut? Towards the end there were that many cuts some things didnt make sense. Like the bread man getting killed. He just seemed to explode up the window for no reason. Still I understand that there may be rights issues and I still enjoyed it. Im not one of these people who says "right this one thing isnt to my liking im unscribing" cause I really love Shudder.
Didn't realise it was the cut version until I watched it and man does it show. The editing is horrendous.
Just dropping by to say what everyone else has said; that this is the heavily cut version, with basically all of the deaths cut out or heavily censored/shortened. For a film that's best known for it's gory kills (the reason most people will watch it) it's incredibly annoying that it isn't even mentioned anywhere that this is the censored version. The first film I'm watching on Shudder, and it's not a good start.
Thanks for cutting all the good bits out , shudder i want my money back this month
This is the heavily censored version, almost all of the gore has been cut out! You can buy the uncut version on Blu-Ray in the UK, this cut version being on Shudder is very disappointing.