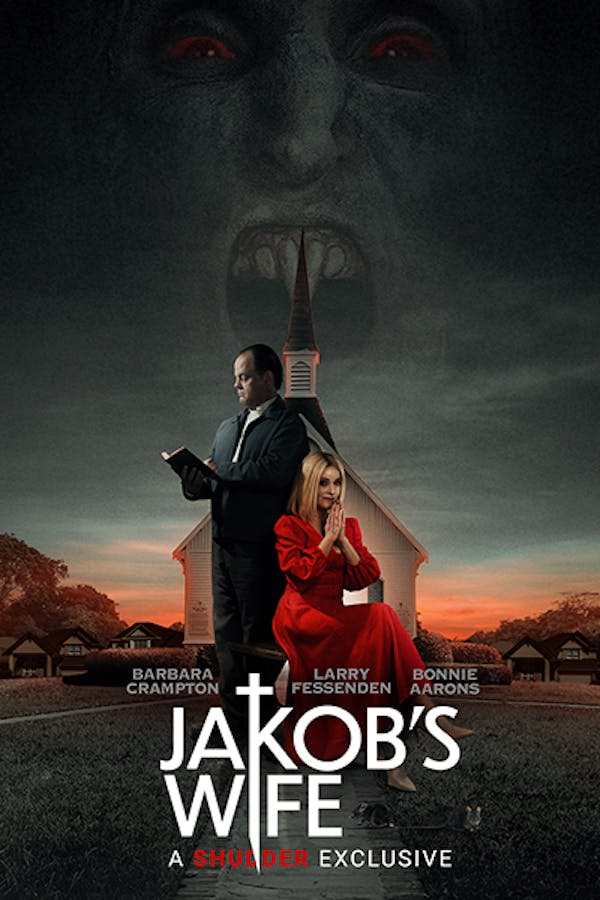 Jakob's Wife
Directed by Travis Stevens
Anne is married to a small-town minister and feels like her life and marriage have been shrinking over the past 30 years. After a chance encounter with "The Master," she discovers bite marks on her neck, a new sense of power and an appetite to live bigger and bolder than ever. As Anne is increasingly torn between her enticing new existence and her life before, the body count grows and Jakob realizes he will have to fight for the wife he took for granted. A SHUDDER EXCLUSIVE.
After an encounter with "The Master," Anne discovers bite marks on her neck, a new sense of power and an appetite to live bolder than ever before.
Cast: Barbara Crampton, Larry Fessenden, Bonnie Aarons, Nyisha Bell, Mark Kelly
Member Reviews
Well made and funny, this had the potential to be a really bad b movie, however despite having a slight made for tv feel to it the quality of the main two actors combined with a good script serves up a film well worth watching and definately one of the better shudder originals.
I guess I've not seen Barbara Crampton in a movie (that I'm aware of) before this, and I was impressed with her performance. The actor playing Jacob was a good match for her, too; they went toe-to-toe in a number of scenes, and they were GOOD. There were genuine thrills as well as black humor in this picture. I'm impressed by a comment made by awolfe42 in another member review: "The underlying themes of domestic dissatisfaction and patriarchal control are also pretty well fleshed out." Yes, I think that's a better summary than criticizing the depiction of a specific faith, which I've read in other reviews. "Jacob's Wife" was a chilling good show.
this is a best horror movie i ever watched
Very loose with the word comedy here on shudder but in saying that was a really cool movie, great fun.