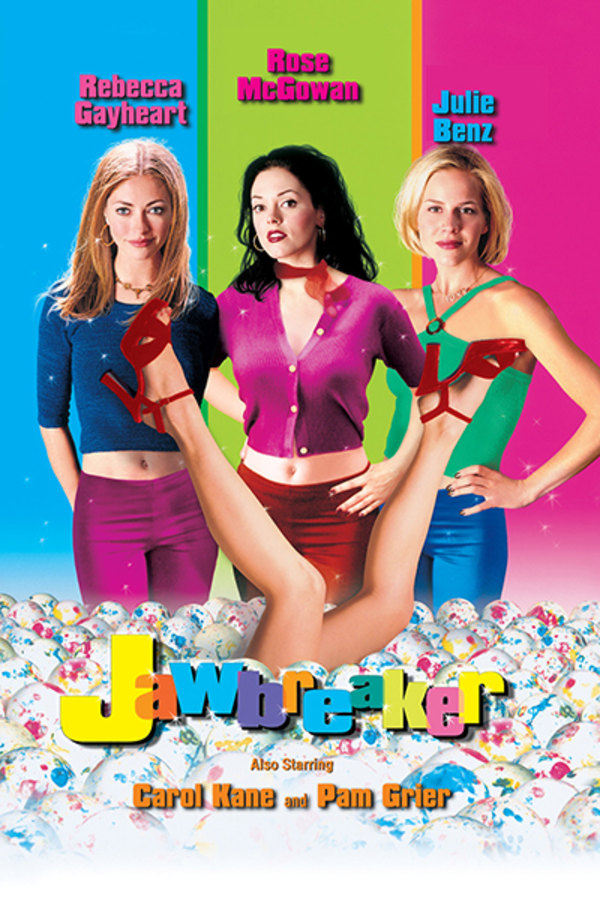 Jawbreaker
Directed by Darren Stein
When Courtney, Marcie and Julie decide to fake a kidnapping on the morning of their bestie Liz's 17th birthday, the prank goes horribly wrong and Liz winds up D.O.A. The trio cover up their crime, but when ultra-dweeb Fern Mayo accidentally discovers what happened, Courtney decides to make Fern over and let her rule the school with them. Darren Stein's raucous black comedy is a gag-worthy tribute to teen horror classics like CARRIE, featuring enough offbeat icons (Rose McGowan, Pam Grier, Marilyn Manson) to make it a cult classic of its own. Craving something sugary? Lick at your own risk.
Teen girls must cover up the accidental murder of a friend in this twisted '90s classic.
Cast: Rose McGowan, Rebecca Gayheart, Carol Kane, Julie Benz, Chad Christ
Member Reviews
I loved this. Mean girls was definitely inspired by this film
I've had a lot of arguments with myself over the years about how much of this baffling movie represents good-bad taste and how much of it is just bad-bad taste, but the result is that I've seen it about a thousand times, so I've kind of given up my right to complain at this point.
good movie if they shouldn't do a remake because the classic it's always better love the movie and that I'm surprised he didn't do a sequel
Gets four skulls for 90's nostalgia, other than that I'd give it a two-skull review if the first time I ever watched it was today