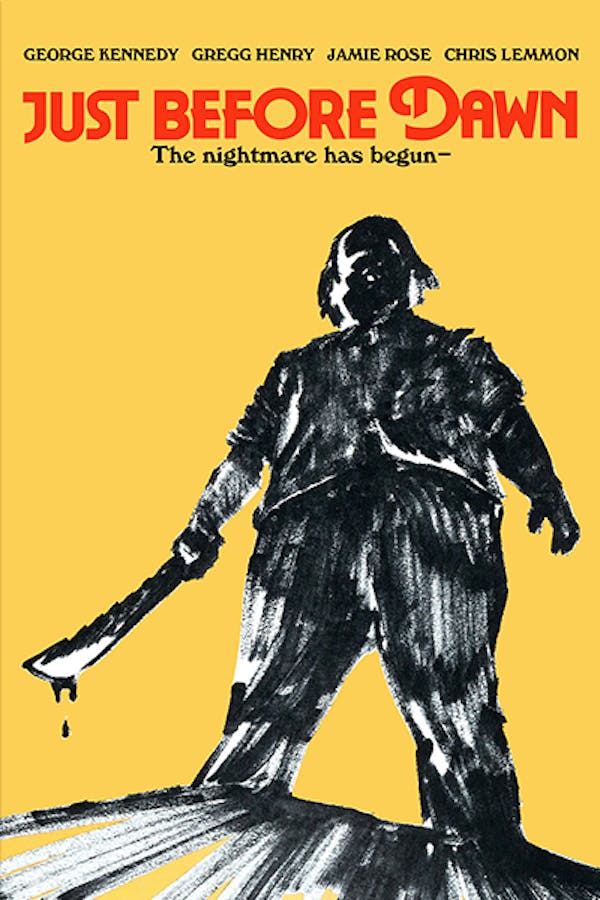 Just Before Dawn
Directed by Jeff Lieberman
Five friends set out for a weekend camping excursion, to drink, frolic and skinny-dip on an isolated piece of land one of them has inherited. Despite ominous warnings from locals, the friends trek further into the foliage. Extremely eerie and beautifully shot with a horrifying twist that will make you wonder if any of the friends will survive those dark hours Just Before Dawn?
Five young friends venture into the backwoods of Oregon to claim a property, and find themselves being stalked by a hulking, machete-wielding psychopath
Cast: George Kennedy, Chris Lemmon, Mike Kellin, Gregg Henry, Deborah Benson, Jamie Rose
Member Reviews
Definitely not one of the best slasher films, though it does have some of the most beautiful cinematography of any of them.
The killer isn't every interesting and is even a little silly at times (and be warned if you use subtitles that they'll spoil the "twist" for you very early on), but the scenery & central characters make this one worth a watch. The main group really feels like a bunch of friends and real people, rather than a set of annoying slasher tropes waiting for the axe. Really memorable final girl moment at the end too!
Beautiful scenery! Acting was decent. Worth a watch!
Really impressed with Deborah Benson's performance! She's a shy, innocent, flirty, terrorized, traumatized, bringer of death. Amazing. Several great moments between the characters in this as well as some unique directing with the camera POV. Excellent location. Fun story. Creepy enough. Love the ending.
It was decent. The scenery was beautiful. I was impressed by the quality of the print for such an obscure 80's movie. Its not really a slasher but the story is enough to keep things moving. It has some good bits and stupid bits. Worth a watch.