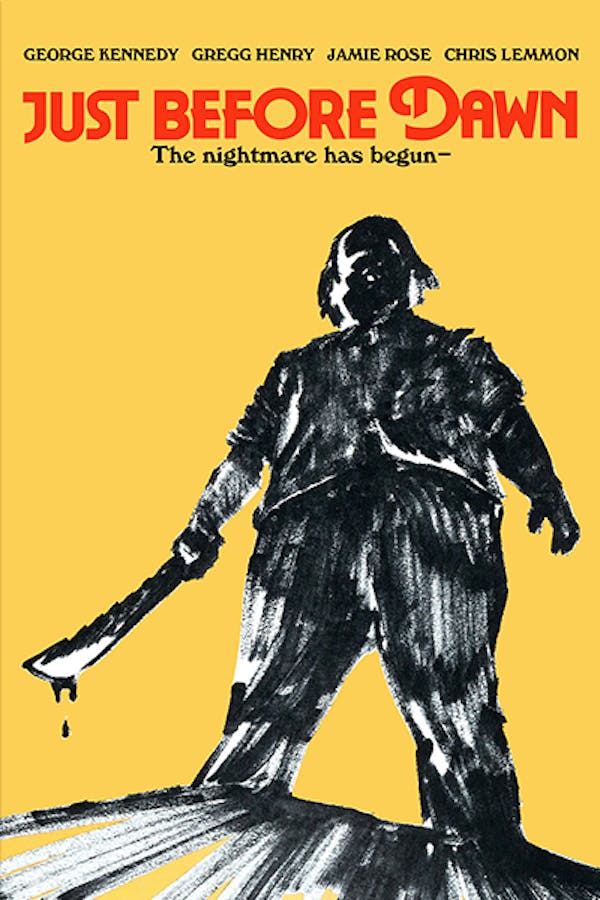 Just Before Dawn
Directed by Jeff Lieberman
Five friends set out for a weekend camping excursion, to drink, frolic and skinny-dip on an isolated piece of land one of them has inherited. Despite ominous warnings from locals, the friends trek further into the foliage. Extremely eerie and beautifully shot with a horrifying twist that will make you wonder if any of the friends will survive those dark hours Just Before Dawn?
Five young friends venture into the backwoods of Oregon to claim a property, and find themselves being stalked by a hulking, machete-wielding psychopath
Cast: George Kennedy, Chris Lemmon, Mike Kellin, Gregg Henry, Deborah Benson, Jamie Rose
Member Reviews
I will never forget that whistle in the forest, in both the beginning credits and the end. The complete mental breakdown of the main characters at the end was phenominal. I know a lot of '80s horror films have bad acting, but the acting in this movie was fantastic.
Pretty good 80's slasher. Great atmospheric soundtrack. Doesn't rely on gore and sets a pretty good vibe of unrelenting tension. Seems like this would be the perfect pairing with The Burning. And it has George Kennedy, who is always a plus.
Camping in the eighties was so much fun! Always been a hidden gem, glad to see it finally get its due. Connie in those shorts fighting off the redneck slashers ❤️
Great suspense building, the final scene is a joke however
I thought this movie was pretty good but I didn't care for the ending.