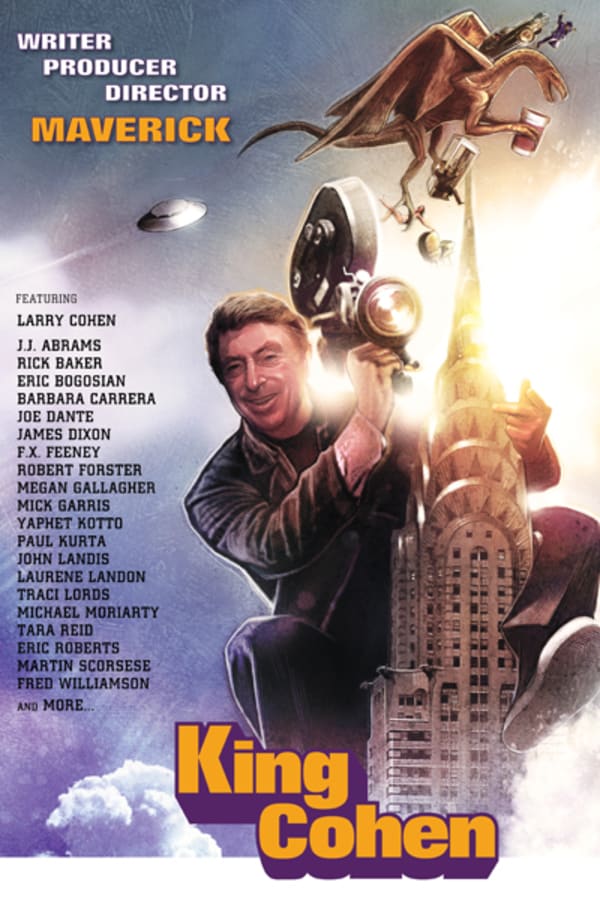 King Cohen: The Wild World of Filmmaker Larry Cohen
Directed by Steve Mitchell
Buckle up for KING COHEN, the true story of writer, producer, director, creator and all-around maverick, Larry Cohen (Black Caesar, It's Alive, Q: The Winged Serpent, The Stuff). Told through compelling live interviews, stills and film/TV clips, the people who helped fulfill his vision, and industry icons such as Martin Scorsese, J.J. Abrams, John Landis, Michael Moriarty, Fred Williamson, Joe Dante, Yaphet Kotto and many more, including Larry himself, bring one-of-a-kind insight into the work, process and legacy of a true American film auteur. Few can boast of a career as remarkable or prolific, spanning more than 50 years of entertaining audiences worldwide.
The true story of writer, producer, director, creator and all-around maverick, Larry Cohen.
Cast: J.J. Abrams, Larry Cohen, Rick Baker, Joe Dante, Martin Scorsese
Member Reviews
Loved it. Great insights into one of the last true maverick film makers.
I watched this out of curiosity more than anything, since I have a barely-passing familiarity with Cohen's output. Though this documentary didn't necessarily make me want to explore any more of his work, it did give me an appreciation for him as a creative force. The number of people they talk to and the quality of the doc in general are of an extraordinarily high calibre.
Larry Cohen didn't take no for an answer and didn't wait for anybody to give him permission. He just did it. A lesson for any wannabe filmmaker. There will never be another moviemaker like Larry Cohen. Some of his movies are rough and gritty looking but they are damn good. Great documentary on a one of a kind person whose films will stand the test of time for decades to come. RIP Larry Cohen RIP
well, well, well, ...let the recognitions begin. ''Lifetime Achievement Academy Award'', anyone?