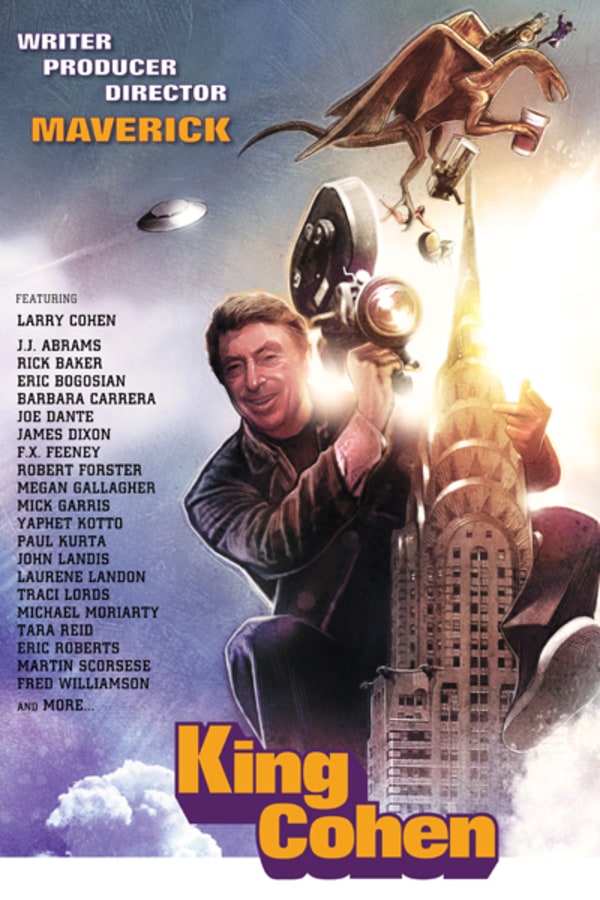 King Cohen: The Wild World of Filmmaker Larry Cohen
Directed by Steve Mitchell
Buckle up for KING COHEN, the true story of writer, producer, director, creator and all-around maverick, Larry Cohen (Black Caesar, It's Alive, Q: The Winged Serpent, The Stuff). Told through compelling live interviews, stills and film/TV clips, the people who helped fulfill his vision, and industry icons such as Martin Scorsese, J.J. Abrams, John Landis, Michael Moriarty, Fred Williamson, Joe Dante, Yaphet Kotto and many more, including Larry himself, bring one-of-a-kind insight into the work, process and legacy of a true American film auteur. Few can boast of a career as remarkable or prolific, spanning more than 50 years of entertaining audiences worldwide.
The true story of writer, producer, director, creator and all-around maverick, Larry Cohen.
Cast: J.J. Abrams, Larry Cohen, Rick Baker, Joe Dante, Martin Scorsese
Member Reviews
In depth look at the maverick filmmaker. Really gives you an insight into his filmography in a way most talking head interviews can't.
Enjoyable look at a Hollywood(ish) original who dared to be different and succeeded despite all signs he probably would not. Cohen was a man with a plan and, evidently, a good heart. It was lovely seeing some well known contemporaries salut him with utmost respect.
If you are the type to have Shudder, then you NEED to watch this doc! Legendary filmmaker, a funny, charming, and compassionate human being whose personality shone through every picture he made or penned. RIP Mr Cohen! Wish there were more info available online about his passing (cause etc) but this doc truly celebrates his life, his way.
This was just awesome! Includes interviews with Larry himself and plenty of other notable people, some great clips of Cohen's television and film projects and lots of great insight into a long and fascinating career in storytelling.
Larry C was a gutsy, creative man with a thousand ideas, and this doc serves him well.