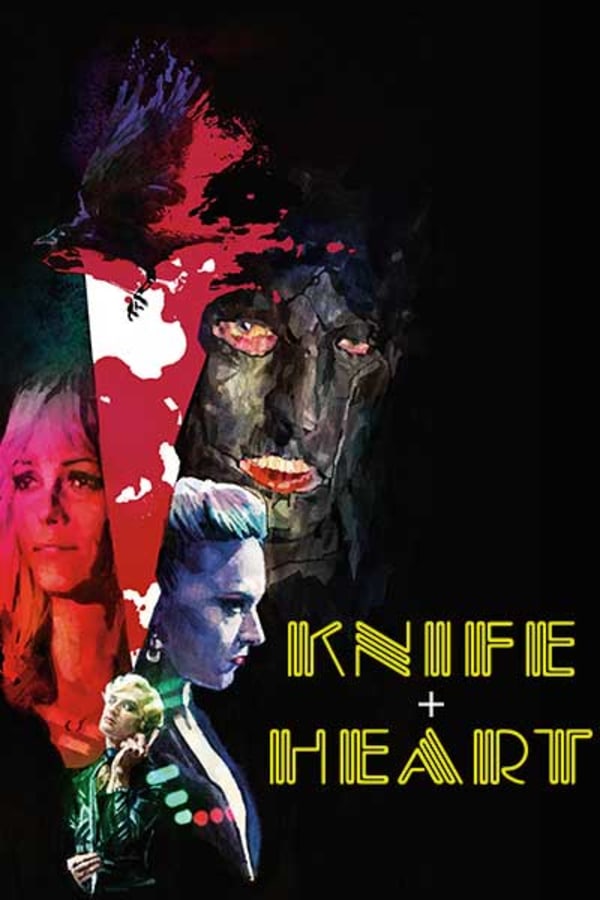 Knife + Heart
Directed by Yann Gonzalez
Paris, Summer 1979. Anne (French superstar Vanessa Paradis) produces third-rate gay porn. When one of her actors is brutally murdered, Anne is caught up in a strange investigation that turns her life upside-down. An ultra-stylish and blood-soaked ode to '70s-era De Palma, Argento, and Friedkin, shot on 35mm and featuring a killer retro score from M83.
Paris, 1979. Someone is brutally murdering the cast of gay porn in this stylish new vision of queer horror.
Cast: Vanessa Paradis, Kate Moran, Nicolas Maury
Member Reviews
What an absolutely beautiful movie. So many gorgeous, rememberable, creative shots that will be stuck in my head forever. Very interesting love scenes; I honestly despise romance, but this movie made the romantic scenes watchable for me. I also really loved the weird porn shots you see every once in a while, they actually did get a laugh out of me, but I still appreciate their artistic value, along with the fact that porn was kinda like that in the late 70's anyway. This movie is probably something I'll be re-watching in the future.
Wow....This movie is amazing. This isn't just one of the most engaging horror films I've seen but just one of the most engaging films period I've seen this year. I couldn't take my eyes off the screen. Not only was the story interesting but every character was interesting even outside of being victims/possible suspects. The visuals? Amazing, some of the best I've ever seen. The score fits perfectly and just adds tot he experience. My only small critique is that it may follow the Giallo format too closely with a somewhat rushed wrap up of the final confrontation with the killer. But that's a small gripe against a mountain of praise,
This is one of the more unique and better horror movies of 2019 so far. Pretty edgy slasher, tasteful giallo throwback. Great acquisition from Shudder! Movie
Visually stunning and surprisingly moving, Knife + Heart is a queer homage to '70s horror that winks at giallo's fabled origins without ever stooping to satire or pastiche. Vanessa Paradis is brilliant in the lead role as well. Highly recommended.
Wonderful film. Beautiful and weird. Knife + Heart plays with your senses and hits all the marks. This film has everything I love: Blood/gay sex/great visuals/great style/kick ass music and a lot of heart.