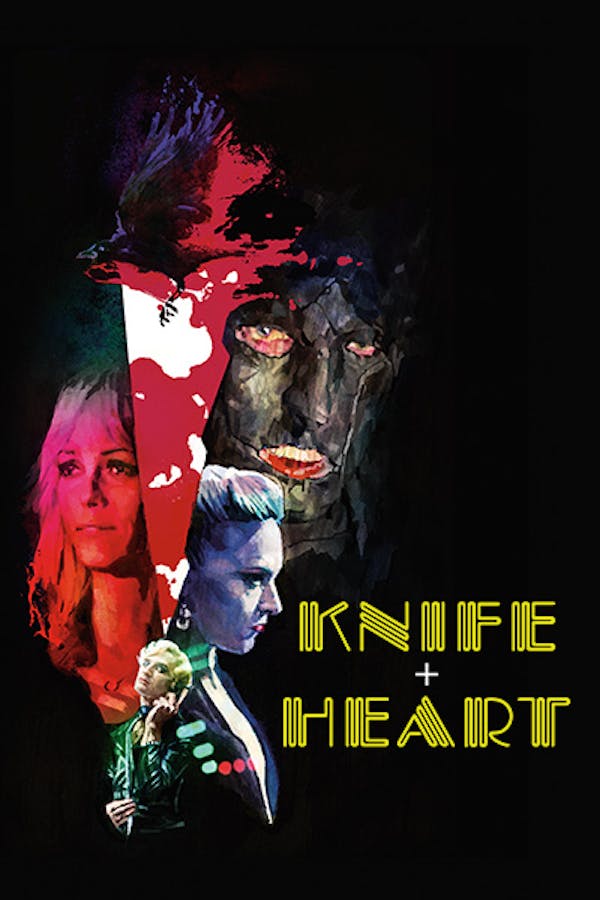 Knife + Heart
Directed by Yann Gonzalez
Paris, Summer 1979. Anne (French superstar Vanessa Paradis) produces third-rate gay porn. When one of her actors is brutally murdered, Anne is caught up in a strange investigation that turns her life upside-down. An ultra-stylish and blood-soaked ode to '70s-era De Palma, Argento, and Friedkin, shot on 35mm and featuring a killer retro score from M83.
Paris, 1979. Someone is brutally murdering the cast of gay porn in this stylish new vision of queer horror.
Cast: Vanessa Paradis, Kate Moran, Nicolas Maury
Member Reviews
Gorgeous homage to the Italian giallo films from the 60s/70s with an excellent score from M83! Discovered as part of the "Queer" collection on here. I hope that's a collection that's permanent and frequently gets films added to it.
A future art house classic right here. Knife + Heart is a provocative queer slasher that follows along a gay porn set and its directors. So much to unfold and and endless possibilities explored here. Beyond the unique cinematic background, the M83 score is to *die* for. I additionally really dug the fantasy which lightly seeped into the story telling as the plot thickens. This movie is definitely a surreal and engaging experience that leaves you wanting more. and yes, it's certainly a campy neo-giallo in my opinion.
A future arthouse classic right here. This is a provocative queer slasher with contempary style that follows along a gay porn set. So much to unfold and endless possibilities explored here. Beyond the cinematic experience and that M83 music score (its AMAZING) . I really loved th fact it wasnt a trashy shlaser fil because it had such uniq
A stylish homage to the gialli. They weren't kidding about the references to Friedkin, De Palma and Argento. At times surreal but also gritty in its depiction of the cast of characters, from victims to red herrings. It is a example that directors can use giallo tropes but work outside the box at the same time.