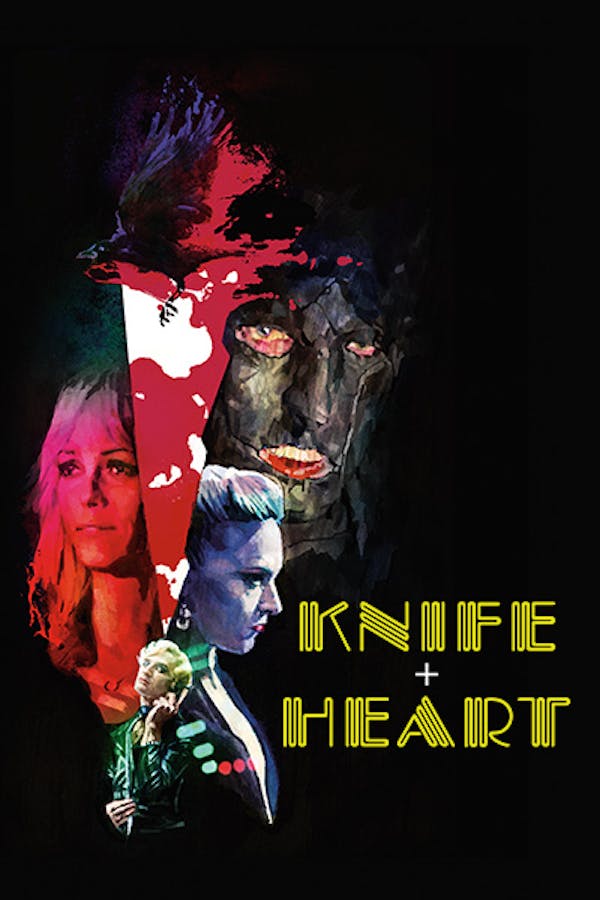 Knife + Heart
Directed by Yann Gonzalez
Paris, Summer 1979. Anne (French superstar Vanessa Paradis) produces third-rate gay porn. When one of her actors is brutally murdered, Anne is caught up in a strange investigation that turns her life upside-down. An ultra-stylish and blood-soaked ode to '70s-era De Palma, Argento, and Friedkin, shot on 35mm and featuring a killer retro score from M83.
Paris, 1979. Someone is brutally murdering the cast of gay porn in this stylish new vision of queer horror.
Cast: Vanessa Paradis, Kate Moran, Nicolas Maury
Member Reviews
We enjoyed watching this movie, and were definitely surprised that it was not at all what we thought it would be. It is not a giallo bloodbath slasher flick, more of a mystery with touches of supernatural and lite horror. Visually close to Atomic Blonde (not just the hair), but with plot loose ends like Personal Shopper (for better or for worse). The movie could have benefitted from the foreshortening or elimination of some scenes which did nothing beyond provide extended pretty visuals. The score was effective (and yes I am an M83 fan). Worth a re-watch in the future. 4/5
Could have pushed the envelope more, but as a lightly transgressive bit of queer cinema I'm not going to knock it too much for not enough full frontal *none - and not enough straight up splatter. Overall, it's got enough charisma, uniqueness, nerve, and talent, to be a solid recommendation.
Really loved the style and concept. The actors were great. However, by the end, I didn't care about the culprit. This should be viewed.
I'm torn on this one. It was beautifully filmed and took me back to another time but there was something off about it. I can't put my finger on it. I definitely think it's worth a watch. I really enjoyed Nicolas Maury.