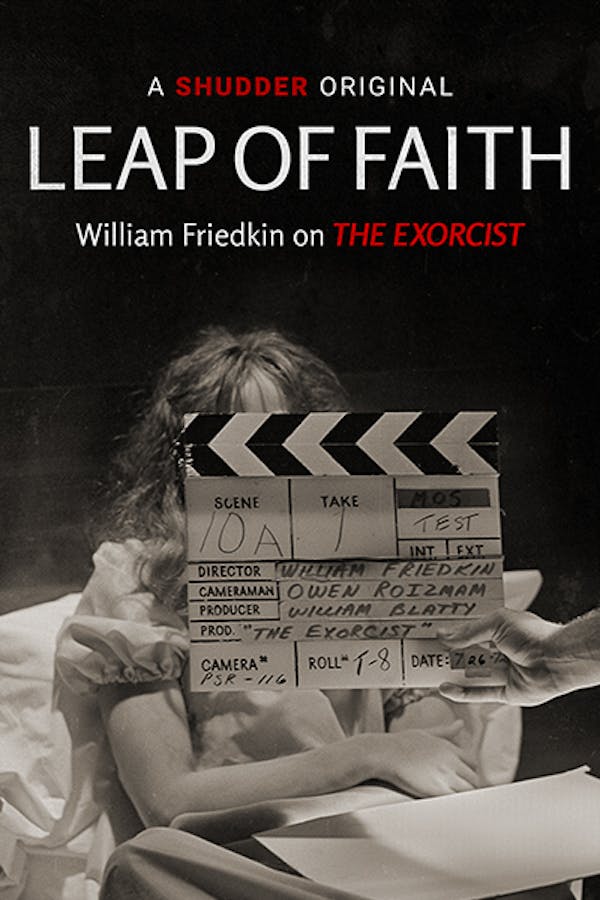 Leap of Faith: William Friedkin on The Exorcist
Directed by Alexandre O. Philippe
A lyrical and spiritual cinematic essay on The Exorcist, Leap of Faith explores the uncharted depths of William Friedkin's mind's eye, the nuances of his filmmaking process, and the mysteries of faith and fate that have shaped his life and filmography as told by the man himself. The film marks the sixth feature documentary from Alexandre O. Philippe (78/52, Memory: The Origins of Alien), continuing his thoughtful analysis of iconic genre films. A SHUDDER ORIGINAL.
In a striking documentary, William Friedkin explores the inspirations, production and legacy of THE EXORCIST.
Cast: William Friedkin
Member Reviews
Inside the mind of a great artist. Freidkin's originality stems from his naturalistic style. During the 70's he was at the forefront of American Cinema setting the tone with his raw and rebellious work. In this biographical account of the making of one of the most controversial films in Western Cinema history, we see a director who has learned a great deal from his life experiences and still to this day reflects on the work he has produced over the years. His insights into religion, human behaviour, spirituality, humanity and his personal cpoming of age show a deep level of wisdom that can only be achieved by having a deep level of compassion and love for not only his own artwork, but the creation of art itself. Freidkin is arguably one fo the greatest artist/directors in film history, underrated by mainstream critics however honoured by his peers. Watching this film is like a fireside re-telling of the film that shocked the world, and as with the end of The Exorcist film itself, by the end of watching this you will feel a sense of "everything is alright in the world, God is in Heaven, the Evil has been defeated and it's safe to dream again"..... an Inspirational artist and worthy human being.
Friedkin's a fascinating storyteller, and it's almost shocking that he's the only talking head in the film. A must watch if you're an "Exorcist" fan, but still a solid film even if you've never seen it. Although it probably goes without saying, but its ending is spoiled, so keep that in mind if you watch this first.
I wasn't prepared for how beautiful and thought provoking this documentary would be. William Friedkin has some really good stuff to say here, and it helped me appreciate his work even more.
Good doc, very interesting to trace the lineage of inspiration in terms of filmmaking and Friedkin's tastes. Noticeable lack of any mention of the controversy surrounding the treatment of actors on set lol - if you like filmmaking, watch this! Not necessarily a horror doc though, if that's what you're looking for.
amazing insite of the man who brought this classic film to the big screen