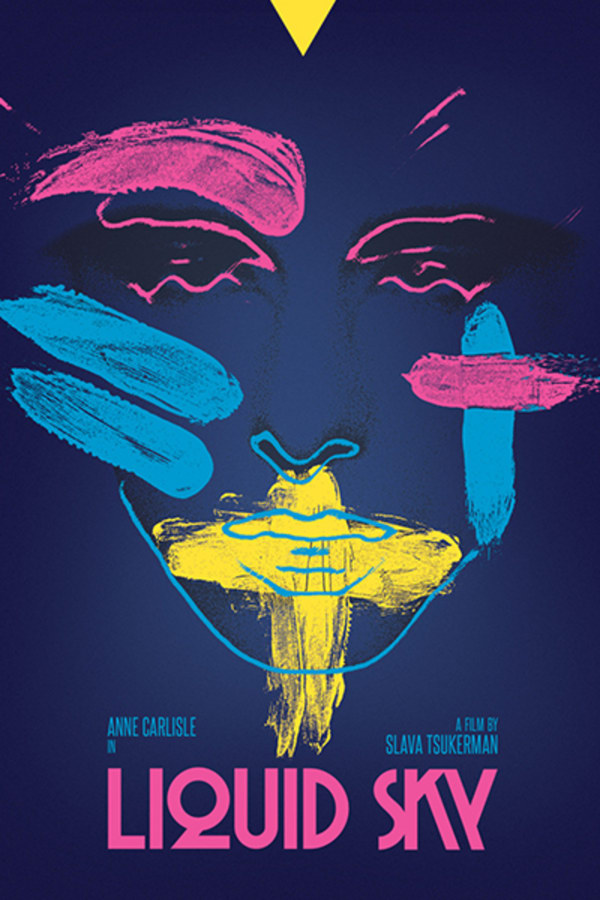 Liquid Sky
Directed by Slava Tsukerman
Margaret (Anne Carlisle) is a fashion model with dreams of stardom, whose alter ego and rival, Jimmy (also Carlisle), abuses and takes advantage of her to satisfy his rampant drug addiction. Unknown to them, tiny, invisible aliens have landed on the roof above the squalor in which they live and begin killing anyone Margaret has sex with to feed on their pleasure giving neurotransmitters. All the while, a German scientist attempts to capture and study them.
A fashion model with dreams of stardom encounters invisible aliens who have landed in 1980's New York insearch of heroin.
Cast: Anne Carlisle, Paula E. Sheppard, Susan Doukas
Member Reviews
Feels like a not-so-subtle commentary on AIDS. Aliens come to New York searching for heroin... Girl kills everyone she knows after having sex with them. It's almost like a precursor to KIDS. You might despise the shallow, repetitive score and the always bitter and seemingly clueless main characters. But au contraire; leave your bias in the suburbs, because this ridiculously unique and refreshing film shoots more than skin deep. Although flawed or misdirected, our leads are deceptively complex and only as self aware as their maturity levels permit. Margaret, with all her beauty and self esteem, has nearly zero self respect. And Adrian, with all her competence and intelligence, is completely helpless to her fear of abandonment, and her longing for death. It's a two-hour drug trip that reminds us what goes up, must come down. Visit a time and place unlike any other, real or imagined, and ascend to the liquid sky.
I love the strange and wonderfully weird movies out there, but this gem is a test of one's endurance to a movie with a "nails on the chalkboard" soundtrack. I sat through Liquid Sky years ago during my discovery phase of off kilter movies and I recommend it for those seeking the same thing as I once did. Go for it!
It's like people who weren't into the whole new wave avant- grade made a movie based on what they thought new wave avant grade was. Forgettable as the fashion on this movie. Oh yeah there's an alien ship that needs avant grade sex or something stupid like that. Take LSD and stare at a wall rather than watch Laborious Sky.
Loved the aesthetics, but the middle of the movie DRAGGED like hell. There is no reason for this film to be 112 minutes. All the cool costumes, set pieces and other visual choices were kind of wasted on a bloated plot that overstayed its welcome. The whole scientists subplot was unnecessary and they should've just stuck with Margaret and her bizarre encounters. That's where all the points of interest lied for me. Still memorable though, but I expected it to be more fabulous and over the top.
It works a lot better in your memory than it does onscreen -- I'm sorry, but it really does drag once we know what's going on. But the brilliant stuff is worth it, and the horror sits so comfortably next to the sex farce that it rattles you in a unique way.