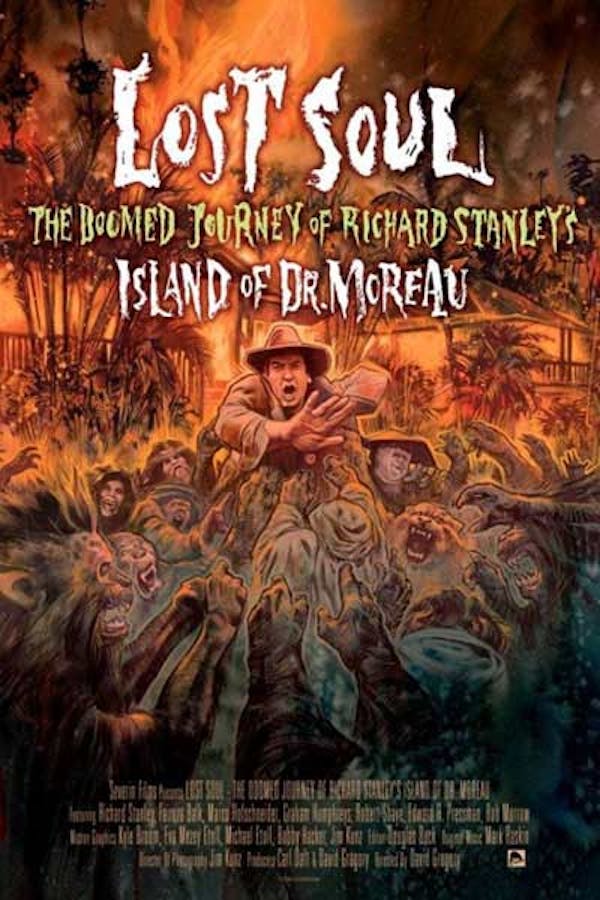 Lost Soul
Directed by David Gregory
The bizarre true story behind the reviled 1996 adaptation of the H.G. Wells classic is told for the first time in this equally hilarious and horrific documentary. After making his mark with the visionary horror films HARDWARE and DUST DEVIL, Australian filmmaker Richard Stanley came up with an ambitious plan for adapting THE ISLAND OF DR. MOREAU. But casting pretentious performers like Val Kilmer and Marlon Brando proved to be his undoing and he was fired off the film. What happens after that must be seen to be believed. Fans of JODOROWSKY'S DUNE will love it. Contains strong language, sexual scenes, violence and gore.
The bizarre true story behind the reviled 1996 adaptation of the H.G. Wells classic.
Cast: Richard Stanley, Fairuza Blak, Hugh Dickson, Oli Dickson
Member Reviews
Richard Stanley is one of a kind. After 20 plus years he is back directing features and so he should. This film is about the takeover of his 1996 film - an auteur defeated by accountants.
Loved it. It made me want to immediately rewatch Color Out of Space, which I hadn't seen since its release. (Between this documentary and Twixt, I never want to see anything with Val Kilmer again.)
One of the best making of documentaries out there, the source material is just so insane that you can't help but be entertained. Over the years I had picked up bits and pieces about what happened on the set of Dr. Moreau, but I never would have guessed how crazy it actually was until watching this doc.
A couple of notable jerks come out of this looking more grimy than ever...looking at you Val Kilmer, you mustard sandwich of an actor. I'm also looking at you Brando, you pus seeping bloated corpse of a human. Richard Stanley is certainly an eccentric man and was probably a bit of a nightmare to deal with because he was very much out of his element but he wasn't operating at the depths that the 'stars' were reaching.
Richard did the promo vids for my mate Carl's band Fields of the Nephilim, plus he directed him in Hardware, the greatest sci-fi film since Bladerunner and Metropolis (in my humble opinion) So I am a little bit biased. This is a fascinating documentary about the movie making process. It is always a joy to see Fairuza Balk too. Been a fan of hers since 'return to Oz' and 'the Craft'. I have an idea for a modestly budgeted ghost comedy entitled 'secret society' which I would love Richard to direct. I am hoping to contact him via this channel. Failing that I will try Carl. Enough rambling though! top doc. I give it 5/5