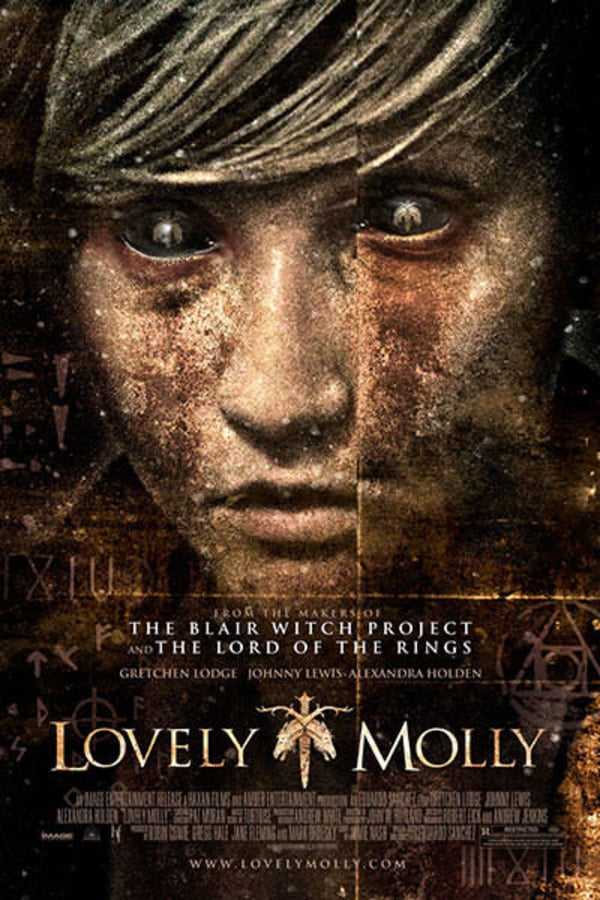 Lovely Molly
Directed by Eduardo Sanchez
A former addict begins to have strange episodes after moving into her childhood home in this relentlessly disturbing ghost story from BLAIR WITCH PROJECT director Eduardo Sanchez. But where that film relied on off-screen atmosphere to create dread, here Sanchez serves plenty of on-screen scares, resulting in a film that follows in the footsteps of graphic shockers like THE ENTITY. Richly exploring the parallels between psychosis, addiction and demonic possession, LOVELY MOLLY is a gripping look at how the traumas of the past come back to haunt us. Contains strong language, sexual scenes, violence and gore.
A former addict begins to have strange episodes after moving into her childhood home.
Cast: Gretchen Lodge, Johnny Lewis, Alexandra Holden
Member Reviews
Meh... the sexual situ8ions were not as graphic as The Evil Dead & The Entity. U c her moving as if it's happening but u never c it actually happening. The demon was Molly's protector, demons choose those who r most traumatized, so that makes sense. Otherwise Lovely Molly is very bland & stretches out 2 long. The soundtrack, the singing bowl that a lot of people on here were bothered by did not bother me. I actually liked that. The rest of the score was ripped right off Hereditary, which I saw yesterday. I did not find the characters in Lovely Molly that unlikeable as many here did. They were just bland. There is also no gore xcept 4 1 dead body in the 🛀. The blanched muted color palette fit the film & added 2 the depression. The addiction plot was just ok. It did not improve or take away from the film leaving the whole thing in neutral . So... in summary this film is bland, mediocre, & a tad pretentious.
This is one of my favorite movies of all time. It haunts my brain long after viewing and leaves me feeling utterly unnerved throughout its duration. Lovely Molly explores the horrors of drug addiction, mental illness, sexual abuse, homicidal ideation, & demonic possession. Its pretty brutal. I really cannot understand the negative reviews.
I wanted to finish this. I really did.... but 90% of the audio is that annoying EEEEEEEEEEEEEEEEEEEEEEEEEEEEEEEEEEEEEEEEEEEEEEEEEEEEEEEEEEEEEEEEEEEEEEEEEEEEEEEE sound that is meant to cause tension and so on but Christ on His throne, do they over do it here. My head hurts now, I'm seriously looking for my Advil. Gave up like 30min in.
So totally to real. Wonder how fear anyone is from pain like that. Not far
Out of the 30+ horror movies I have watched over the past few months, this is honestly the first one I have actively hated. I could understand where other viewers (particularly female audience members) might find some creepiness in the atmosphere/themes, but I found any potential afforded to this outing utterly squandered. 1. The sound design, while competent in some aspects, was similar to sliding my nerves along a sonic cheese grater. Too many scenes employed the use of a shrill, "dog whistle" sound effect - meant to embed tension, though really only serving to piss off my girlfriend and I. Hell, even the cat became too annoyed, opting to slink outside into the drizzling rain instead of curling up on a heated blanket. 2. The main character was utterly unlikable, unrelatable, and (worst of all) annoying. My girlfriend informed me that for the latter half of this movie I unknowingly sat with a scowl on my face which was described as, "If I hadn't known otherwise, I would have assumed you had randomly unearthed a container of exquisite, century-old, fermented fish from the backyard of the Hibachi place down the street that failed their second health inspection. 3. The plot was muddled, unresolved, and self-serious. Too many threads were woven throughout the inner workings of this yarn without one second of explanation, resolution, or necessity. *SPOILERS (but not really cause the movie was spoiled the moment it was "finalized/doesn't actually have a coherent narrative)* She's on drugs? No she's being a protective harpy over her ghost assailant? No... she's storing wildlife in the insulation of her basement? Oh no she's possibly exacting revenge on her (understandably) fed-up husband? Damn I forgot, it doesn't matter, don't waste your time. PS. The final image showing the demon...horsefather...centaur entity is interesting. This should have been explored far more than it was, but sadly, Unlovably Annoying Molly was too busy turnin' up. DK