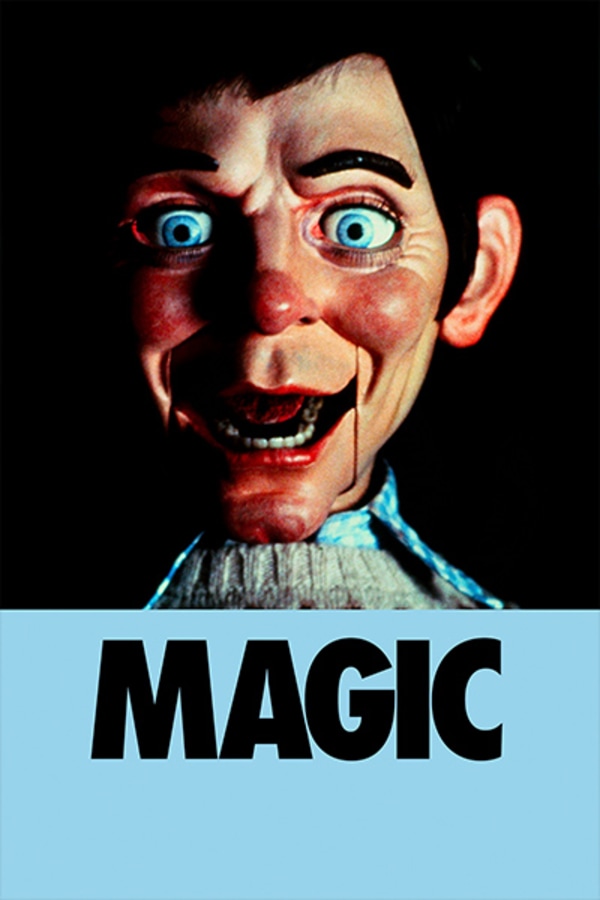 Magic
Directed by Richard Attenborough
Anthony Hopkins plays a ventriloquist whose dummy has a murderous mind of its own in this chilling psychological horror film written by legendary Hollywood scribe William Goldman (MISERY, MARATHON MAN) and directed by future Oscar-winner Richard Attenborough (GANDHI). Famous for its trailer ("Magic is fun. When you're dead!") which supposedly was removed from TV for being too scary, MAGIC still holds up as a terrifying trip to the Twilight Zone. Fans of Hopkins' iconic turn as Hannibal Lecter in THE SILENCE OF THE LAMBS should be sure to experience MAGIC.
A ventriloquist's (Anthony Hopkins) dummy has a murderous mind of its own.
Cast: Anthony Hopkins, Ann-Margret, Burgess Meredith
Member Reviews
Just solid worksmanship by all three actors plus director. It's a story that can only ever go one of two ways, but with Magic, you're never quite sure, the way middle-brow "prestige" genre films used to tease higher-brow audiences by mixing the unease of the psychoanalytical with the deeper dread of the visceral, to the point where you can't tell which is worse, but still manages to play it kind of straight. Even watching it years later, a fifth or sixth time, the way it absorbs you into its universe makes it feel like it could go either way and you'd be happy.
Slow burn psychological horror at it's best, this was an amazing film. Directed by John Hammond and written by the dude who wrote Princess Bride, Anthony Hopkins is amazing in this film. Seriously suggest checking it out.
loved it - grounded in the reality of the sad main character
loved it - grounded in the reality of the sad main character
loved it - grounded in the reality of the sad main character