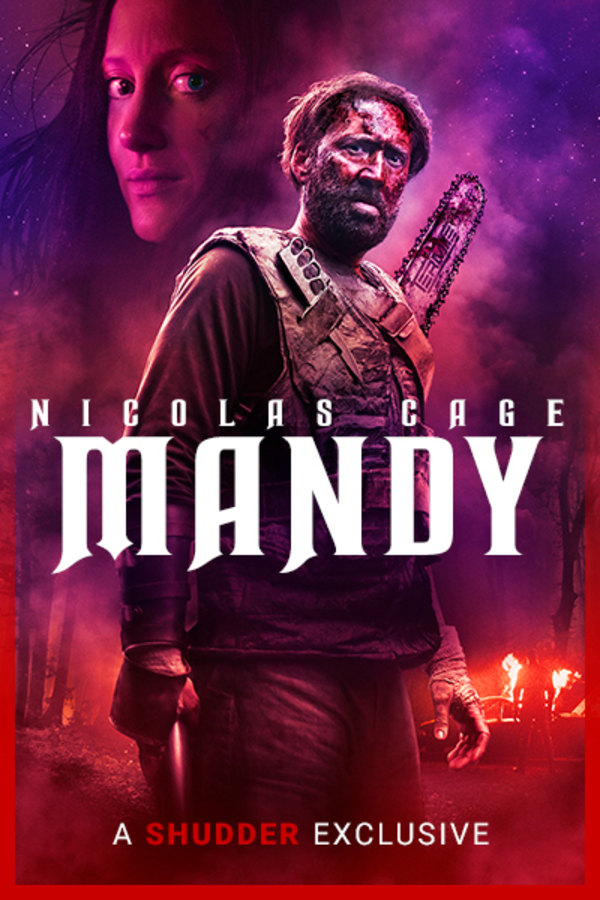 Mandy
Directed by Panos Cosmatos
The quiet life of devoted couple Red (Nicolas Cage) and Mandy (Andrea Riseborough) takes a dark and bizarre turn when a nightmarish cult and their maniacal leader (Linus Roache) seek to possess Mandy…body and soul. A shocking assault on the innocent pair leads to a spiraling, surreal, bloody rampage of all out, mind-altering vengeance. A SHUDDER EXCLUSIVE.
When a nightmarish cult attack Red and Mandy, the shocking assault leads to a spiraling, surreal, bloody rampage of all out, mind-altering vengeance.
Cast: Nicolas Cage, Andrea Riseborough, Linus Roache, Ned Dennehy, Olwen Fouere, Bill Duke
Member Reviews
Nicolas Cage and Andrea Riseborough live an idyllic, prog-metal lifestyle in the woods until Mansonesque cult leader Linus Roache take a rather serious liking to her. She rebuffs him causing a very violent disruption to their lifestyle. Cage seeks increasingly gory revenge against his followers and the Satanic biker gang that helped them. No plot description can do justice to this film. If you have seen "Beyond the Black Rainbow", you will know what Panos Cosmatos's style is like. If anything, this film is MORE stylized, creating a drug fueled, gory fever dream that mixes fantasy elements with gritty revenge film trappings. If there's a fault, it's that the second half cannot hope to live up to the insanely wonderful first half. Once the film becomes a streamlined revenge flick, it's a bit less engaging ... and really, Roache is not really a strong enough villain to fuel the climax it's been building up to.
This movie looks and sounds amazing. Unfortunately, the pacing is atrocious and for some reason Nic Cage is kept reeled in. This should've been the perfect movie for an all out Cage outburst festival and instead you get less of that than you can find in National Treasure. Very disappointing
"You're a vicious snowflake!" and "You ripped ma shurrrt!" not a big fan of nick cage, but he brought all the amped up, balls out, no mercy revenge in this. i thought jeremiah's character could have been a bit more convincing, but otherwise, damn... fucking very good!! thanks, Panos! looking forward to your next film!