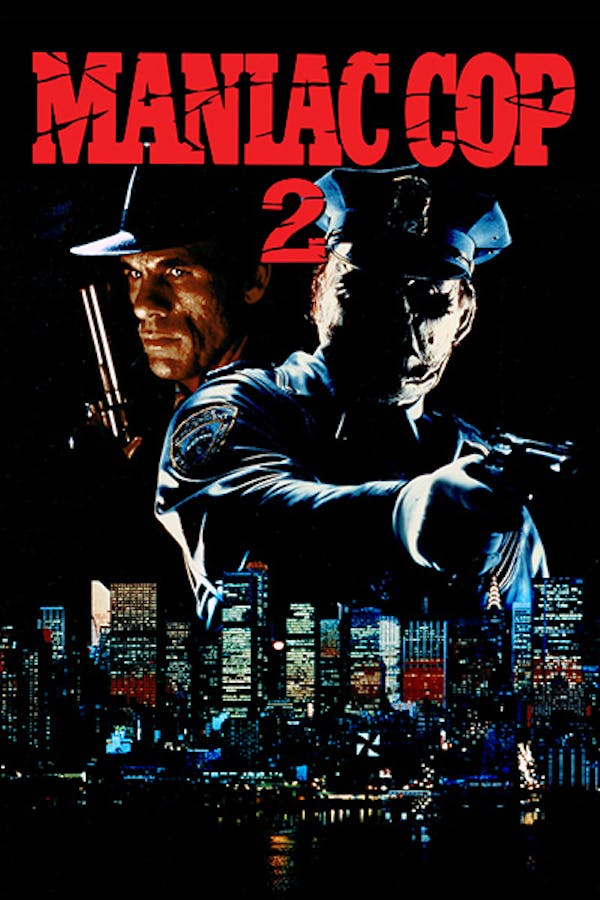 Maniac Cop 2
Directed by William Lustig
Renegade police officer Matthew Cordell once roamed the streets of New York City unleashing his murderous brand of vigilante justice upon its denizens before being struck down by good cop Jack Forrest. Now, Forrest is eager to move on from those heinous events, but he is stopped short when a familiar killing spree begins. Though thought dead and gone, Cordell is back from the grave and ready to wreak his merciless havoc once more.
A New York detective hunts an undead policeman, now teamed up with a killer of strippers.
Cast: Robert Davi, Claudia Christian, Michael Lerner
Member Reviews
Fantastic mixture of action and horror. Incredible stunts. Delightful stupid/smart Larry Cohen script. Great cast. Relentlessly entertaining. Opens with the climax of the previous movie and then continues top itself until the batshit insane finale. The best case scenario if you've reached a point in your life when you're willing to watch a movie called Maniac Cop 2.
Pretty good! I like the first one better, but this is still pretty solid.
I liked the first one better because Bruce Campbell, but this is a worthy follow-up. Fun, violent romp that needs no explanation. Quality B-movie.
Yin yang we are the grey lines that hold it together that we do
The 80s cheese is strong--did erotic dancing actually look like that in the 80s? Is that what 80s people were into?-- and it's hard to object to a film featuring both Bruce Campbell AND whatshername from Babylon 5. Sadly, this movie repudiates the solid political message of the first in the series. The original Maniac Cop present cops who stretch the limits of the law to act as executioner as primarily thrill-killers to whom moral considerations are, at best, secondary. Their peers enable them, and department leadership actively works to thwart "good cops" who try to stop them. This one retcons much of that by saying the Maniac Cop was somehow both framed by crooked higher-ups at city hall for crimes he didn't commit, and that his pre-incarceration murders were basically justified.