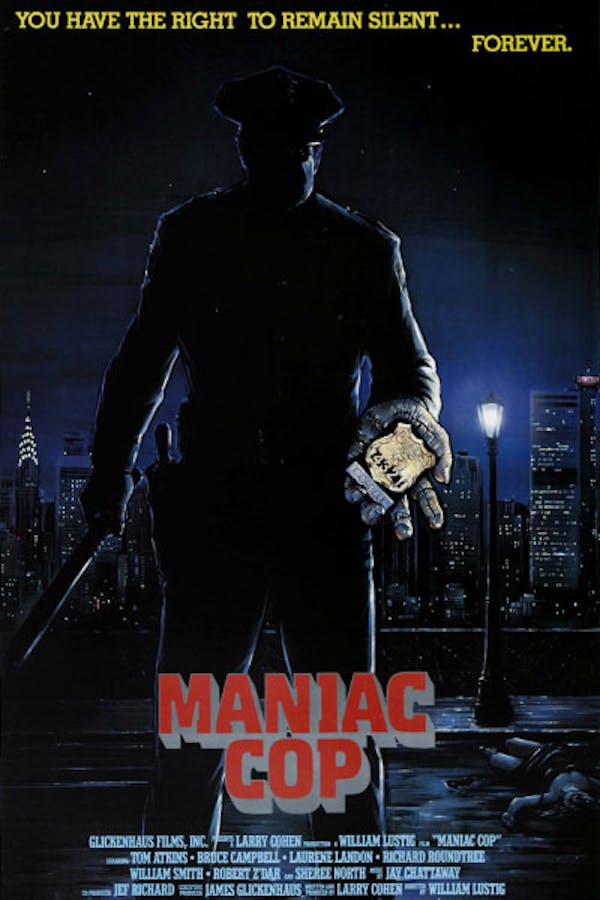 Maniac Cop
Directed by William Lustig
Two New York policemen (Tom Atkins, Bruce Campbell) and a policewoman (Laurene Landon) search for a killer in uniform who should be dead. Contains violence and gore.
Two New York policemen and a policewoman search for a killer in uniform who should be dead.
Cast: Tom Atkins, Bruce Campbell, Robert Z'Dar, Laurene Landon, Richard Roundtree
Member Reviews
first time watch it. good movie.
Tom Adkins all day! Having Bruce Campbell is a bonus sure, but my boy Adkins steals the show and delivers a thoroughly enjoyable performance. Real horror fans should know this mans name. Great movie, loved this series as a child because of how ridiculous it was. Upon rewatch, I can't help but see a deeper meaning given the state of the country today.
I expected it to be like Maniac but still good on its own
I do love Tom Adkins, and I was surprised to see Campbell in this. I like the score and the plot is good enough. Some good action to make you forget about some of the wooden acting from a few people. Namely the woman with the cane felt a little, meh. Still a good watch.
Surprised horror auteur Larry Cohen wrote this. Must have needed the money. Great locations for a low budget movie and solid acting, but a mess otherwise. It's watchable, but that's not a great recommendation. Many other 80s films made more sense.