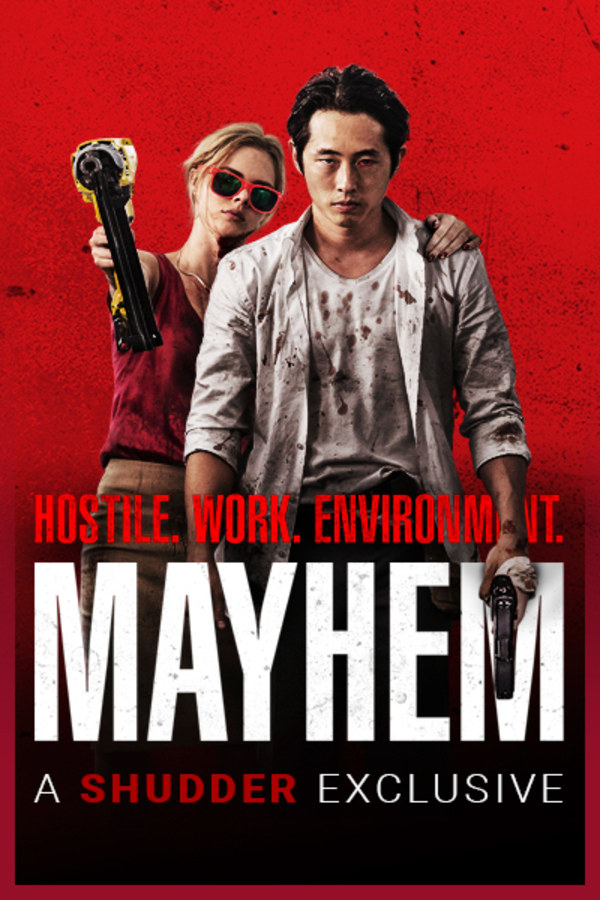 Mayhem
Directed by Joe Lynch
Derek Cho (Steven Yeun, "The Walking Dead") is having a really bad day. After being unjustly fired from his job, he discovers that the law firm's building is under quarantine for a mysterious and dangerous virus. Chaos erupts throughout the office as the victims of the disease begin acting out their wildest impulses. Joining forces with a former client (Samara Weaving, "Ash vs Evil Dead") who has a grudge of her own, Derek savagely fights tooth and nail to get to the executives on the top floor and settle the score once and for all. A SHUDDER EXCLUSIVE.
Just after being fired, Derek's office is put into quarantine for a virus that causes people to act out their wildest impulses. As chaos erupts, he makes his way to the top-floor executives to settle the score once and for all.
Cast: Steven Yeun, Samara Weaving, Steven Brand
Member Reviews
Great movie! Very intense! Great moral to the story. Love the bloody gore! Hope to see more of Steve Yuen
Very, very good! Highly entertaining blend of black humour, blood-soaked violence, socio-political satire and incredibly solid acting. Easily one of the most entertaining films on Shudder at the moment.
A perfect B-movie. Gore, good acting and it moves right along.
I don't typically write reviews, but this movie was a lot of fun and I definitely recommend. It was fast paced, well written, and just an overall good time. It also seemed to be analogous to current stage capitalism.