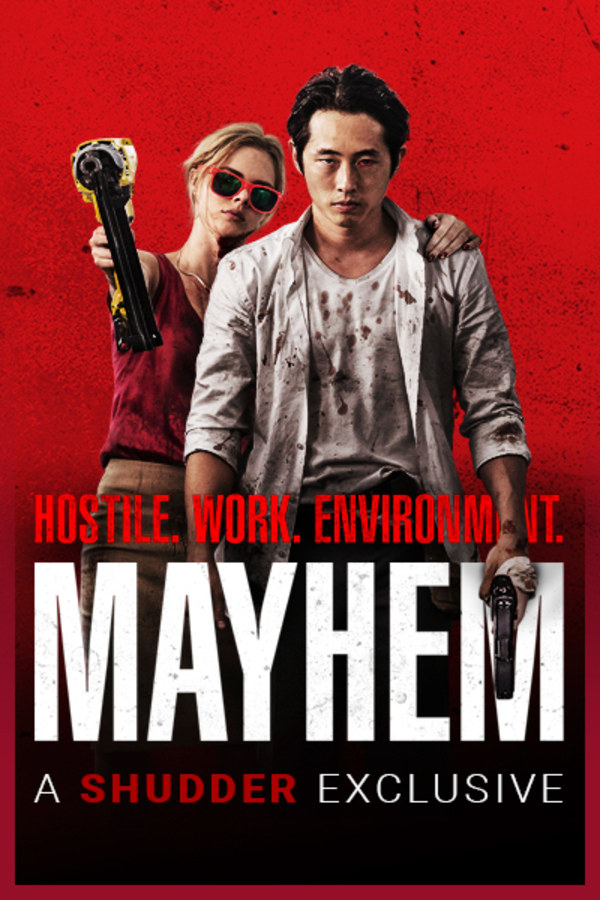 Mayhem
Directed by Joe Lynch
Derek Cho (Steven Yeun, "The Walking Dead") is having a really bad day. After being unjustly fired from his job, he discovers that the law firm's building is under quarantine for a mysterious and dangerous virus. Chaos erupts throughout the office as the victims of the disease begin acting out their wildest impulses. Joining forces with a former client (Samara Weaving, "Ash vs Evil Dead") who has a grudge of her own, Derek savagely fights tooth and nail to get to the executives on the top floor and settle the score once and for all. A SHUDDER EXCLUSIVE.
Just after being fired, Derek's office is put into quarantine for a virus that causes people to act out their wildest impulses. As chaos erupts, he makes his way to the top-floor executives to settle the score once and for all.
Cast: Steven Yeun, Samara Weaving, Steven Brand
Member Reviews
it's like a metal video, a heartfelt coming of age tale, and a visceral bloodbath had a beautiful love child!
Let me start by saying Steven Yeun and Samara Weaving's chemistry is perfect. Mayhem's moments of characterization, violence, and levity are carefully metered out, causing the film's pacing to be damn near perfect. Full of slick, kick-ass, moments that'll having you screaming in excitement. While some might say "nothing new here", and that's certainly a fair comment, I'd argue that it's rarely been done so well. Final word for Mayhem - Exhilarating. Check it out.
Hella hot! This was kick ass all the way through. I'd love to see more of this "world" someday...
Bloody goodness, Steven Yeun is great in this. Didn't really care for the actress, but if you're looking for a fun gory flick check this one out.