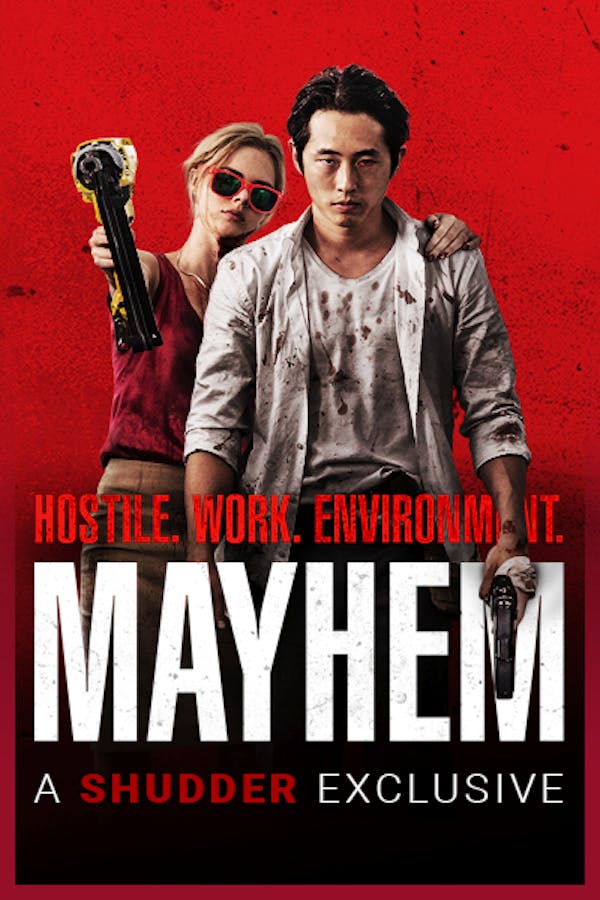 Mayhem
Directed by Joe Lynch
Derek Cho (Steven Yeun, "The Walking Dead") is having a really bad day. After being unjustly fired from his job, he discovers that the law firm's building is under quarantine for a mysterious and dangerous virus. Chaos erupts throughout the office as the victims of the disease begin acting out their wildest impulses. Joining forces with a former client (Samara Weaving, "Ash vs Evil Dead") who has a grudge of her own, Derek savagely fights tooth and nail to get to the executives on the top floor and settle the score once and for all. A SHUDDER EXCLUSIVE.
Just after being fired, Derek's office is put into quarantine for a virus that causes people to act out their wildest impulses. As chaos erupts, he makes his way to the top-floor executives to settle the score once and for all.
Cast: Steven Yeun, Samara Weaving, Steven Brand
Member Reviews
Seen this a few times and it just gets better every time 🍿
Had great acting, cinematography, and concept. It felt fun and crazy without being annoying and is one of my favourite action movies.
Good pacing, good performances by the two main actors, and a perfect blend of humour and ... well, mayhem. I laughed out loud several times while watching this. Recommended.
Very entertaining, and the lead actors are excellent. Good job