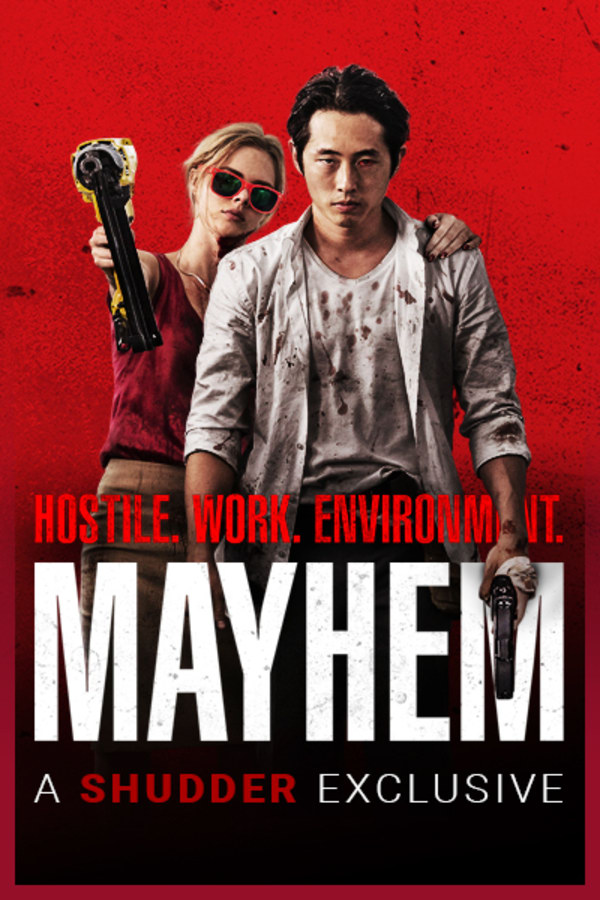 Mayhem
Directed by Joe Lynch
Derek Cho (Steven Yeun, "The Walking Dead") is having a really bad day. After being unjustly fired from his job, he discovers that the law firm's building is under quarantine for a mysterious and dangerous virus. Chaos erupts throughout the office as the victims of the disease begin acting out their wildest impulses. Joining forces with a former client (Samara Weaving, "Ash vs Evil Dead") who has a grudge of her own, Derek savagely fights tooth and nail to get to the executives on the top floor and settle the score once and for all. A SHUDDER EXCLUSIVE.
Just after being fired, Derek's office is put into quarantine for a virus that causes people to act out their wildest impulses. As chaos erupts, he makes his way to the top-floor executives to settle the score once and for all.
Cast: Steven Yeun, Samara Weaving, Steven Brand
Member Reviews
It's exactly what it says it is, and it's fun the whole time. It's no masterpiece, but it is super enjoyable to sit through.
Pure awesomeness!!!! This is office space if you kicked it up a couple of notches throw in some steroids and cocaine you get Mayham. I would love to see a sequel where the whole world goes to shit and my man Steven Yeun goes on a rampage.
Love this fucking movie! Briallant!
Catharsis: The Movie. Except, no one has sex in that many positions without removing their bra. A movie this violent being that sexless is really, REALLY, creepy. Not the good kind of creepy either. Still, awesome movie. Especially, if you love the idea of watching people beat each other to death with their office supplies, but don't want to see a woman's breasts at all.