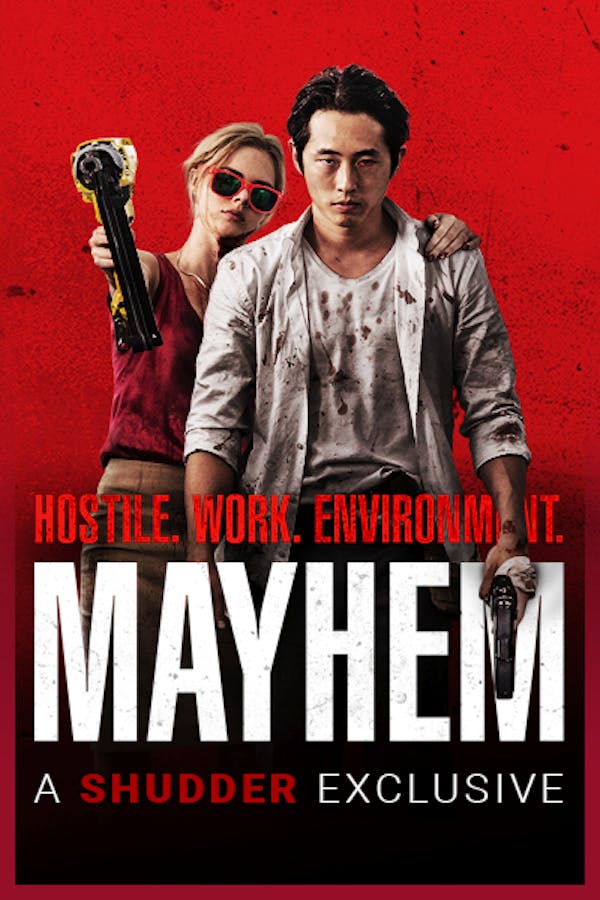 Mayhem
Directed by Joe Lynch
Derek Cho (Steven Yeun, "The Walking Dead") is having a really bad day. After being unjustly fired from his job, he discovers that the law firm's building is under quarantine for a mysterious and dangerous virus. Chaos erupts throughout the office as the victims of the disease begin acting out their wildest impulses. Joining forces with a former client (Samara Weaving, "Ash vs Evil Dead") who has a grudge of her own, Derek savagely fights tooth and nail to get to the executives on the top floor and settle the score once and for all. A SHUDDER EXCLUSIVE.
Just after being fired, Derek's office is put into quarantine for a virus that causes people to act out their wildest impulses. As chaos erupts, he makes his way to the top-floor executives to settle the score once and for all.
Cast: Steven Yeun, Samara Weaving, Steven Brand
Member Reviews
I fuxking love this movie!
I can't believe I've never heard of this movie or more aptly put, that it didn't get the buzz it deserves. This is an absolutely amazing film with mostly great special effects and was way ahead of it's time (virus lockdown, albeit only 8 hours). The acting and plot are pretty good and yes, it's plenty gory - for the most part. My one complaint is it doesn't show, what should be, prominent deaths. There are a couple of people who you want to see get justice & it's merely alluded to instead of shown. That aside, the overall plot may be unbelievable, but it's thoroughly enjoyable! Best of all, I just had fun watching.
one of my favorite movies of 2017. an absolute crazy adrenaline rush. highly recommend to anyone.
Damn this is a good movie.
Reminder to self: If ever offered job in Serbia, Watch this movie first.