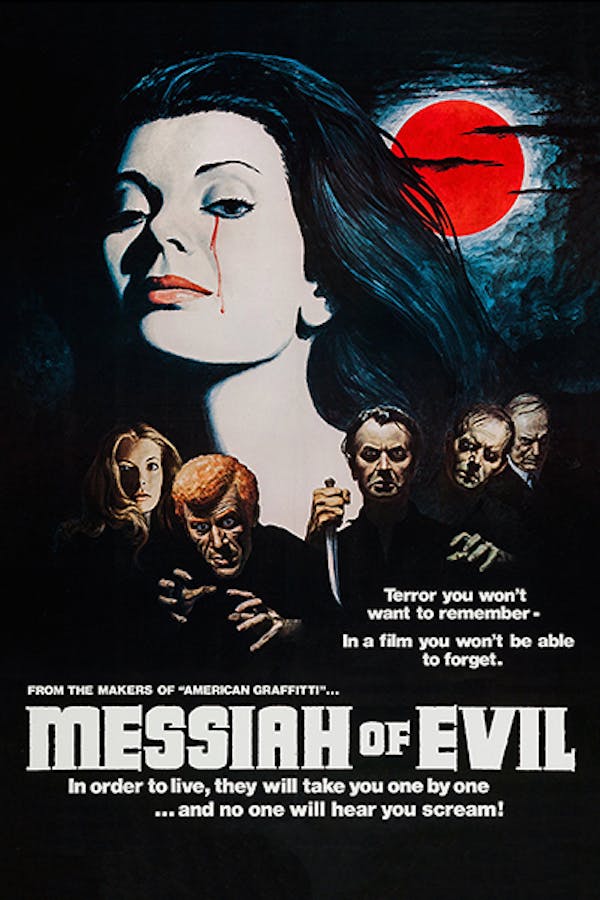 Messiah of Evil
Directed by Willard Huyck, Gloria Katz
A young woman goes searching for her missing artist father. Her journey takes her to a strange Californian seaside town governed by a mysterious undead cult. William Huyck & Gloria Katz's hypnotic, unsettling independent horror is a must-see gem.
A young woman heads to a mysterious seaside town in search of her father, in one of the great cult gems of 70s horror.
Cast: Michael Greer, Marianna Hill, Joy Bang
Member Reviews
Scuzzy but atmospheric and chilling.
The world of this movie feels
Slow, and overly narrated. It has the vibe of a gothic or horror novel that was probably good in print but didn't translate well to the big screen. If it were a book it would be a cross between a zombie story and Village of the Damned perhaps. Good to watch for nostalgia or to see the time period, but I wouldn't sit through it again.
This film makes no attempts to hide the fact it is art-horror. The very walls of the fathers home are beautifully done, the monologues, the character dramatizations. It will not appeal to many, and others will find enjoyment in it. I enjoyed it and felt it was at times, ahead of its time. On a side, but important note: Michael Greer, who plays Thom, was one of the first openly gay actors. This was his last major film role in which he was cast. He battled against homophobia and typecasting his entire career.
So boring, you can almost literally just skip to the last 10 minutes where things kind of happen... only they're mostly exposited, and not shown