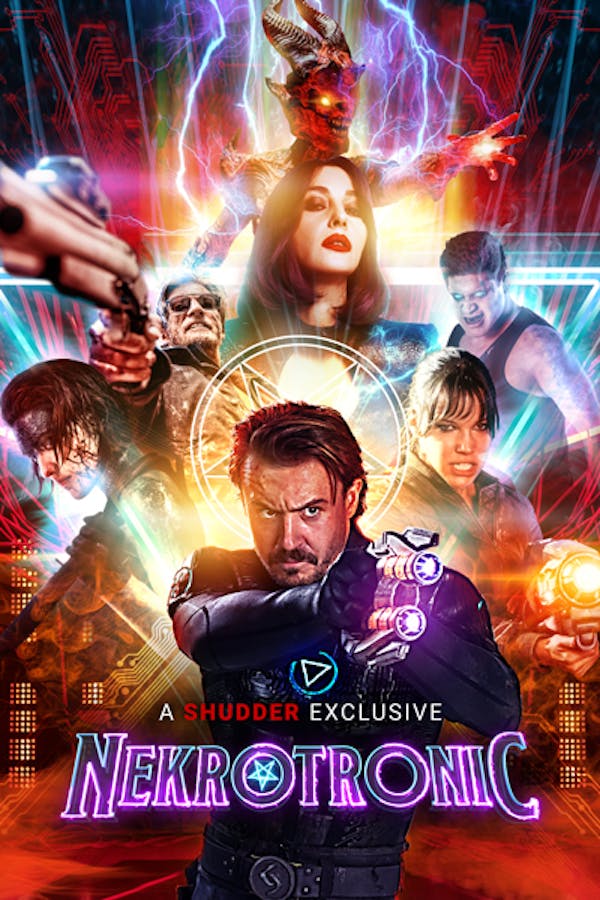 Nekrotronic
Directed by Kiah Roache-Turner
Our hero, Howard North, is a young orphan dragged into a conflict between the Nekromancers - a family of badass demon hunters, and Finnegan - an evil demon who absorbs people's souls to increase her power. When Howard finds out the truth behind Finnegan's past and her dark plans for the future, he teams up with his new friends to discover he is the ultimate Nekromancer, the only one with the power to defeat her. A SHUDDER EXCLUSIVE.
A group of demon hunters battle evil forces that use the internet to demonically possess the masses.
Cast: Ben O'Toole, Monica Bellucci, Caroline Ford
Member Reviews
This was an amazing movie. I loved the outrageous plot, premise, and execution. The set pieces are amazing, and the comedic elements are great. There's even some heart and drama mixed into it that works well. The characters are wonderful and fun to along with. I love that it follows some B-movie beats. The gore and practical effects are a pleasure to watch. The CGI isn't too shabby either. If you try to take this film seriously you won't have a good time, just roll with it and enjoy the action and laughs, plus a scare here or there.
Very surprising movie. I have to say it looked fun but exceeded my expectations. While not something I'd call scary you won't be making a mistake if you choose to watch this masterpiece.
It has Monica Bellucci and fun monster suits. The plot gets a little random. Who cares? Enjoy this horror comedy.
What a surprising movie. Very cool, very funny, and down right crazy! Started out kinda slow but got cult status by the end! Check this one out!