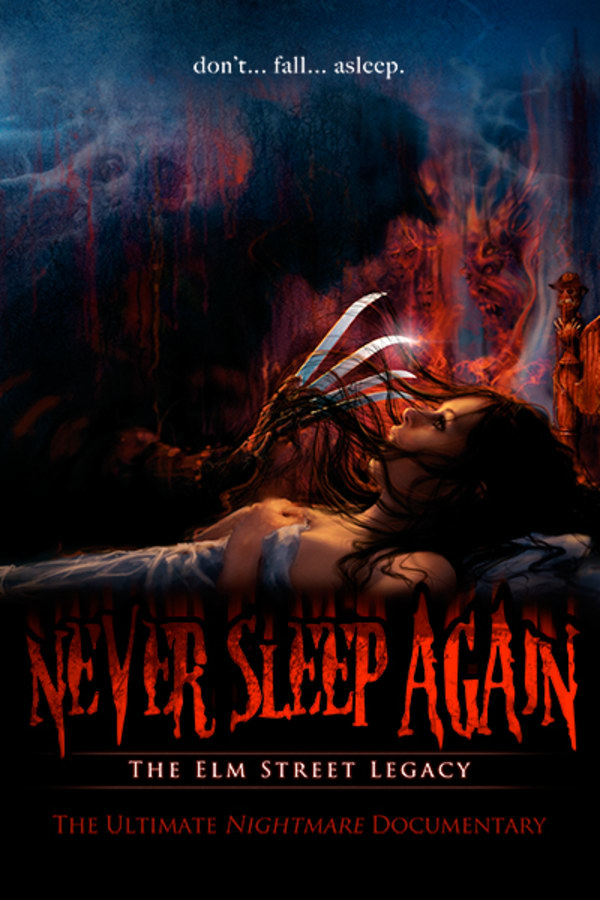 Never Sleep Again: The Elm Street Legacy
Directed by Andrew Kasch, Daniel Farrands
Murderer. Dream Demon. The bastard son of a hundred maniacs. Any way you slice it, there can only be one man – one monster – who epitomizes those words: Freddy Krueger. For decades, he has slashed his way through the dreams of countless youngsters and shows no signs of ever resting in peace. A NIGHTMARE ON ELM STREET star Heather Langenkamp is your dream guide in this thrilling shockumentary that takes you deeper into Freddy's realm than ever before, featuring exciting clips, never-before-seen photos, behind-the-scenes footage, conceptual art, publicity materials and exclusive new interviews with over 100 key cast and crew from every Nightmare.
Explore the legacy of "dream demon" Freddy Krueger in this award-winning documentary.
Cast: Wes Craven, Heather Langenkamp, Stacey Alden, Erika Anderson
Member Reviews
Fun fact they skimmed over. Francis Ford Coppola"s nephew Nicholas Cage was at a bar where Johnny Depp was trying to realize his true dream of becoming a musician. After his bands set he and Cage started a conversation, Depp stated he was at the "starving artist," part of his career at which time Cage told him about this guy Wes Craven needing actors for his movie. Never having acted before, but needing the money, Depp auditioned for Wes, his two daughters happened to be there. The begged their dad to give Depp the part because he was so dreamy and the rest is history.
The best horror doc I've ever seen.
A 4 hour documentary about every Goddamn film in the "Nightmare on Elm Street" series. This won't come as much of a surprise, but you have to be more than a little interested in the series to enjoy this. Probably not more than at least a little. While I found the discussion of the first film to be more than a little tiresome (It's a great film, but they talk about it as if it's "The Seven Samurai"), but once it gets to the lesser films in the series, the discussion is a lot of fun. Is 4 hours to long? Kind of ... by the time it got to the closing bullshit about the "legacy of the series" I just wanted to be done with it ... but it's an 8 film series, and a 1/2 hour per film is not too long.
Loved every minute of it. It was so fun seeing the old cast talk about the films, especially Mark Patton and Ken Sagoes. NOES2 was the funniest of them all though, Clu had be cracking up as always!