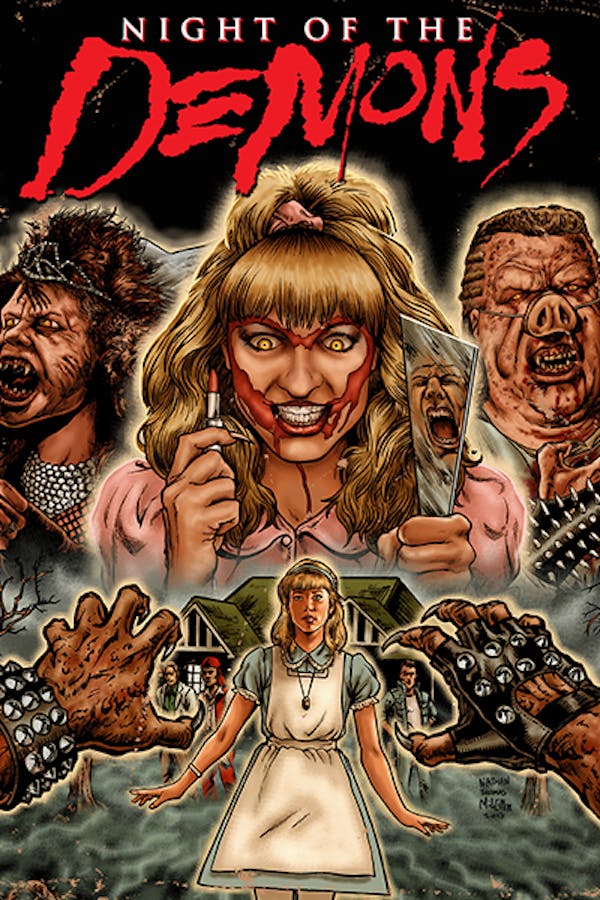 Night of the Demons
Directed by Kevin Tenney
In this 80's cult hit, horny teens at a Halloween party get possessed by demons. When a group of kids skip the school dance in favor of a secret bash thrown by goth girl Angela, they're hoping to spend the night having sex, not having their eyes gouged out by hellspawn. But after Angela's séance goes awry, good girl Judy finds herself on the run from her former friends. This raunchy mash-up of EVIL DEAD and RETURN OF THE LIVING DEAD is a cut above the usual 80's teen horror fare, featuring the rarest of all horror sights: a Black character who (SPOILER) survives... Contains strong language, sexual scenes, violence and gore.
In this 80's cult hit, horny teens at a Halloween party get possessed by demons.
Cast: Cathy Podewell, Amelia Kinkade, Alvin Alexis, Linnea Quigley
Member Reviews
Cheesy and a bit annoying, I probably would like this more if I'd seen it when I was young. I appreciate some of the shots - seeing the cast in the broken mirror, the slow 360 pan of the teens, and in general I liked how they lit the set. I've only seen Linnea Quigley in Return of the Living Dead, and was shocked at how different she is here. I hate to say it, but in a movie full of bad acting, she was even worse. Also, the demon voices were atrocious. Literally the voice of the short-lived WCW wrestler known as... THE SHOCKMASTER
Well, I've seen that one now... has a genuine enthusiasm and occasional flair about it that keeps it from getting boring. But ultimately, in world where we've seen versions of this movie many times, it's not any better than okay. And yet, it's a cult 80s classic, so I'm glad I at least saw it once.... but it will definitely be the last as well.
Has its moments, but for me, it committed the one unforgivable sin of a cheesy horror flick: For the most part, I found it incredibly boring. Gets a few bonus points for some of the effects, the Bauhaus clip (And where did that even come from, compared to the rest of the soundtrack?), and for Amelia Kinkade and Linnea Quigley being way more gay than I'd expect from something like this.
The trailer is so funny, I almost blew my drink through my nose. The movie I have watched several times. It never gets old.
Totally an 80s creep-fest! I love it for that 80s vibe! It's got some great original ideas while being totally a cliche! Love me some campy 80s possession!