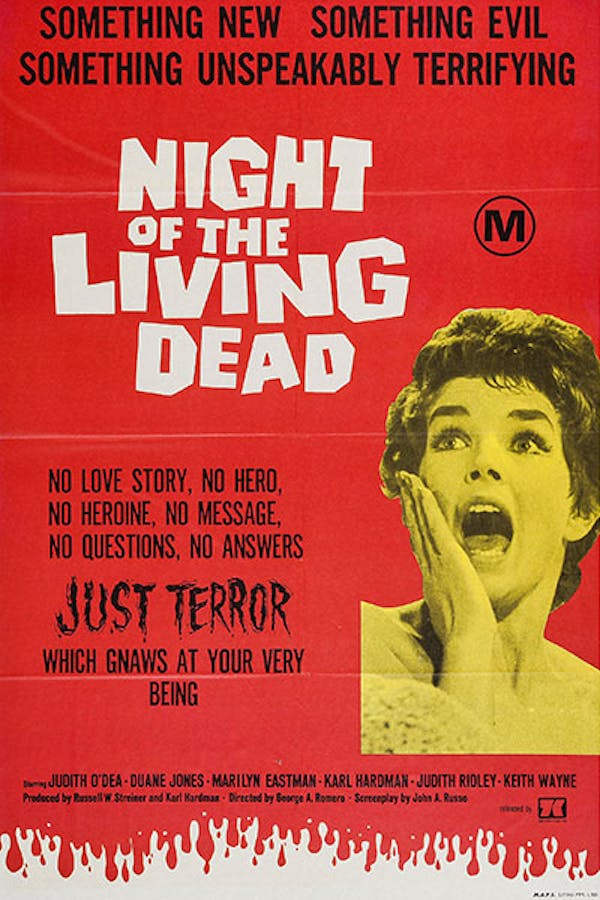 Night of the Living Dead
Directed by George Romero
George Romero's original zombie classic introduced viewers to a new type of terror: the walking dead, slow moving, but determined to feast on your flesh! From the first moments of its iconic opening sequence, NOTLD changed the game for horror directors, creating a genre that - like the zombies themselves - still shows no sign of slowing down. But Romero's most brilliant and controversial innovation was casting African-American actor Duane Jones as the lead, and offering a devastating - and still relevant - commentary on racism during the film's final moments.
George Romero's original zombie classic introduced viewers to a new type of terror.
Cast: Duane Jones, Judith O'Dea, Karl Hardman
Member Reviews
The one that started it all and one of the most important films ever made. George A. Romero delivers his masterpiece, his work of art that was inspired by a novel, I Am Legend. A mass apocalyptic event that's spreading across the states, a phenomenon unexpected, unexplained and unbelievable. The dead are walking, flesh hungry ghouls that lurk in darkness feasting on the arrogance, too and ignorance of humanity. While yes this film has caused controversy for given a African America actor of that time period of the late 60s, it was a nervous choice given its time period of America but George has stated many, many times that it has nothing to do with RACISM. It's just a arrogant put to put picture of the time period. I understand that but given peoples lack of understanding and research of the film and it's making, it can be viewed in a different manner when the main hero is actually meant to be anyone, was gonna be a white but they could get him to do it and so they picked Duane Jones because it was actually more convenient at the time for he was actually a better and more experienced actor. So don't go viewing this film with that mind set, no. It's a film about humanity's flaws, the way we panic on the terror and unexplained events that take place. It's about the dead waking up and eating the living. It's one the that started what we know about Zombies today, without this we wouldn't get Walking Dead, Shaun of the Dead or any work of zombies. Turn off the lights, stick some candles on and watch a film about ghouls walking and thank George for bringing this together and his work of art. The man was a genius.
Yet another classic. If you haven't seen this, it's well worth it to make time for this ghoulish feature.
You know it's a good zombie movie where the zombies are a part of a plot but not the complete plot. Also the First zombie film where the zombies are characterized as cannibals. Genre defining and a must see!
Hell yeah, dude. There's nothing new I can really say about a film as legendary as Night of the Living Dead, so I'll just say watch it if you haven't seen it yet!