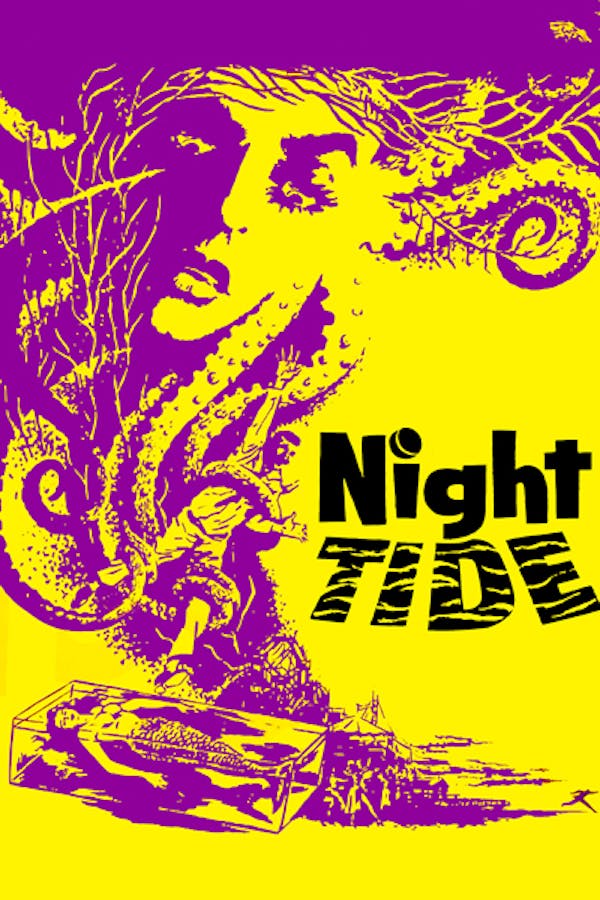 Night Tide
Directed by Curtis Harrington
In this eerie 60s thriller from director Curtis Harrington (QUEEN OF BLOOD), a man (Dennis Hopper) begins dating a woman who thinks she may be a real mermaid. Encounters with a witchy woman (occultist Marjorie Cameron) and the fact that Mora's exes both drowned slowly convince Johnny that staying with her may be dangerous. Fans of mysterious, mid-century horror like CAT PEOPLE, THE SEVENTH VICTIM and CARNIVAL OF SOULS shouldn't miss this uniquely moving fright flick, which drew on underground filmmaking styles to create an experience decades ahead of it's time.
A man (Dennis Hopper) begins dating a woman who may be a real mermaid.
Cast: Dennis Hopper, Linda Lawson, Gavin Muir
Member Reviews
I love it. I love it so much I purchased the film & the film poster 🐚
When I saw Dennis Hopper's portrayal of Frank Booth, the psychopathic, gas huffing criminal in Blue Velvet, I was actually repulsed by the character. He was THAT good at playing someone from the dark side. Imagine my surprise as I watched him in "Night Tide", the hardly-a-horror film in which he played a cross between Forest Gump and Gomer Pyle. Sorry, but I didn't see the tiniest of hints of who and what Hopper would eventually became. It's not a bad film, but it's not a good film. It's dated, but so is The Twilight Zone, and I never get tired of that. What can you say about it? Shy sailor begins his leave by wandering the boardwalk. He goes into a jazz club, see a raven haired beauty with big baby blues, and awkwardly invites himself to sit at her table. She's got an attitude, and she rebuffs him soundly before heading for the exit. Undeterred, the sailor follows her as she leaves the club, and, instead of being creeped-out by the stranger following her in the darkness, Mora invites the sailor to breakfast the next morning. Love blooms -- rather uncomfortably. However, there is the matter of Mora's species; Mora believes she is a member of the Sorority of Sea Sirens, and she earns her keep as Mora the Mermaid -- a 25 cent boardwalk attraction that features Mora lounging, in costume, at the bottom of a human sized fish tank. Can the sailor and the mermaid make it work? Well, add a mysterious dark lady with a frown, a senior citizen soothsayer, and an old guy who keeps a severed hand in a jar on his shelf, and you've got all the ingredients of a love story that could go either way. The ending is weird and rather sudden. Ultimately, the sailor was fortunate that she was the one that got away. Two skulls, and that's generous.
Never heard of this before. I love it! just like everyone said, excellent performance from Hopper. I'll definitely be watching this again.
Great to see DHopper in full display. A setting along the California coast adds to the tight narrative, and there's enough suspense and anticipation as the myth unfolds to keep you glued. Very much an enjoyable film.