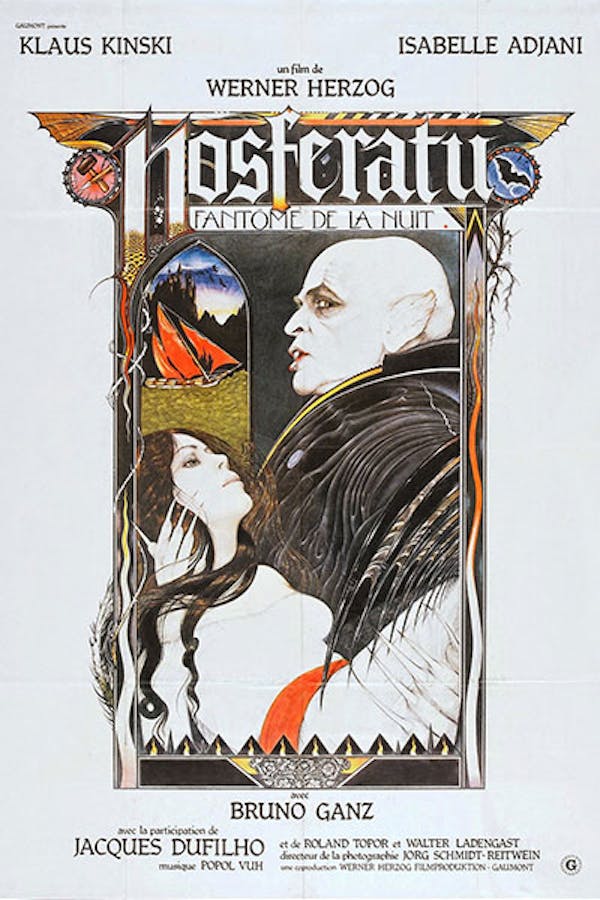 Nosferatu, The Vampyre
Directed by Werner Herzog
Werner Herzog's 1979 NOSFERATU remake stars the ghoulish German actor Klaus Kinski, French siren Isabelle Adjani (POSSESSION), and Bruno Ganz. Herzog, who was famous for creeping people out with intense documentaries and narrative films, took a surprising turn with this adaptation of both DRACULA and F.W. Murnau's original NOSFERATU, which was an illegal adaptation of the novel itself. Herzog's version is an unusually contemplative Dracula, in which the vampire bears the cross of not being able to get old and die. Watch it back to back with the original.
Werner Herzog's 1979 remake stars the ghoulish German actor Klaus Kinski.
Cast: Klaus Kinski, Isabelle Adjani, Bruno Ganz
Member Reviews
I have distinct memories growing up of seeing this at my local Blockbuster but never renting it. I always regretted not checking it out sooner. Now having seen it, I can say it's one of the best damn vampire films ever made. A chilling slow burn that builds it's world and terrifying interpretation of Dracula beautifully. My favorite part of the movie is the score alone. With a haunting, droning tone and atmosphere that makes you feel under the Count's spell. Herzog brilliantly reinforces the Count throughout the film with rats, equating him to a plague destroying the town. It makes for a film where you really feel the impact of Dracula, like he's a force of nature tearing this town apart for his own gain. It's an incredible movie no horror fan should go without seeing.
Stylish, beautiful, fun. Worthy remake of the classic 1920s movie.
I never understand why this is in German when they recorded it in english? Watch the behind the scenes it was recorded in English. Shudder get Eng Dubs plzzz.