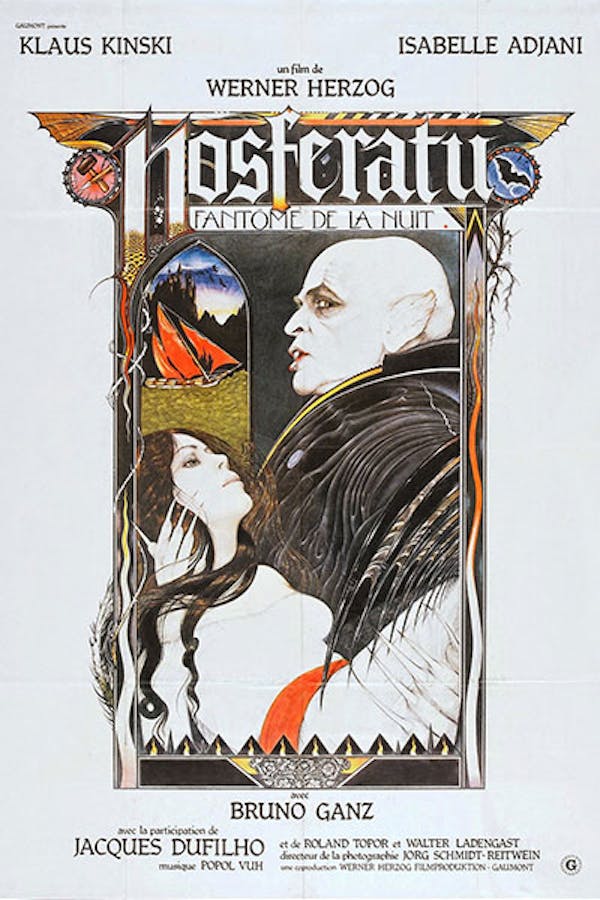 Nosferatu, The Vampyre
Directed by Werner Herzog
Werner Herzog's 1979 NOSFERATU remake stars the ghoulish German actor Klaus Kinski, French siren Isabelle Adjani (POSSESSION), and Bruno Ganz. Herzog, who was famous for creeping people out with intense documentaries and narrative films, took a surprising turn with this adaptation of both DRACULA and F.W. Murnau's original NOSFERATU, which was an illegal adaptation of the novel itself. Herzog's version is an unusually contemplative Dracula, in which the vampire bears the cross of not being able to get old and die. Watch it back to back with the original.
Werner Herzog's 1979 remake stars the ghoulish German actor Klaus Kinski.
Cast: Klaus Kinski, Isabelle Adjani, Bruno Ganz
Member Reviews
I loved this movie. I never seen it before and I was impressed. I was sad when the girl died to save her husband and it did not save him at all. But it was so romantic. I thought what an ending!
A classic. Gothically beautiful in its haunting vision, shot against the backdrop of a haunted city in a haunted time period, this is a true masterpiece of style and high art. Those with slasher film tastes need not apply here. You will only be filled with disappointment when you don't get the job. This is a film for the horror connoisseur, which thankfully I am. Love Rosemary's Baby, The Witch, The Others, Midsommar, Hush Hush Sweet Charlotte, Gaslight, Susperia and anything by Poe, Barker, Hitchcock, Argento, or David Lynch? Come right on in, the dark water here feels fine.
A good remake of a great gothic horror classic.
One reviewer wrote that the music was impotent 🤦‍♂️. Sometimes I feel like American Horror fans should just stick to Freddie Krueger, that's our attention span. The film was creepy yet beautiful, exquisite, a gothic horror classic. This is for refined horror taste, not for fat unsophisticated Americans who love slasher films.