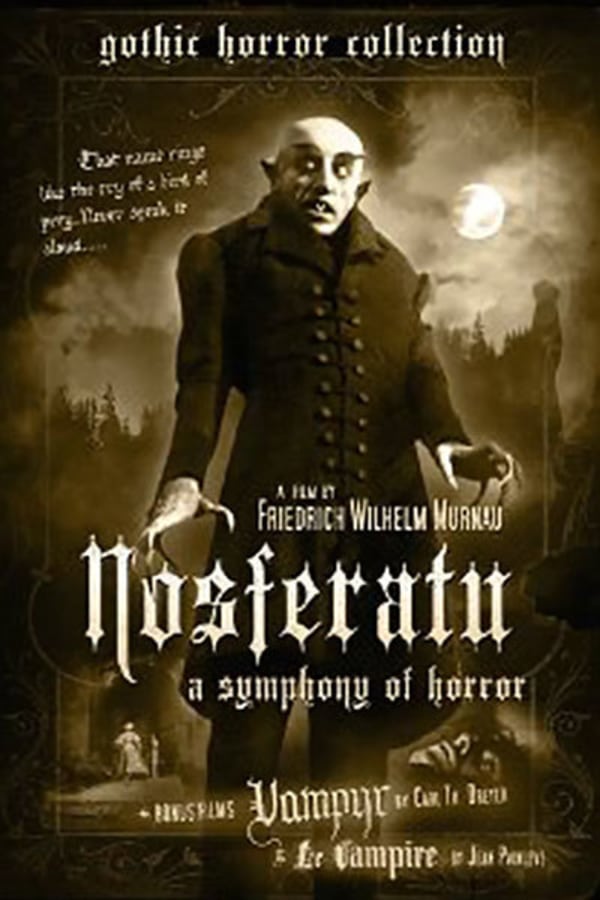 Nosferatu
Directed by F.W. Murnau
F.W. Murnau's silent version of DRACULA is one of the greatest horror films ever made, thanks in large part to Max Schreck's still-terrifying performance as the bald vampire Nosferatu, sporting razor sharp fangs and long pointy fingernails. Murnau's brilliant use of scary shadows and atmospheric dread influenced countless vampire films and TV series - including DARK SHADOWS, BRAM STOKER'S DRACULA, BUFFY THE VAMPIRE SLAYER and the recent horror comedy WHAT WE DO IN THE SHADOWS. Every horror fan should try to watch this at least once a year, in our opinion.
F.W. Murnau's silent version of DRACULA is one of the greatest horror films ever made.
Cast: Max Schreck, Gustav von Wangenheim, Greta Schroder
Member Reviews
Horror films wouldn't be where they are today without Nosferatu! I've mostly seen shoddily edited public domain versions of this 1922 German silent classic but this fully restored digitally enhanced version is the proper way to view this film and the title fiend comes off much more menacing. I hope Shudder also will also acquire 1925's The Phantom Of The Opera and the classic Univeral horror films of the 30's and 40's.
creepy but brilliant..... thank u
An absolute classic that does not disappoint!
An original horror movie classic. Then again, not so original story as it basically took Stoker's Dracula and changed a few things, but that's okay because it's an awesome movie. I wish Shudder had some more films from the black and white eras of silent movies and Universal classics. These movies were the basis for so much of what we love as horror fans. Nosferatu is gothic and creepy and more than worth a watch if you're a fan of scary movies.
This was done before I was even born and I felt something profound. It was better than any movie that has the big budget. It was like it gave me the complete freedom to interpret every moment of the movie in my own way because it was completely silent. This is the first silent movie I have ever seen and I am not sure why others aren't made like this. I think that Hollywood would make more money than any other movie if they made a silent movie with amazing actors of our time. Now that would be another horror gem for the history books.