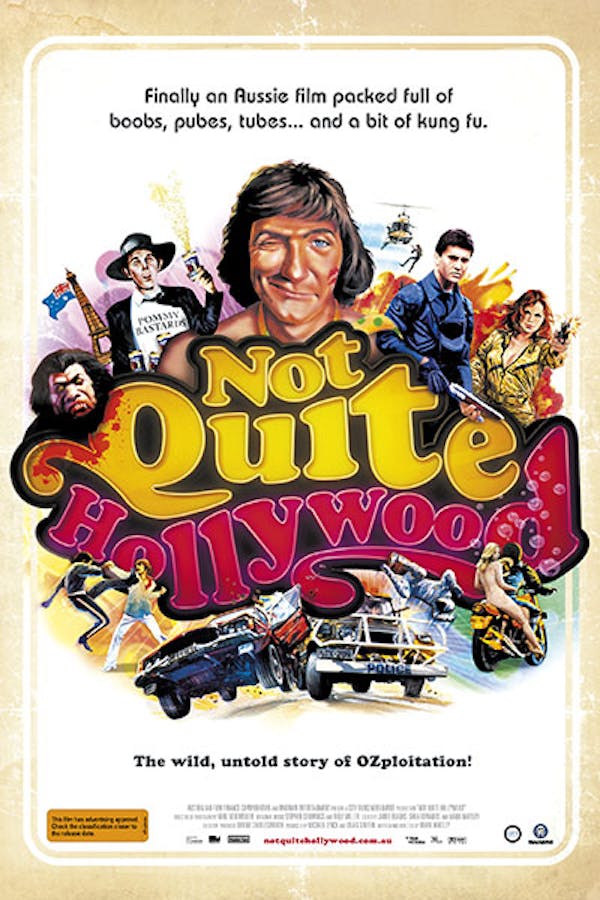 Not Quite Hollywood: The Wild, Untold Story of Ozploitation!
Directed by Mark Hartley
NOT QUITE HOLLYWOOD is the wild, wonderful, untold story of "OZPLOITATION" films. It irreverently documents an era when Australian cinema got its gear off and showed the world a full-frontal explosion of sex, violence, horror and foot-to-the-floor, full bore action! An eye-popping celebration of Australian cult films of the '70s and early '80s (including MAD MAX, BMX BANDITS and PATRICK), NOT QUITE HOLLYWOOD explodes with adrenaline-pumping clips and outrageous anecdotes from such luminaries as Quentin Tarantino, Dennis Hopper, Barry Humphries and Jamie Lee Curtis.
The story of the Australian exploitation genre cinema of 1970s and 80s.
Cast: Quentin Tarantino, Dennis Hopper, Jamie Lee Curtis
Member Reviews
If you don't like the documentary, you don't like life.
I always find it interesting to watch documentaries about parts of film history that I'm not too familiar with, and this delivered in droves. Everyone involved really loves film, and the amount of crazy stories that are delivered really captures the true insanity of the period. I also came away with tons of movies I need to see which is always a nice thing to happen when watching documentaries like this.
This is a fun documentary that gave me a new insight in to Australian Cinema. It defintely made to
Fun, fast paced doc about a unique film industry.
A great crash course on the history of Australian genre films that highlights that they, too, have snobby critics that never made a film but insist they know better.