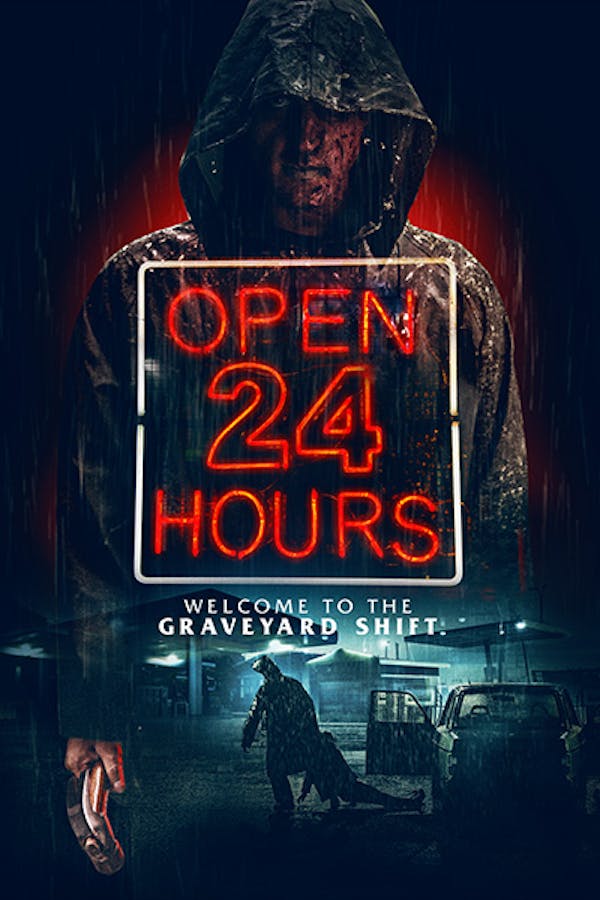 Open 24 Hours
Directed by Padraig Reynolds
After setting her serial killer boyfriend on fire, a paranoid delusional woman gets a job at an all-night gas station.The isolation triggers her anxiety and hallucinations, with devastatingly gory results.
At an all night gas station, a paranoid woman must figure out if she's delusional or under attack.
Cast: Brendan Fletcher, Emily Tennant, Vanessa Grasse, Tomi May
Member Reviews
One of the worst movies I've seen in a long time....
I think it's a pretty decent movie overall I thought the acting in it was decent and the characters are believable. However this movie did suffer from an unnecessary cliffhanger and could have ended on a better note. The gore was sometimes cheesy but I didn't mind due to its slasher nature. without too many spoilers the antagonist felt a little. weak. compared to the good suspense build up from and unreliable narrator! A good and entertaining watch!
There are more holes in this trite plot than there are in the victims, and that's saying a lot. After the 7th or 8th 'Oh come on, really?" I resumed watching it with the timer left on. Three skulls for acting, cinematography and special effects, especially Debbie's death - I don't want to spoil it in case you want to see it, dear readers. It's not unwatchable, it's a shame that with all the good stuff this film also had the drawbacksthat it did.
Overall it was pretty okay. I've seen better and I've seen much worse. I didn't feel the main actress could act very well and It bummed me out to see certain characters get killed off when you really hope they make it. It had a pretty predictable ending but it kept my attention.
Expected less from the ratings, but was positively surprised about the story. Was hoping though for some more characters to survive.