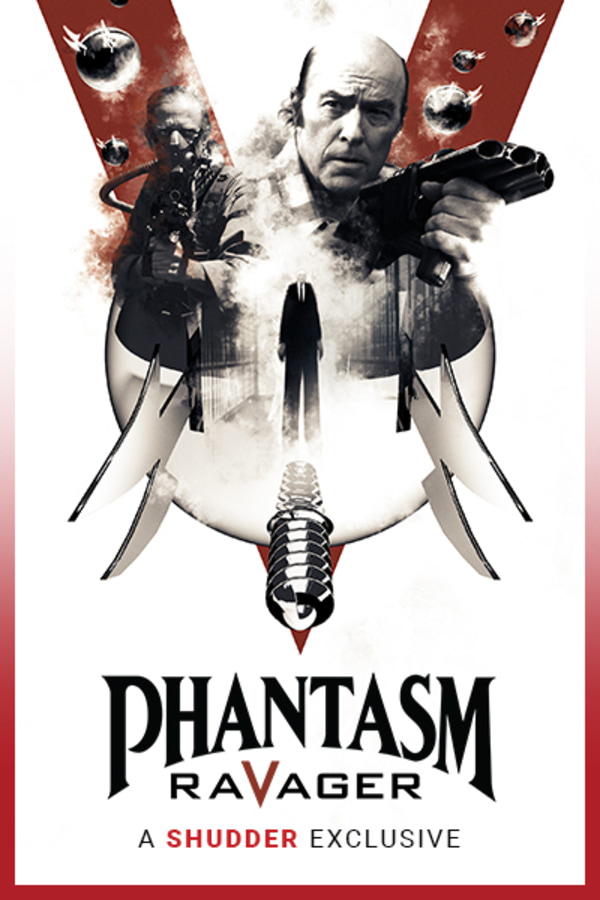 Phantasm Ravager
Directed by David Hartman
After Mike disappeared at the end of PHANTASM IV, Reggie finds himself wandering in the desert, taking down spheres while trying to figure out where his friend went. But when Reggie wakes up in a nursing home, with Mike insisting he's suffering from dementia, he must struggle to figure out what's real and what's an illusion. As he begins to leap back and forth between a peaceful present and a dystopian future where The Tall Man has almost won, Reggie must summon all his courage and his two best friends, Mike and Jody, to finally defeat the unholy alien evil.
While searching for Mike, Reggie prepares himself for one final epic battle with The Tall Man.
Cast: Angus Scrimm, A. Michael Baldwin, Reggie Bannister
Member Reviews
Ug this suuuuuuuucks. So lame.
I suspect this movie was stitched together from several unfinished treatments and rejected finished scripts, because this movie is essentially a lumbering flesh golem made from aborted Phantasm finale scripts. They seemingly salvaged all the "cool" parts, but forgot to save the necessary ones like, for example, addressing the mystery of the gold sphere lodged in Mike's head, and Jody apparently being nothing but a gold sphere under the control of The Tall Man. Mike's big reveal from the last installment gets a five second mention, and is then forgotten. Jody's previous "condition" isn't even mentioned! You can try to defend all these plot holes and dropped narrative threads as being a natural evolution of a film universe (or multiverse, now that Mike has clumsily shoehorned the concept into the Phantasm lore with his TED Talk for Dummies monologue.) where the viewer can never be sure what is 'real' and what is an illusion, but to me it looks more like a case of a creative team either being unable to or simply not caring anymore to bring their series to a final conclusion. Sadly, at this point in the Phantasm series, the waking nightmare-like style that made the first film one of my all-time favorites seems to have simply become an excuse to not answer questions posed in previous installments, and a free pass to essentially end the series with a "choose your own adventure" ending. I wanted to like this movie more than I did, but I feel that it's childish to decree that "The fans deserved better!", and obviously I have no idea how much or how little passion the team behind this movie had for this project, but it simply wasn't the way I wanted to see this series end.
Meh...loved most of the other phantasms but this one...not so much. "A" for effort but kept trying to doze off throughout. Decent movie for before bed maybe?
Garbage. We all waited forever for this film and it was a complete disappointment. If you're a Phantasm fan, then you obviously have to see it but know that it sucks going in. Oblivion is the true finale.