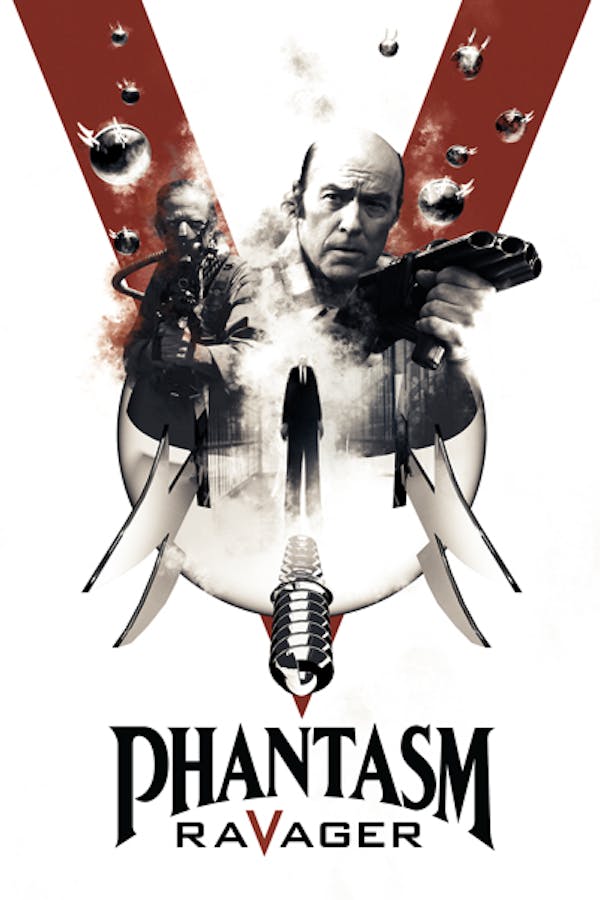 Phantasm Ravager
Directed by David Hartman
After Mike disappeared at the end of PHANTASM IV, Reggie finds himself wandering in the desert, taking down spheres while trying to figure out where his friend went. But when Reggie wakes up in a nursing home, with Mike insisting he's suffering from dementia, he must struggle to figure out what's real and what's an illusion. As he begins to leap back and forth between a peaceful present and a dystopian future where The Tall Man has almost won, Reggie must summon all his courage and his two best friends, Mike and Jody, to finally defeat the unholy alien evil.
While searching for Mike, Reggie prepares himself for one final epic battle with The Tall Man.
Cast: Angus Scrimm, A. Michael Baldwin, Reggie Bannister
Member Reviews
Their needs to be closure to the series. The 4th and 5th movie didn't progress the story at all. The series kind of fell apart after the second movie.
Surprised with some negative reviews here. To think that a group of actors, and a director/writer, would still all be together 37 years after the iconic first movie is simply a gift. The final is melancholy but what a brilliant ending - all three riding again into the maelstrom. They picked their reality and they picked the good fight. Love it.
A sub par conclusion to an interesting franchise
Big fan of the first 4 (maybe not 2 so much) but the only thing i liked about this one was that Rocky showed back up, and that was only for like 2 minutes at the end. No thanks. Sorry.
I hate to write this but, This is some amateur film making. the movie looks horrible all the way through the effects are either terrible CG or incredibly lazy. Everyone dies the same death over and over again with no change. Everything is shot through DSLR without any attention to shot setup or camera movement. The strengths of DSLR cinematography was apparently lost on the director because everything is horribly in focus unless they a shooting a reveal. All of the lightning is completely flat mostly using natural light which leaves most scenes looking ugly or poorly lit. some shots are just over exposed or out of focus. I love the first 4 movies because despite feeling like everything was barely held together there was a love for the craft of film making and gross out practical effects. The first 4 have a unique charm adding to one of the most creative universes in movies and some of the most delightful main characters. this movie misses the mark by a country mile and I wish this franchise had a better more thoughtful send off