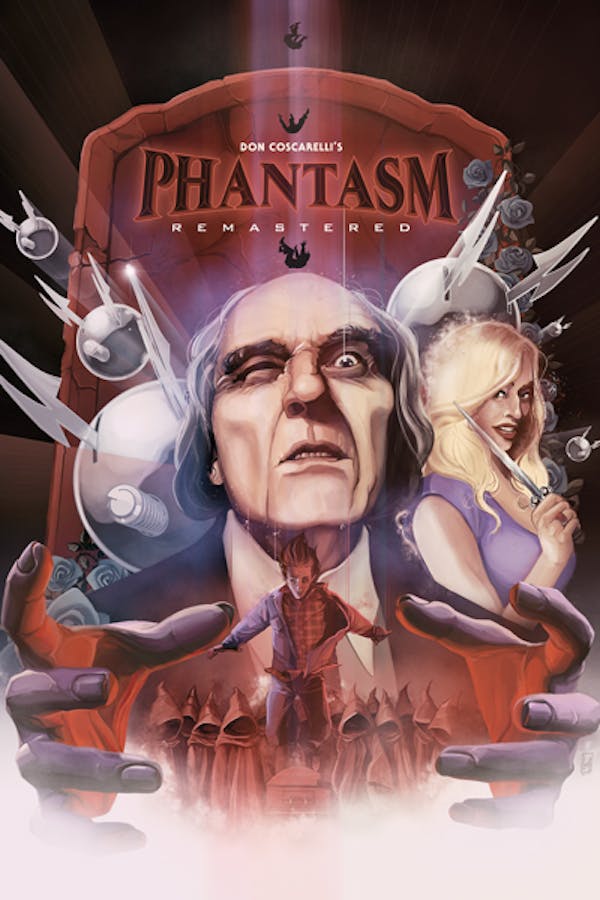 Phantasm: Remastered
Directed by Don Coscarelli
Don Coscarelli's beloved 1979 sci-fi horror classic returns in a beautiful new restoration (headed by J.J. Abrams and Bad Robot). When Mike's parents die, his world is turned upside down. But nothing can prepare him for the shocking discovery that a mortician (the late, great Angus Scrimm) and his dwarf army have stolen Mike's parents' bodies. Did we mention the flying spheres? Though the surreal scare-fest unfolds like a child's bad dream, the terror it evokes is far more real and intense than most fright flicks. PHANTASM's success led to four sequels and a permanent place in the horror hall of fame.
Don Coscarelli's beloved 1979 sci-fi horror classic returns in a new restoration.
Cast: Angus Scrimm, A. Michael Baldwin, Reggie Bannister
Member Reviews
A film whose reputation sadly outshines what it actually delivers. First the negatives: the plotting is confusing and occasionally repetitive - characters dash between home and the cemetery dozens of times, leading to a sense of tiresome deja vu. The positives: there are moments where a truly eerie, surrealist atmosphere is captured, especially in the sparsely coloured marbled mausoleum; the metal sphere, said to have come to Coscarelli in a dream, has an unsettling liminality all the better for remaining unexplained; and of course Angus Scrimm's tall man is, rightly iconic - while he's obviously this movie's stand-in for a personified Death his minimalist performance and the shots of him in striding slow-mo lend him a presence more alien than campy and it's a highlight every moment he's on screen. I can see why people have such fondness for this film, and had I watched it when I was much younger doubtless I'd have greater love for it. However, watching it for the first time now, I can't help but see the missed opportunities this film had to be much better.
Totally a bizzare adventure but it is soooo good!
If you have never watched Phantasm wait no longer to jump into the suspense filled eerie journey where you will not be disappointed.
Bizarre and delightful. Worth a watch!!
There is a lot going on in this film, with elements as far apart tonally as an impromptu musical number in the first half hour and the flying balls of death. In essence though, this movie is about two brothers, Mike and Jody, and their investigation into the mysterious workings at the Morningside Cemetery and its terrifying undertaker, the Tall Man. The brothers have genuine concern for the welfare of the other, and it is this relationship that helps to make the film stand out that bit more. I also really like the different tones the film traverses through, with moments of comedy transitioning to those of pure terror, with some action, adventure and science-fiction themes also featuring. The pacing and plotting at times does not hit the mark but overall, this is an enjoyable film that has mostly survived the test of time since its release in the late 1970s and one that definitely will make viewers want to carry on with the series.