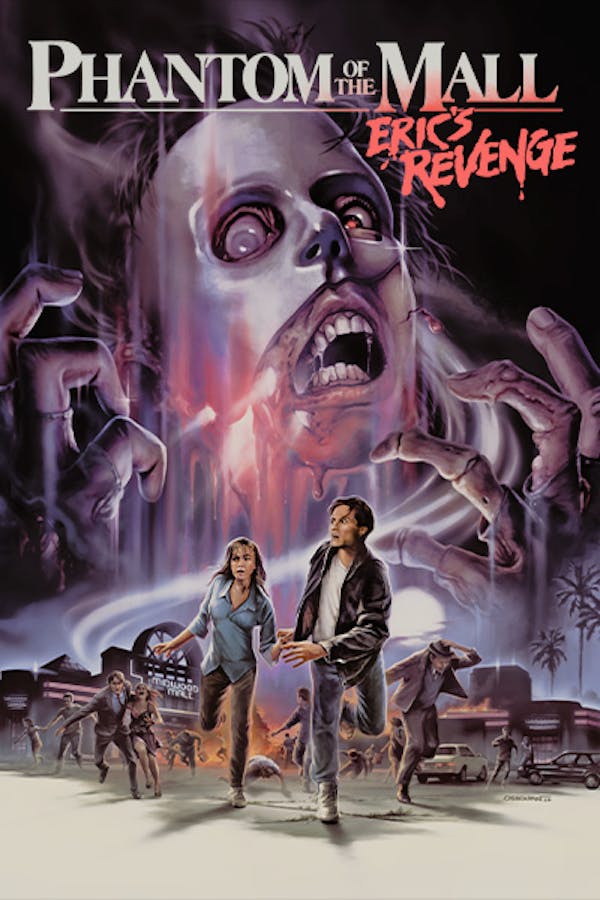 Phantom of the Mall: Eric's Revenge
Directed by Richard Friedman
With numerous interpretations of Gaston Leroux's classic novel The Phantom of the Opera having been turned out over the years, it was only a matter of time before the slasher genre decided to take a stab at the tale – step forward 1989's Phantom of the Mall: Eric's Revenge! High school sweethearts Eric Matthews and Melody Austin are so in love, but their youthful romance is cut tragically short when Eric apparently dies in a fire that engulfs his family home. One year later and Melody is trying to move on with her life, taking up a job at the newly built Midwood Mall along with her friends. But the mall, which stands on the very site of Eric's former home, has an uninvited guest – a shadowy, scarred figure which haunts its airducts and subterranean passageways, hellbent on exacting vengeance on the mall's crooked developers.
A year after Melody's high school sweetheart dies in a fire, a shadowy killer has taken up residence in the new mall that stands on his former home.
Cast: Derek Rydall, Jonathan Goldsmith, Pauly Shore
Member Reviews
i really like the movie pretty good to watch on shudder 😁 good job shudder pick is movie keep add more movie just like is movie. I like is movie more
With a horror film starring Morgan Fairchild, Pauly Shore, Rob Estes, and Ken Foree in it, you'd think I'd heard of it a lot sooner. Oh well. It's a nice hidden gem I hadn't heard about it until I got Shudder. Thanks, Shudder! It's a little above average, but it has the 80's cheesy kind of charm I'd expect from a movie like this.
i love is movie good job on movie i give 5/5 stars on movie
Very Very enjoyable watch 9/10
for an older film really good well made enjoyed worth a watch