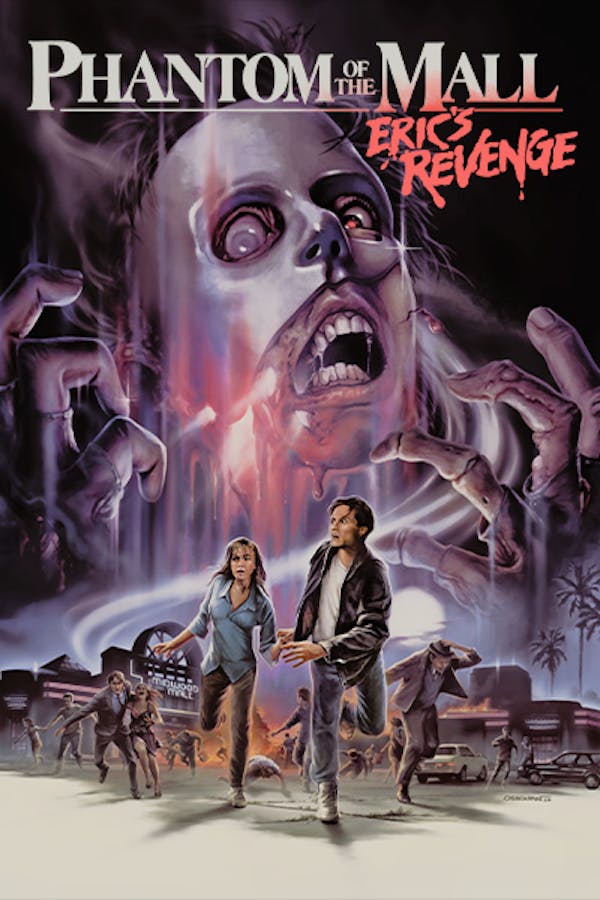 Phantom of the Mall: Eric's Revenge
Directed by Richard Friedman
With numerous interpretations of Gaston Leroux's classic novel The Phantom of the Opera having been turned out over the years, it was only a matter of time before the slasher genre decided to take a stab at the tale – step forward 1989's Phantom of the Mall: Eric's Revenge! High school sweethearts Eric Matthews and Melody Austin are so in love, but their youthful romance is cut tragically short when Eric apparently dies in a fire that engulfs his family home. One year later and Melody is trying to move on with her life, taking up a job at the newly built Midwood Mall along with her friends. But the mall, which stands on the very site of Eric's former home, has an uninvited guest – a shadowy, scarred figure which haunts its airducts and subterranean passageways, hellbent on exacting vengeance on the mall's crooked developers.
A year after Melody's high school sweetheart dies in a fire, a shadowy killer has taken up residence in the new mall that stands on his former home.
Cast: Derek Rydall, Jonathan Goldsmith, Pauly Shore
Member Reviews
Stupidly fun... worth a eatch if the discription appeals to you.
As a reimagining of PotO it lacked some of the elegance of the source material but it is, none the less, an enjoyable 80s cheese romp!
Can only give it 1 skull each for Pauly Shore and Gregory Scott Cummins (Mac's dad!)
creative spin on a classic tale. Pauly Shore was the stand-out for me. Almost stopped watching with 20 or so minutes to go because it was dragging and you knew what the ending would be.