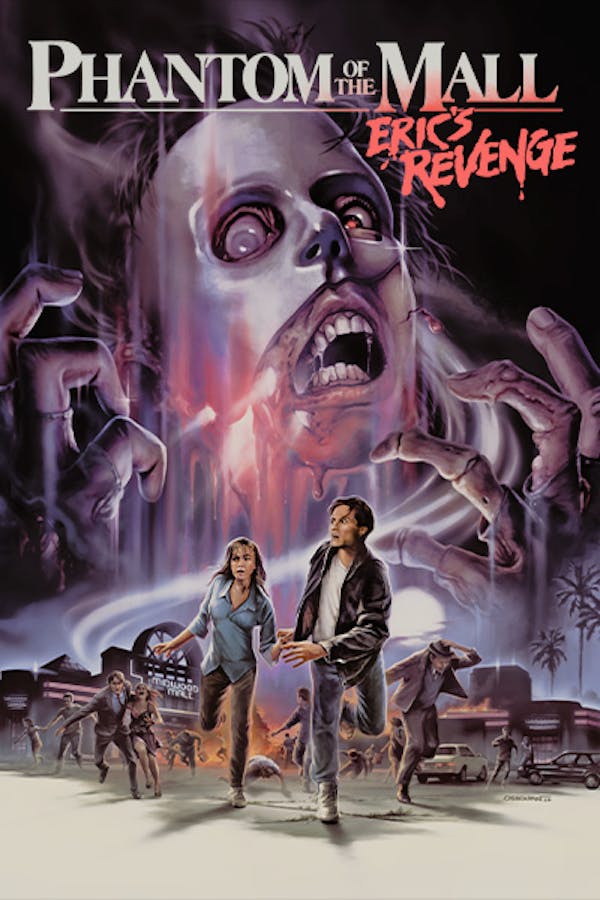 Phantom of the Mall: Eric's Revenge
Directed by Richard Friedman
With numerous interpretations of Gaston Leroux's classic novel The Phantom of the Opera having been turned out over the years, it was only a matter of time before the slasher genre decided to take a stab at the tale – step forward 1989's Phantom of the Mall: Eric's Revenge! High school sweethearts Eric Matthews and Melody Austin are so in love, but their youthful romance is cut tragically short when Eric apparently dies in a fire that engulfs his family home. One year later and Melody is trying to move on with her life, taking up a job at the newly built Midwood Mall along with her friends. But the mall, which stands on the very site of Eric's former home, has an uninvited guest – a shadowy, scarred figure which haunts its airducts and subterranean passageways, hellbent on exacting vengeance on the mall's crooked developers.
A year after Melody's high school sweetheart dies in a fire, a shadowy killer has taken up residence in the new mall that stands on his former home.
Cast: Derek Rydall, Jonathan Goldsmith, Pauly Shore
Member Reviews
Cheesy 80's fun. Not for everyone. A good time to watch once.
The movie was okay but after she found out that Eric was alive, y didn't she wanna be with him anymore if she loved him so much. And she didn't feel sorry for him or get mad at what the developers did. Wouldn't want to watch it again but it was okay.
Classic 80s Never disappoints me.
Not a bad 80's movie at all. The main girl is cold-hearted AF though the way she did Eric at the end lol.
Pretty good movie and it was cheesy in a good way. Check it out and see what you think. On to the next.