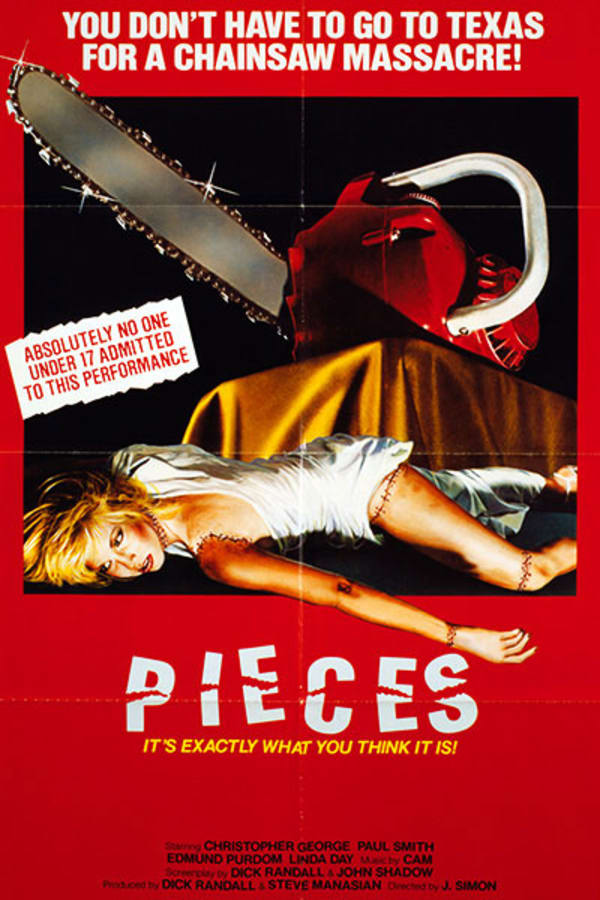 Pieces
Directed by Juan Piquer Simon
A chainsaw killer mutilates college kids in this 80's slasher favorite. In the 1940's Timmy chopped his uptight mother into little pieces. 40 years later, a series of murders trouble the police. Is Timmy back? 80's audiences who went to PIECES expecting a standard slasher were left speechless by this unintentionally hilarious (and very-violent) thriller filled with overwrought performances, Kung-fu, a waterbed murder scene, and a truly ballsy ending. If you've seen it, you know you want to watch it again, and if you haven't, it's time to be initiated...
A chainsaw killer starts mutilating college kids in this 80's slasher favorite.
Cast: Christopher George, Lynda Day George, Frank Braña
Member Reviews
Forgot how good and terrible this movie was .
This movie is fucking terrible. Like sub Troma trash terrible, but its awesome because of it. Worth a watch just to have you struggling to explain wtf they could have possibly been thinking with this stuff.
I certainly remember renting this on tape when I was younger, and it still holds a special place in my memories of early horror. With that being said, This film is just okay. It doesn't hold up as well as Maniac or Evil Dead, but it's at least entertaining. If you can get past the bad dubbing its worth a watch. I would love to own the VHS of this but it's just not worth the price. However, I will give it credit for having Boobs and Blood.