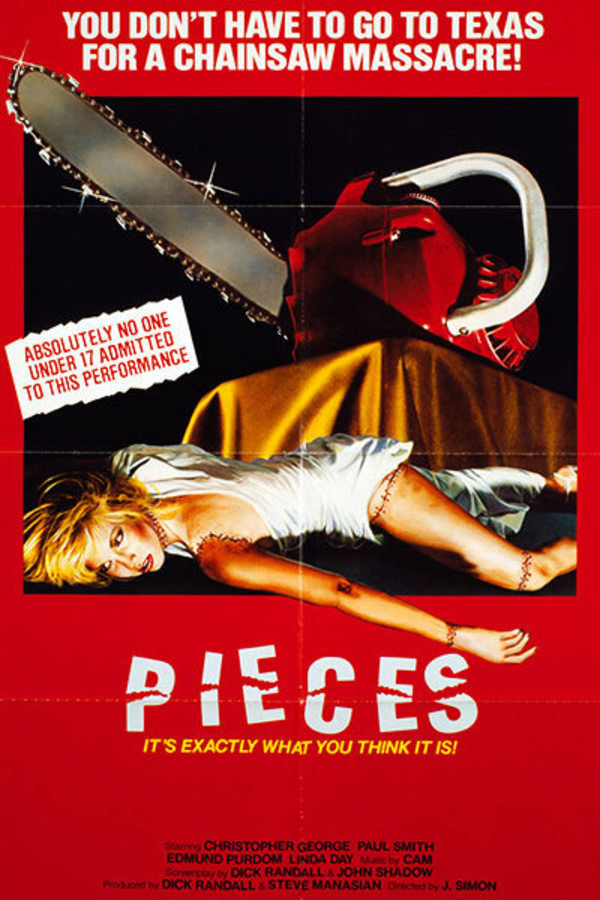 Pieces
Directed by Juan Piquer Simon
A chainsaw killer mutilates college kids in this 80's slasher favorite. In the 1940's Timmy chopped his uptight mother into little pieces. 40 years later, a series of murders trouble the police. Is Timmy back? 80's audiences who went to PIECES expecting a standard slasher were left speechless by this unintentionally hilarious (and very-violent) thriller filled with overwrought performances, Kung-fu, a waterbed murder scene, and a truly ballsy ending. If you've seen it, you know you want to watch it again, and if you haven't, it's time to be initiated...
A chainsaw killer starts mutilating college kids in this 80's slasher favorite.
Cast: Christopher George, Lynda Day George, Frank Braña
Member Reviews
Oddly entertaining, definitely not great
this has to be one of tbe worst movies ive ever seen ...the acting was HORRIBLE lol ..then that voice over ....i even had to laugh a couple times and ask myself why the hell im still watching .. like the cops are really going to ask a dumb kid to do police work that was just dumb .lets not forget the grounds keeper lol with his side eye and the lady screaming BASTARD BASTARD thats when i just busted out laughing!!!! oh yeah and what was that with the karate lol that was just plain stupid ....i could have stopped but its one of those things yiu have to see it thru see how more rediculous it gets and the ending lol .....
your typical 80s slasher. it was good if you wanna go back in time to that era in horrror