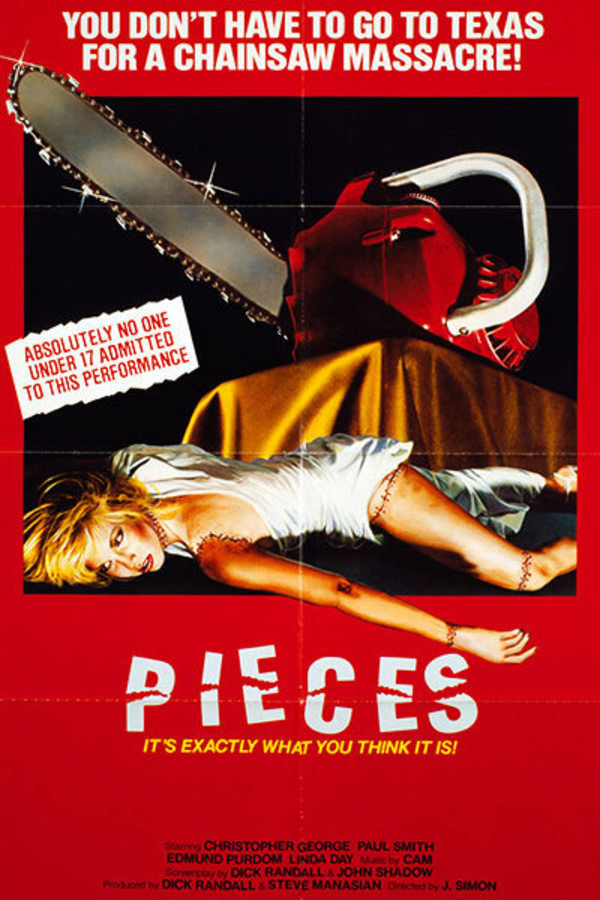 Pieces
Directed by Juan Piquer Simon
A chainsaw killer mutilates college kids in this 80's slasher favorite. In the 1940's Timmy chopped his uptight mother into little pieces. 40 years later, a series of murders trouble the police. Is Timmy back? 80's audiences who went to PIECES expecting a standard slasher were left speechless by this unintentionally hilarious (and very-violent) thriller filled with overwrought performances, Kung-fu, a waterbed murder scene, and a truly ballsy ending. If you've seen it, you know you want to watch it again, and if you haven't, it's time to be initiated...
A chainsaw killer starts mutilating college kids in this 80's slasher favorite.
Cast: Christopher George, Lynda Day George, Frank Braña
Member Reviews
Well lol...not sure what to say...this movie is awful, and also awesome. So packed full of bad editing, bad voiceovers, bad plot holes, bad dialog, and bad acting. It ALSO has great ultra violent slasher scenes and the expected nude scenes. If you want a quality film this definitely is NOT it. However if you want to let go of the real world and watch a dumb movie (complete with an appearance by a Bruce Le character that loses a fight with an older woman with once kick to the groin) this IS IT!!!!
Kinda works as Horror. Kinda works as comedy. BASTARDS!!!
Everything you'd want from a cheesy 80's slasher, including things you couldn't possibly imagine. Yes, I'm talking about that kung fu scene with Bruce Le. An absolute masterpiece: 10/10.
Pretty bad, and minus 1/2 skull for Linda Day George who to the best of my knowledge was never any good, in anything. No flair at all shown in this remarkably boring effort. 1.5