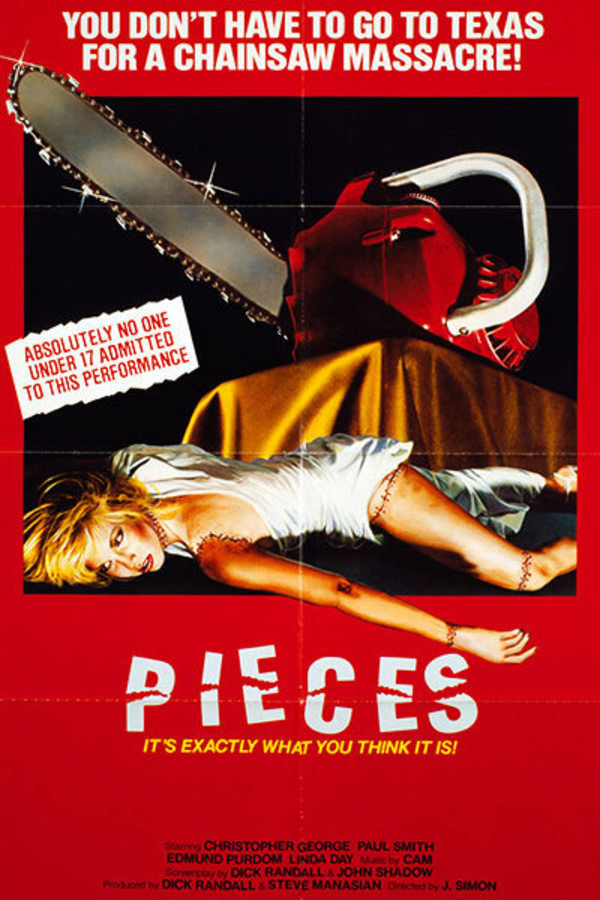 Pieces
Directed by Juan Piquer Simon
A chainsaw killer mutilates college kids in this 80's slasher favorite. In the 1940's Timmy chopped his uptight mother into little pieces. 40 years later, a series of murders trouble the police. Is Timmy back? 80's audiences who went to PIECES expecting a standard slasher were left speechless by this unintentionally hilarious (and very-violent) thriller filled with overwrought performances, Kung-fu, a waterbed murder scene, and a truly ballsy ending. If you've seen it, you know you want to watch it again, and if you haven't, it's time to be initiated...
A chainsaw killer starts mutilating college kids in this 80's slasher favorite.
Cast: Christopher George, Lynda Day George, Frank Braña
Member Reviews
For lovers of bad movies! Everything about this was bad - Bad writing, Bad acting (so bad it was good), Not low budget but NO budget - even the music was so tacky it was great. Yet in-spite of all this, i could not wait to see what happens next haha. Its a great combination of everything going so wrong that its wonderful. Recommended for lovers of cheese... and waterbeds.... and kung fu haha.
Completely stupid and breathtaking junk splatter masterpiece.
It was interesting. I like the killer's plan
This is one of those so bad so good ones. Give it a chance you just might laugh.