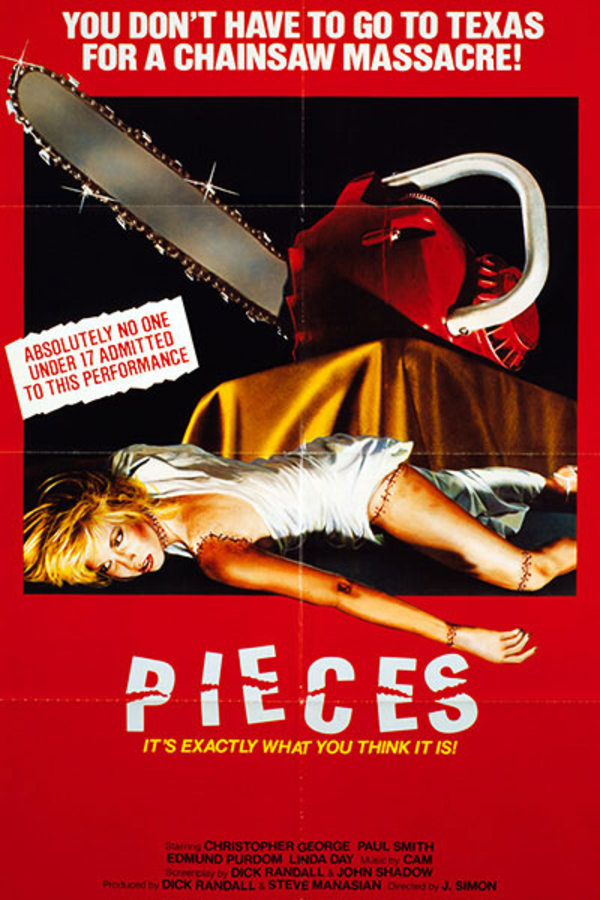 Pieces
Directed by Juan Piquer Simon
A chainsaw killer mutilates college kids in this 80's slasher favorite. In the 1940's Timmy chopped his uptight mother into little pieces. 40 years later, a series of murders trouble the police. Is Timmy back? 80's audiences who went to PIECES expecting a standard slasher were left speechless by this unintentionally hilarious (and very-violent) thriller filled with overwrought performances, Kung-fu, a waterbed murder scene, and a truly ballsy ending. If you've seen it, you know you want to watch it again, and if you haven't, it's time to be initiated...
A chainsaw killer starts mutilating college kids in this 80's slasher favorite.
Cast: Christopher George, Lynda Day George, Frank Braña
Member Reviews
One of my favorites. If you like boobs and gore, this movie is for you.
Well there are boobs, a tiny ass dick and a horrible dub over.
I admit I am biased in my love for Pieces, as it's one of the first horror movies I ever saw and helped turn me into a horror fan. Campy and amazing. This is actually a dubbed Spanish movie which partly explains the acting (but not totally).
This movie had the 3 "B's". Blood,boobs,and babes. And plenty of it. Worth a watch and stay till the end.
Kinda Hilarious watching it now due to the piss poor effects & acting.But when I was a child It really did scare me proper. My bros. & I used to quote the line from the Kid in the Beginning of the film. So I'll go w/ a rock'n 3skulls based almost entirely based on pure Nostalgia!