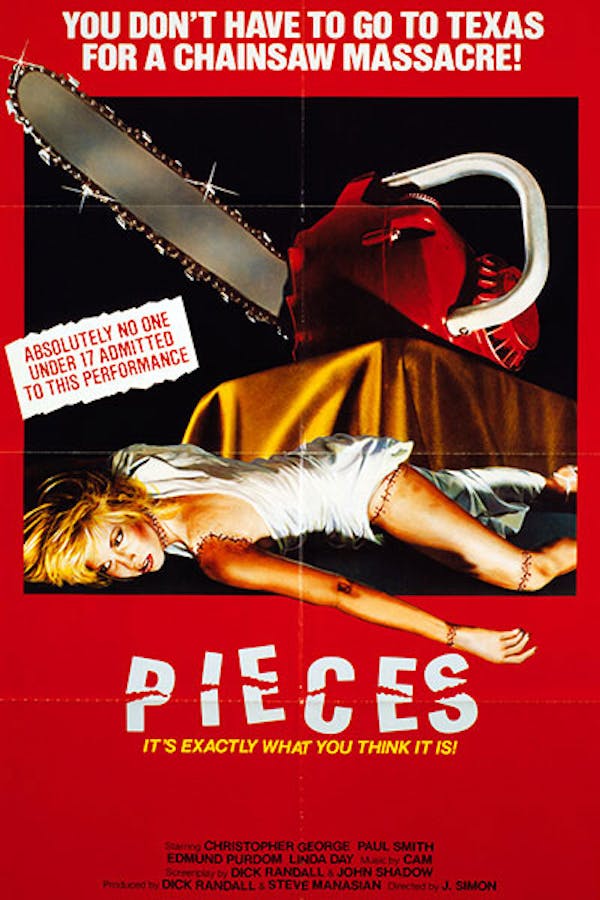 Pieces
Directed by Juan Piquer Simon
A chainsaw killer mutilates college kids in this 80's slasher favorite. In the 1940's Timmy chopped his uptight mother into little pieces. 40 years later, a series of murders trouble the police. Is Timmy back? 80's audiences who went to PIECES expecting a standard slasher were left speechless by this unintentionally hilarious (and very-violent) thriller filled with overwrought performances, Kung-fu, a waterbed murder scene, and a truly ballsy ending. If you've seen it, you know you want to watch it again, and if you haven't, it's time to be initiated...
A chainsaw killer starts mutilating college kids in this 80's slasher favorite.
Cast: Christopher George, Lynda Day George, Frank Braña
Member Reviews
I get why this is a classic. Lots of cheese and problematic scripting but very much of it's time. Very much enjoyed this.
A campy slasher mixed with a pretty decent murder mystery! I was pleasantly surprised how good this turned out to be!
I somehow missed this little gem in the video rental store. I thought it was pretty decent.
so cheesy but in the best possible way. BASTARD! BASTARD! 😂 Kendall is a good character but I guess he got what he deserved at the end for sleeping around so much.
This was a good slasher the ending was a total wtf but stil a lot of fun it also kept me guesing until the end would definitely recomend