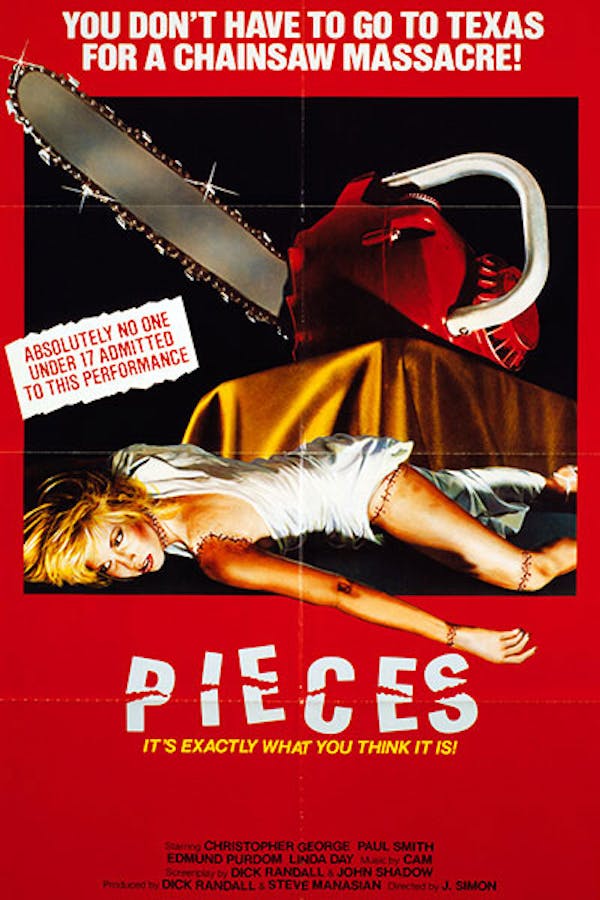 Pieces
Directed by Juan Piquer Simon
A chainsaw killer mutilates college kids in this 80's slasher favorite. In the 1940's Timmy chopped his uptight mother into little pieces. 40 years later, a series of murders trouble the police. Is Timmy back? 80's audiences who went to PIECES expecting a standard slasher were left speechless by this unintentionally hilarious (and very-violent) thriller filled with overwrought performances, Kung-fu, a waterbed murder scene, and a truly ballsy ending. If you've seen it, you know you want to watch it again, and if you haven't, it's time to be initiated...
A chainsaw killer starts mutilating college kids in this 80's slasher favorite.
Cast: Christopher George, Lynda Day George, Frank Brana
Member Reviews
It was good but not expecting the ending
One of the best movies ever made. Check out joe bobs commentary. Thank you shudder. Never get rid of it keep it forever. Alllllllll the skulls. We are not worthy and we dontd
It was fun to see how stupid people are because they never see the YELLOW chainsaw the guy has in his pocket.
Must see! This is an amazing trash classic. So bad that it's good. Amazing kills and copious nudity supplemented with terrible writing and acting. Watch it with some like minded friends and have a great time.