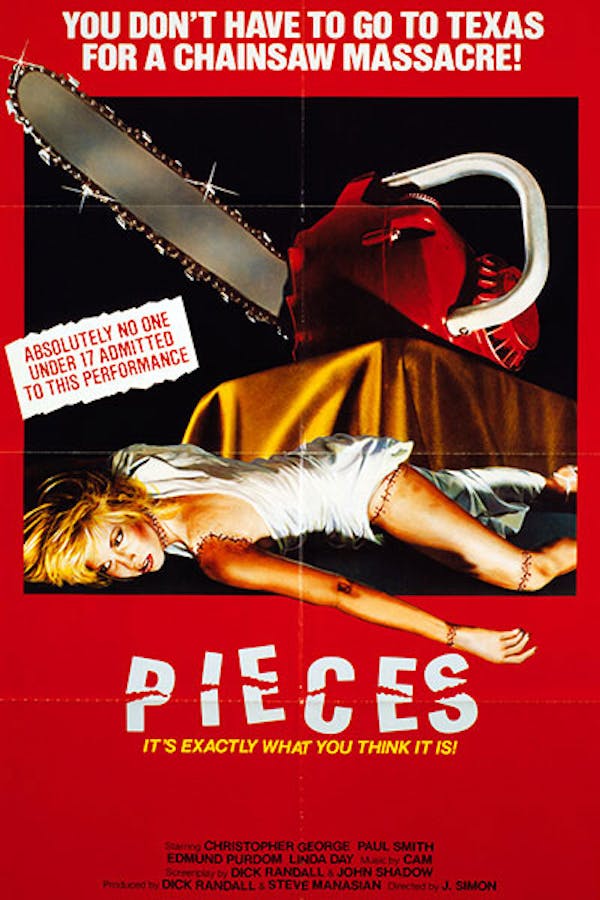 Pieces
Directed by Juan Piquer Simon
A chainsaw killer mutilates college kids in this 80's slasher favorite. In the 1940's Timmy chopped his uptight mother into little pieces. 40 years later, a series of murders trouble the police. Is Timmy back? 80's audiences who went to PIECES expecting a standard slasher were left speechless by this unintentionally hilarious (and very-violent) thriller filled with overwrought performances, Kung-fu, a waterbed murder scene, and a truly ballsy ending. If you've seen it, you know you want to watch it again, and if you haven't, it's time to be initiated...
A chainsaw killer starts mutilating college kids in this 80's slasher favorite.
Cast: Christopher George, Lynda Day George, Frank Braña
Member Reviews
Odd slasher movie, but odd is what makes horror so special
i think the ending was bc he was a man slut/whore
I only watched this because redlettermedia mentioned it. There is so much in this movie that doesn't have to do with anything. Wild coincidences. Horrible acting. For some reason almost every line is ADR'd. All of the characters that are murdered are no-name characters. So it doesn't really mean anything when someone dies. There's two jump scares endings for no real reason.