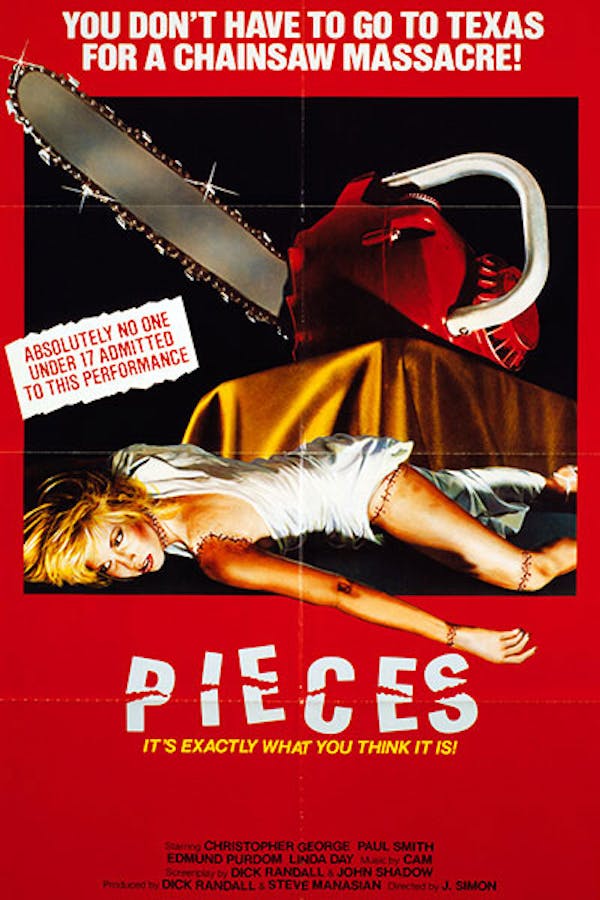 Pieces
Directed by Juan Piquer Simon
A chainsaw killer mutilates college kids in this 80's slasher favorite. In the 1940's Timmy chopped his uptight mother into little pieces. 40 years later, a series of murders trouble the police. Is Timmy back? 80's audiences who went to PIECES expecting a standard slasher were left speechless by this unintentionally hilarious (and very-violent) thriller filled with overwrought performances, Kung-fu, a waterbed murder scene, and a truly ballsy ending. If you've seen it, you know you want to watch it again, and if you haven't, it's time to be initiated...
A chainsaw killer starts mutilating college kids in this 80's slasher favorite.
Cast: Christopher George, Lynda Day George, Frank Brana
Member Reviews
If you let it, this movie will grip you by the balls. Good campy slasher.
Good movie! If your young you could have nightmares for awhile. lol
Watched this as a kid and I've never been the same. Thanks Mom.
A Kung-Fu Professor, Slow-Mo Waterbed Killing, and a Ballsy ending elevate this 80's slasher above some other 80's slashers.