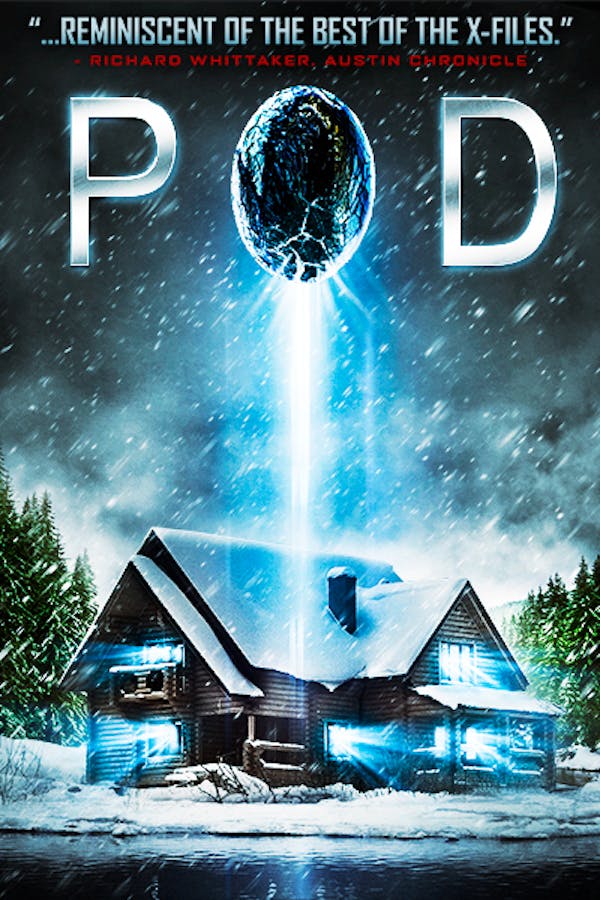 Pod
Directed by Mickey Keating
After receiving a cryptic message from their war veteran brother, Martin, estranged siblings Ed and Lyla travel up to their isolated family lake house to hold an intervention. They find the house ransacked and learn that Martin has constructed an elaborate and horrifying conspiracy theory surrounding a sinister entity that he believes he has trapped in the basement.
A family intervention goes horrificly awry within the snowy confines of an isolated lake house.
Cast: Lauren Ashley Carter, Dean Cates, Brian Morvant
Member Reviews
even the trailer looks like shit. bummer, I wanted a cool alien movie that makes u question reality n sanity which it looks like maybe they were going for but fuck...I don't have time to waste on garbage wanna-B movies. (Usually I love classic or even 80s movies "B-movies" that r over the top so bad I they're good. but this doesn't apply to this seemingly dumb terrible looking excuse for amovie)
This movie is AMAZING. It's got bad everything: writing, acting, directing, editing, everything you could ask for. The story is both exceedingly predictable and completely nonsensical, the characters are all terribly written (male protagonist self-insert is an absolute ass for no reason ever) and overacted... it's a grade-A mess. It's awesome. Unfortunately is constantly ableist to psychotics and has some extended b&w flashing sequences (especially the very end). Probably best enjoyed at 1.25 speed, given how slooowwww all the acting and editing is
Intolerable: 60 minutes of inane ramblings from a guy who took far too few acting classes in subtlety. I'm really not one to complain about a movie having a slow pace but it has to lead somewhere, I am not joking when I say 60 minutes, it took 3/4 of the movie to finally reveal the monster which they immediately ruined by showing it's awful makeup off way too frequently. The forced drama fell completely flat and at no point did I give the slightest sh!t if anyone of these characters died, Lauren Ashley Carter may be a good actress but in this she is just sandpaper across a chalk board, mumbling incoherently along with her crazy dialled up to 11 brother, the last few minutes of her on screen appearance are just her screeching like a fvcking banshee. Nothing about this movie is even remotely redeemable, the acting (such as it is) is the most cookie cutter acting you will ever find, devoid of any real attempt at creating chemistry, this was clearly just a paycheck to everyone involved. I don't know where Dr.B.class is getting 'b movie' from, this is just a generic aliens in the middle of nowhere film without any of the fun associated with b movies, I think they might have left their review on the wrong movie. This was not a fun time or a b movie, it was too competent and took itself too seriously to be a b movie. This was just a long and arduous drain, a sucking void bereft of anything enjoyable, a looming black hole where fun or care cannot escape. A 1-5 scale is not satisfactory enough to grade this film, it's nothing, well it's worse than nothing, I at least know not to waste my time on nothing, this is not only nothing but it's insulting nothing that wasted everyones time, those involved in making it and the viewers.
great b class movie, nobody has taste anymore if you don't like this!
Phew. Most of the other reviews agree... This was not a good movie. I gave it two skulls because I know its not easy to make a movie and they tried. But the story was meh and the ACTING was terrible. I could not stand the sister screaming (seriously gave me a headache) and the Vet was REALLY going for it hard. I feel like a dick for slamming an indie movie but its not good.