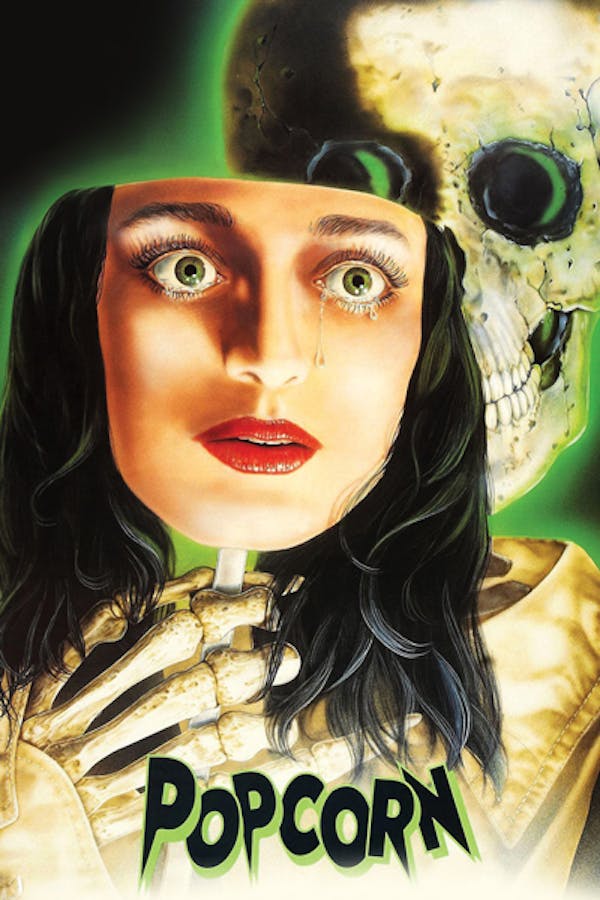 Popcorn
Directed by Mark Herrier
What could be scarier than an all-night "Horrorthon"? A group of film students finds out when they stage just such an event at an abandoned movie palace. They decide to screen a bizarre short called THE POSSESSOR, whose creator, Lanyard Gates, killed his family and set the theater on fire after its first showing. Maggie has been having frightening dreams that seem to be connected to the film, and as the festival proceeds, the nightmare comes true for her and her friends as they are stalked and slain by a mysterious killer. Has Gates survived to continue THE POSSESSOR's deadly legacy?
A deranged killer begins killing college students organizing a horror-movie marathon.
Cast: Jill Schoelen, Tom Villard, Dee Wallace Stone, Tony Roberts, Derek Rydall
Member Reviews
A fun self reflective horror that walks the line between lampooning B-horror and being one itself
A great meta romp about a bunch of horror/film nerds putting on a horror film festival that ticks all the trope boxes and was really just a lot of fun to watch.
fun little romp, not nuff gore tho. Like a Goosebumps episode with death. I liked it
not anything to write home about but it will certainly entertain you for its entire runtime therefore i consider it a good film! add it to your list for a slow october rainy day!
An entertaining trip back to the early nineties. Perfect for what it is: a popcorn movie.