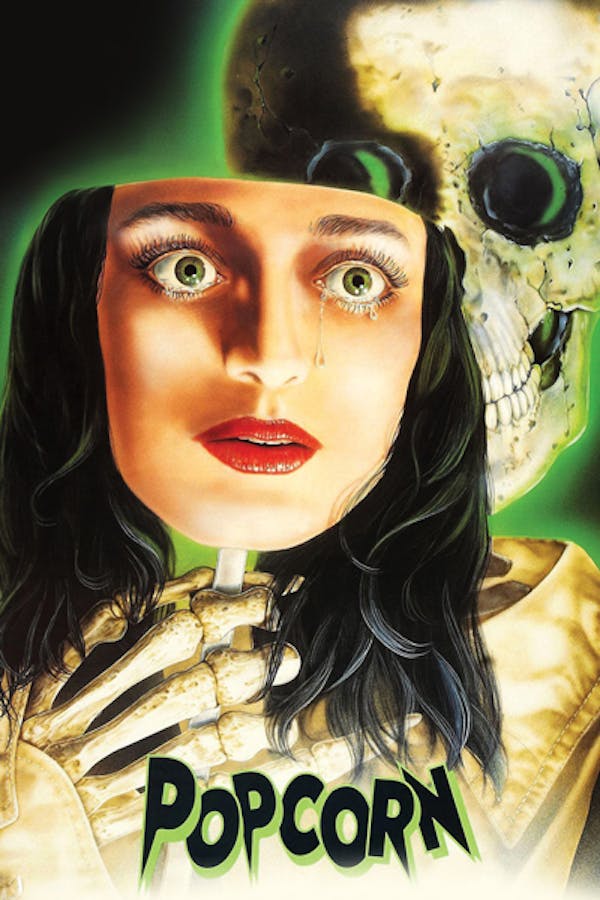 Popcorn
Directed by Mark Herrier
What could be scarier than an all-night "Horrorthon"? A group of film students finds out when they stage just such an event at an abandoned movie palace. They decide to screen a bizarre short called THE POSSESSOR, whose creator, Lanyard Gates, killed his family and set the theater on fire after its first showing. Maggie has been having frightening dreams that seem to be connected to the film, and as the festival proceeds, the nightmare comes true for her and her friends as they are stalked and slain by a mysterious killer. Has Gates survived to continue THE POSSESSOR's deadly legacy?
A deranged killer begins killing college students organizing a horror-movie marathon.
Cast: Jill Schoelen, Tom Villard, Dee Wallace Stone, Tony Roberts, Derek Rydall
Member Reviews
This definitely caught me off guard-Fun idea for a plot, acting was the level it should have been at, and the movie-within-a-movie cut aways were fun little spoofs. I personally love any horror movie set in a movie theater, and I can definitely see how something like this might have been needed to prepare for the full meta level Scream was on. The title was poorly chosen, IMO, and I wish this movie came out a few years later to really cash in meta-horror. It's not a big scare, but it's fun and worth a watch.
First time watching and this was better than expected. The amount the male lead gets hurt is entertaining on its own.
One of those greatly underrated films. It's a fun tribute to schlocky gimmick movies .
FINALLY!!!!!!!! I have been waiting for this GEM to arrive on Shudder. It's long overdue!