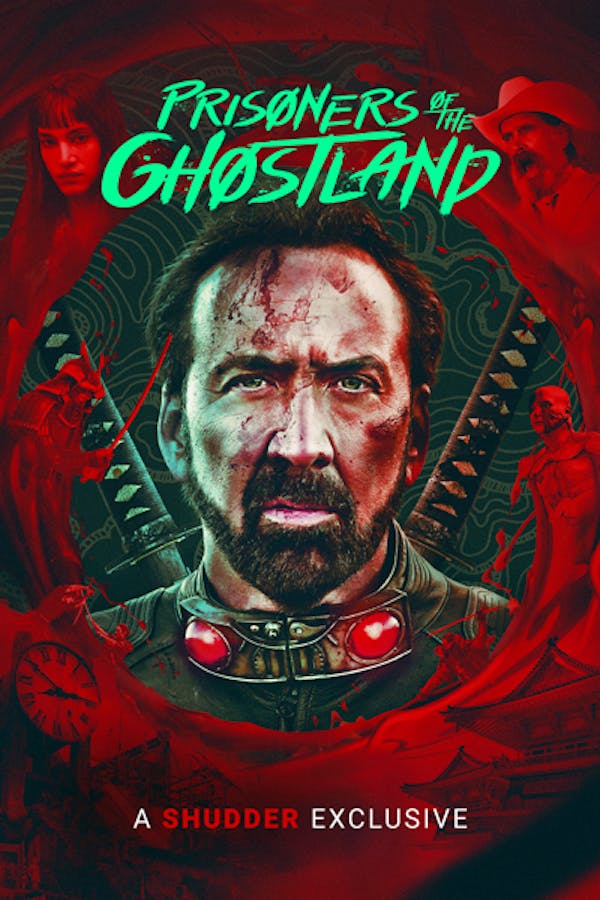 Prisoners of the Ghostland
Directed by Sion Sono
In the treacherous frontier city of Samurai Town, a ruthless bank robber (Nicolas Cage) is sprung from jail by a wealthy warlord, The Governor (Bill Moseley), whose adopted granddaughter Bernice (Sofia Boutella) has run away. Strapped into a leather suit that will self-destruct within five days if he doesn't find the missing girl, the bandit sets off on a journey to find the young woman — and his own path to redemption. A SHUDDER EXCLUSIVE.
A bank robber is strapped into a bomb-laden leather suit that will self-destruct in five days if he doesn't find a warlord's missing granddaughter.
Cast: Nicolas Cage, Sofia Boutella, Bill Moseley, Nick Cassavetes, Tak Sakaguchi
Member Reviews
I have difficulty critiquing screenwriters, film makers and actors when that's what they do for a living. This is an all around good film.
Some truly bad performances and a career worst for Sono. There are some really excellent visuals but that was the only engaging thing. Worth watching for Cage getting his nut blown up tho
Had the potential to be so good! Seeing Sono, who's always embraced having his actors ham it up, use Cage in such a bland role was disappointing. Everything that happens in the straggler town is fascinating, but when they are in the actual town, the story fell flat for me. But damn, the production design remains fantastic throughout.
This movie kept me asking "what am I even watching?" every several minutes at the beginning of the film. By the end of it I was mad for it wasting my time. Go watch something else is the best advice I can give.
I almost felt like they were trying to rip off a handful of movies here. Had a bit of a Mad Max Thunderdome vibe for a minute. It had me interested for a minute until a nut blew-up. Then I knew exactly what kind of movie this was goin to be. I hung in till the end though...don't recommend it.